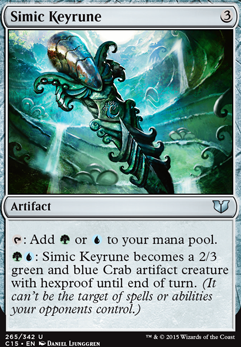 Simic Keyrune
Artifact

: Add

or
to your mana pool.

: Simic Keyrune becomes a 2/3 green and blue Crab artifact creature with hexproof until end of turn. (It can't be the target of spells or abilities your opponents control.)
Simic Keyrune Discussion
18 hours ago
No, because at the time you could activate Simic Keyrune's second ability, it is already a permanent on to the battlefield. It's ability does not make it reenter the battlefield, but it merely turns it into an artifact creature. Nor when you cast it does it enter the battlefield as a creature. It will enter as a non-creature artifact.
Note: If you activate the second ability during the same turn you cast it, you will not be able to tap it for mana as it will then be an artifact creature with summoning sickness.
Also note: If Simic Keyrune is a creature at the time Ezuri, Claw of Progress' second ability would trigger at the beginning of combat, you may put those counters on your Keyrune artifact creature. Once it stops being a creature at the end of the turn, it will keep those +1/+1 counters.
Legality
| | |
| --- | --- |
| Format | Legality |
| Legacy | Legal |
| Vintage | Legal |
| Commander / EDH | Legal |
| Modern | Legal |
| Duel Commander | Legal |
| Tiny Leaders | Legal |
| Highlander | Legal |
Related Questions