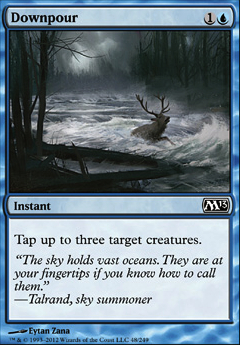 Downpour
Instant
Tap up to three target creatures.
Downpour Discussion
1 day ago
I somehow never considered Cipher cards, these are great suggestions. Call of the Nightwing seems a bit slow but Hands of Binding seems like a possible replacement for Downpour. That being said, As overwhelming as they potentially are, Cipher seems vulnerable. The whole reason I picked an equipment over an aura for evasion is because I didn't want that individual ninja to become an easy two-for-one, and Cipher certainly falls into this trap. As for Fireshrieker, seems potentially insane but it's a bit of a win-more card, so I feel the mana would be better spent on just playing another ninja rather than putting more eggs in the same basket, so to speak.
However, Stolen Identity seems like a viable win-con card, though you'd probably want to emphasize hexproof enablers like Invisible Stalker to be your Cipher carrier.
2 weeks ago
Hahaha he ran cards like Downpour so my vigilance wasn't always a for sure win.
4 months ago
It allows you to use things like Downpour every turn though is what I was saying. It's not for everyone but I think getting the doublestrike from Boros Charm every turn is a little more reliable than Sun Yu. Like I said food for thought it's your deck I'm just a friendly passerby.
6 months ago
I'm trying out a variant of an earlier deck I made, Sunblast, with red in it. I'm kind of worried about its overall theme being trampled over, by the inclusion of burn spells like Lightning Bolt and Lightning Helix over the traditional Downpour and Feeling of Dread, but they seem to control the field better. Help me make this more competitive please-- The Scorch Trials. Thanks to all who help out!
| | |
| --- | --- |
| Color(s) | Blue |
| Cost | 1U |
| Converted cost | 2 |
Legality
| | |
| --- | --- |
| Format | Legality |
| Legacy | Legal |
| Vintage | Legal |
| Commander / EDH | Legal |
| Modern | Legal |
| Duel Commander | Legal |