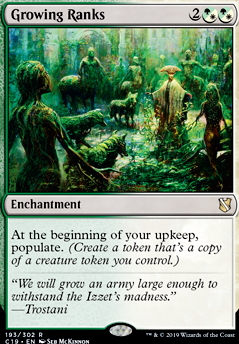 Growing Ranks
Enchantment
At the beginning of your upkeep, populate. (Create a token that's a copy of a creature token you control.)
Latest Decks as Commander
Growing Ranks Discussion
57 minutes ago
Hey! Kinda late, but I would like to suggest some stuff:
(Disclaimer: I have a budget way lower than yours, but I've been tinkering with Ghired for almost two years - he's my favorite commander. I'll break the suggested upgrades down into categories for better organization.)
Haste enablers:
Ramp: Run at least 15 ramp cards to make your deck flow smoother and faster.
As an aggressive deck, speed is fundamental. Fellwar Stone, Nature's Lore, Three Visits, Skyshroud Elf, Bloom Tender, Faeburrow Elder, Chromatic Lantern, Coalition Relic, Wood Elves, Skyshroud Claim and Mirari's Wake can ramp and heavily fix your mana, taking the place of Gyre Sage, Solemn Simulacrum, Rampant Growth, Sakura-Tribe Elder and Xenagos, the Reveler - the latter is a win-more ramp, and his 2/2 token is not large enough to synergize with the power-based card draw, while the other four fix for a single color of mana (Ghired decks can sometimes be color-hungry), and this deck can't abuse the sad robot for value.

In the land department, Krosan Verge and Blighted Woodland pull their weight, and synergize greatly with Avenger of Zendikar and Rampaging Baloths. Maybe remove Cascading Cataracts? (Your spells are not THAT color hungry.)
Direct damage:
Extra combats: You don't have to worry about your opponents' answers if they never get to their turn, so...
Boardwipes:
Card draw: Alongside ramp, it is my main concern with Ghired. I want to be able to rebuild my board after a boardwipe.
Some cards I suggest you to remove:
Some cool lands for you to try out: (landbase is my favorite part of deckbuilding)
I hope I've been of some help to you. I didn't suggest many token-related cards because I believe that, as long as you have decent ramp, draw and removal in your deck, you can win to your heart's content. Wanna throw in a Godsire? Do it. Prefer to clone your opponents' creatures with Hate Mirage? Go ahead. But the fundamentals of the deck is what makes it flow consistently. Have fun and smash 'em all (and run Doubling Season for extra fun) ;-)
1 month ago
You have a lot of token support in Parallel Lives and Growing Ranks and Second Harvest. I think you should trim some of that and add more actual ooze creatures. Another reason I think you should trim the tokens theme is because there just aren't many oozes that make tokens.
Splitting Slime isn't legal, but the card isn't that good anyways. Consuming Blob is another fun ooze that makes copies of itself. You could also add Inexorable Blob, but this would require more of a graveyard build around. Some good oozes that aren't token themed are Predator Ooze (3-drop indestructible threat??) and Scavenging Ooze (grave hate on a stick that grows).
For the ramp package, Wild Growth isn't legal. I recommend adding 4x Utopia Sprawl and 4x Arbor Elf. I'd cut Llanowar Tribe. It isn't really helping much if you drop it on t3, and then use it on t4 to play a 5 drop. Might as well just run 1-drop mana dorks instead.
4 months ago
I agree with Gavriel, except for one thing. The white deck could run a couple of Call to Glory to untap all creatures (also gives pseudo-vigilance and the element of surprise). The curve on the white deck is way too high, and there are too many counterspells in the blue deck. Repeatable token generation is definitely the way to go. Consider things like Populate, Growing Ranks, Sundering Growth. To interact with big threats from the blue deck, Oblivion Ring definitely could find a place. To give white a "sleep" effect, I like Blinding Light. And the Whelming Waves do seem especially cruel against the white deck. If you keep them in, you also need to give white a nasty edge to play. Celestial Dawn would wreck the blue deck entirely. You could also include things like Thalia, Guardian of Thraben, Conqueror's Flail, Grand Abolisher or Silence to give white a competitive edge against all the counterspells (and they're all pretty expensive, because they are so effective).
Rhys the Redeemed would be an awesome include for the white deck. You might also look for things that make bigger scarier tokens, like 4/4 angels Moonsilver Spear or Seraphic Greatsword. Or low to the ground anthems like Honor of the Pure. Plus a little card draw in there somehow. Not white's strong suit, but something like Mentor of the Meek might work.
4 months ago
This is so great! I really like Trostani. I made a wurm deck with her at the helm. Wurms have really great synergy with her because of their big butts and the propensity for breaking into tokens for her populate effect.
I don't know how you feel about wurms, but Worldspine Wurm is beautiful, and Wurmcoil Engine of course is good. Also Penumbra Wurm works well and is a bit more budget-friendly.
For additional populate effects (and therefore lifegain), you could look at Rootborn Defenses in your maybeboard instead of Heroic Intervention, Sundering Growth instead of Aura Mutation, and Growing Ranks is a really great enchantment that could replace more expensive duplicating spells if need be.
Anyway, really fun deck that looks like it could get out of control really fast.
6 months ago
I'd recommend cutting the following cards right away:
Tidal Force (Doesn't do much. Very expensive.)
Siege Behemoth (Good effect, but very expensive.)
Emmara Tandris (It doesn't look like you really have that many tokens. Not sure why this is here.)
Deepfathom Skulker (Good trigger, but expensive, and you can't activate its second ability easily.)
Archon of Coronation (Really easy to lose the monarch and it doesn't do much besides give you the monarch.)
Amareth, the Lustrous (Not really that good. Very rarely will draw you anything in general and the body is very meh.)
Inniaz, the Gale Force (I don't like this kind of effect. You are forced to give up something.)
God-Eternal Oketra (The tokens are okay, but it really doesn't do enough IMO)
Archon of Redemption (3/4 flyer for 5 with a situational life gain effect is pretty bad...)
Angel of Destiny (If it ever gets removed, all you did by attacking, possibly losing creatures in the process, possibly taking hits because your defense are down, was gain life. It just seems like the card really does nothing.)
Trostani, Selesnya's Voice (Not enough token synergy to matter. Life gain is not very good.)
Thassa, Deep-Dwelling (This doesn't do much in your deck. IMO)
Basri's Lieutenant (With almost no +1/+1 counter synergy in the deck, this really doesn't do anything for you.)
Adrix and Nev, Twincasters (Not enough token synergy.)
Niambi, Esteemed Speaker (Can save a creature, but other than that, the card pretty much does nothing.)
Ornithopter of Paradise (Can't trigger Derevi because it has 0 power. Pretty bad as a ramp card too.)
Rhys the Redeemed (Not being elf tribal or big on tokens means that he won't do much.)
Parhelion II (Way too expensive and really doesn't do that much for its cost.)
Righteous Authority (Very expensive and no way to abuse it in the deck currently.)
Cosmos Elixir (You have a ton of draw in the form of "when a creature deals combat damage, draw 1" type cards. You don't need this IMO.)
Sword of Vengeance , Sword of Body and Mind (Not really sure what they're supposed to do for you. Tiny pumps and trample aren't going to help you much IMO.)
Combine Chrysalis (Not enough tokens.)
Sol Talisman (Why is this not Sol Ring?)
Cloudshift , Ephemerate (Almost no abusable ETBs)
Griffin Aerie (Not enough life gain to make this work and not even a great effect.)
Garruk's Uprising (I feel like you should probably be focusing on smaller bodies, not bigger ones.)
Growing Ranks (Not enough tokens.)
Elspeth Conquers Death (Doesn't really do anything you're looking for IMO.)
That's just the ones I would cut right away for not being good in general or not fitting with your strategy.
The token subtheme is kind of unfitting IMO. There's only a few tokens here and there, and a lot of them are "big" tokens, not little ones that can trigger Derevi a lot, but then you also have lots of things to take advantage of tokens even though you don't have that many things that produce tokens (and a lot of times, they're too expensive). If you want to focus a deck on tokens, I think you should choose a different commander.
In general, I think you should probably focus more on having a bunch of smaller creatures so you can get lots of Derevi triggers rather than bigger creatures. This could be a way to work in tokens if you want to push it, because you could focus on smaller tokens that you can push out very cheap and early in the game.
In addition to this, you may also want to consider putting in more cards that you can abuse with Derevi. I love the inspire guy you have in there, Arbiter of the Ideal (don't know if you know, but you can stack tap/untap/tap/untap triggers on him and trigger inspire a bunch of times in one combat!). I think you should focus on this kind of effect more.
I think you should also try to put a little more ramp in there. Sol Ring, Simic Signet, Arcane Signet, and maybe a couple other mana rocks are noticeably missing.
That's pretty much all I have to say about it right now. Let me know what you think!
6 months ago
Holy moly wait Balaam Growing Ranks is just what I was looking for! I didn't even know that existed until you pointed it out.
Your idea of a Simic variant for the deck also already looks waaay more consistent than my Azorius deck. You don't have to worry about meeting the Delirium requirements as much to go off. Definitely gonna cobble together that variant as well.
Still kinda like how I was able to make a deck that's, flavorwise, the antithesis to what its color pairing normally represents.
Load more