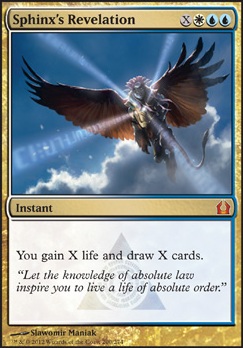 Sphinx's Revelation
Instant
You gain X life and draw X cards.
Have (20)
StrugglePeter , B1ITZ3D ,

T

h

e

D

e

v

i

c

e

r

,

K

i

l

l

D

a

t

B

U

G

,

F

A

L

L

E

N

-

X

-

A

N

G

E

L

, benjibot789 , Hellhawk , euzuzz , LabRattKing , Ej1997 , GabeCubed , Robbie051 , djsniperwolf ,

T

h

e

H

r

o

t

h

, theHopp , JimmyDanger13 , Drifterakv , Raistlin911822 , dageen21 , nintendowryyy
Want (6)

a

w

a

l

l

o

f

t

e

x

t

, FraserWM ,

K

h

a

n

y

e

,

H

a

l

l

o

w

e

d

_

T

i

t

a

n

, metljoe , LoneCrusader399
Sphinx's Revelation Discussion
1 hour ago
Sphinx's Revelation is too big of a strain on your mana base. Trust me

will be near impossible for you to get. I played around with Glittering Wish main board for awhile and double
/

plus one of those colors is hard to get to. Especially since you don't have any Azorius Chancerys.
I was all WTF, why does he have an Inkmoth Nexus in there? I get what your looking to do, but it may be too cute for it to work. You will most likely have to search/tutor for it via Ancient Stirrings or Primeval Titan. If you land a titan, you're searching up Tolaria West to transmute or other utility lands.
Your lacking a creature package. 3 creatures off the bench won't cut it. Creatures you can use Dragonlord Dromoka, Wurmcoil Engine, and an extra Thragtusk.
My package for Blood Moon is 2 Chromatic Lantern and 1 Seal of Primordium. I would suggest a Lantern or two as well. It really helps when they already resolved Blood Moon.
2 days ago
I'd like to revise what Nayrash said and say that indestructible should be very easy for you to deal with. Your removal package should be flushed with only the most ruthless removal.
These are all very powerful removal that I highly recommend from lots of playtesting. The following are what I would judge to be the immediately weakest cards in your deck.
Really good cards in your deck are as follows.
Cards that I think are missing from the equation:
3 days ago
I'm a big fan of Myth Realized myself. A few thoughts, though I'm not sure they're worth paying attention to... I'm certainly no modern expert.
Hope this is mildly helpful! Cheers
3 days ago
Okay, so the biggest problem I see is that you cannot feasibly expect to hit nine mana with only twenty lands and five mana rocks. If you want to be able to cast your big fatties, like the Sphinx of the Steel Wind then I would suggest cutting back cards for lands. Possibly drop the Darksteel Forge (or at least move it to the sideboard), in order to accomodate more lands. I run an Esper control deck in Modern, and I run twenty six lands. Try running a singleton of Calciform Pools or maybe more, as it gives you something to do at the end of your opponent's turn when they haven't cast any spells, and will help you cast some of your higher costing cards, or just cast Sphinx's Revelation for like thirteen.
3 days ago
@icehit6: Slaughter Games is played specifically to strip control of its win con lol...who cares how many Mana Leaks they have if they have no way of winning the game? Control isn't going to win by turn four. Surgical Extraction doesn't stop combo from going off when you really need hand disruption and spot removal like Inquisition of Kozilek.
"Strictly better" has a very specific meaning in MtG, just like the term "card advantage" or "mana curve." Your understanding of English is irrelevant because "strictly better" is a term used by players in every language, not just English. Korean or Italian players have just as much understanding of the term as an English speaker.
You're getting upset that someone called you out on saying something wrong. I don't know how many times I have to repeat it, but Surgical Extraction would have to be something like:
Or:
Or:
You're trying to compare Serum Visions to Sphinx's Revelation, saying Serum Visions is strictly better because it costs less and draws cards. Slaughter Games and Surgical Extraction have two completely separate purposes and different uses. This isn't subjective and is completely irrelevant to my ego or attitude. Whether or not I'm an asshole has no bearing on Surgical Extraction not being strictly better than Slaughter Games. Your refusal to take 30 seconds to learn the definition of a phrase says more about you than it does me.
| | |
| --- | --- |
| Color(s) | Blue White |
| Cost | XWUU |
| Converted cost | 3 |
Legality
| | |
| --- | --- |
| Format | Legality |
| Legacy | Legal |
| Vintage | Legal |
| Commander / EDH | Legal |
| Modern | Legal |
| Duel Commander | Legal |
Related Questions