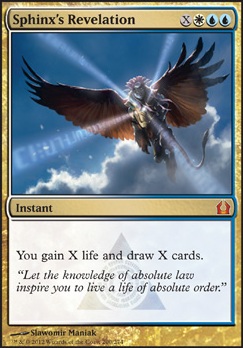 Sphinx's Revelation
Instant
You gain X life and draw X cards.
Have (15)
Xathrid845 , Lightning_Collectors , StrugglePeter ,

T

h

e

H

r

o

t

h

, LabRattKing , Robbie051 , benjibot789 , OpenFire ,

W

o

s

1

3

3

7

, Represser ,

K

i

l

l

D

a

t

B

U

G

,

f

a

i

l

u

r

e

c

h

i

l

d

8

8

,

F

A

L

L

E

N

-

X

-

A

N

G

E

L

, Eeriecandle , B1ITZ3D
Want (3)

K

h

a

n

y

e

, metljoe , FraserWM
Sphinx's Revelation Discussion
1 day ago
You started with Bant and moved to five-color! Excellent choice. I love five color. I have noticed that your deck largely lacks direction, and mainly aims to just play fun cards that seem like they're fun to play. To help you out in the future, I'll give you a rating on each card to let you know how good/bad it might be, which will help you gauge what might be the next cut.
Overall, you're well on your way to a good list. There's really not much more I can say. Hope I was able to bring some things to light that you may not have thought about. Good luck in the future.
1 day ago
tclaw12 I don't know how to start a chat either...it would take me some time to get this binder going may I ask what u are really looking for I might have something u would want notable mentions Dragonlord Ojutai Sphinx's Revelation all the scar lands I have also
1 day ago
For the manabase, I would go up to 4x Tranquil Cove and add 4x Glacial Fortress to go with your basics. For a Modern control build, you'll probably want between 24-26 lands.
Divination & Planar Cleansing are a little slow for Modern. 2-3x Supreme Verdict and 4x Think Twice would be good replacements.
4x Rune Snag would be great in a control deck like this.
The expensive cards that could go in this deck (but don't necessarily have to be here) are Snapcaster Mage, Celestial Colonnade, Hallowed Fountain, Flooded Strand, Path to Exile, Cryptic Command, Spell Snare, Remand and Sphinx's Revelation.
There are lots of ways to build control though, so if you want to be more creature-based, that can definitely work. Let me know if you need me to explain any suggestions or if you need any help :)
1 day ago
I BUG twin a while back and didn't really enjoy it too much. With that said, I didn't give the deck enough time and I probably didn't enjoy it too well because I just lost almost every time with it. I almost never play blue or control, so it was a new style of play for me and my local meta just squashed it; however, american control has always appealed to me and the whole idea of twin just intrigues me still.
Now that I'm a bit more seasoned and patient with decks, I am wondering if American Twin can be a thing. I mean it sounds good in theory, right? You have access to cards like Path to Exile, Sphinx's Revelation, Geist of Saint Traft, Lightning Helix, Supreme Verdict, Rest in Peace, Celestial Colonnade, Leyline of Sanctity, Stony Silence, Celestial Purge, Wall of Omens, Restoration Angel if you want to go that route, and possibly Ajani Vengeant. Like it seems decent in theory, right? The reason Evil Twin is good is because it Tasigur keeps up with Tarmo Twin...well it seems like with everything white has to offer, those cards really wouldn't be as much of a problem letting white keep while possibly giving it more against other decks.
It's a thought that hit me a few days ago and it's an itch I'm almost dying to get to now; but, I don't want to itch a bad itch.
2 days ago
My meta has certain restrictions for card-selection / play style, and my reasons for posting is my wish to find the most competitive cards for ramp, draw, etc, within those restrictions. My meta is a very play tempo-focused meta: No T1 GSZ, T2 Demonic Tutor and then slowing down games with Top, etc... We have little time for play and would like more play, less shuffling.

So: I can't rely on massive tutoring (or infinite combo), but need to find the best cards that make the biggest splash when played. In short: The most bang for my CMC.
---

Commander / EDH Indigoindigo
SCORE: 40 | 50 COMMENTS | 7247 VIEWS
---
My questions are:
What cards should I consider that make the biggest impact when played?

Am I missing some cards that are played/ should be played in competitive lists (except tutors and infinite combo-enablers)?

Are there cards that would give me bigger rewards in terms of relative card advantage compared to those I'm playing?

Some competitive lists run really explosive ramp with all dorks available (Elvish Pioneer, Avacyn's Pilgrim, Elvish Mystic, Fyndhorn Elves, Llanowar Elves, Bloom Tender, Lotus Cobra, Birds) + Exploration, Burgeoning, Wild Growth, Utopia Sprawl and Sol Ring at 1CMC. Should I find more room for dorks to speed up my deck, or do I run enough ramp?

Some considerations so far: More cheap removal (Oust, Path of Exile, Pongify, Nature's Claim, Qasali Pridemage), more gravehate (Loaming Shaman, Stonecloaker (also protection)), instant flicker-effects (Momentary Blink, Ghostly Flicker, Restoration Angel), bigger draw-effects (i.e. Recurring Insight, Sphinx's Revelation), more sweepers (Wrath of God, Supreme Verdict, Cataclysm) and protection (i.e. Sylvan Safekeeper)
3 days ago
I second Kitchen Finks. I'd probably play Tarmogoyf as well, then just start packing in all of the removal and a card drawing engine (Keranos, God of Storms, Sphinx's Revelation, etc.).
Being in 5 colors means you get Abrupt Decay, Lightning Bolt, Path to Exile, Kolaghan's Command, Lightning Helix, Dismember, Terminate...all of which get recurred by Snapcaster Mage.
3 days ago
You need more consistency to actually win the game after you have locked them. If you plan to win with Tutelage, run 4 of them. Also, other nice cards are Sphinx's Revelation and Luminarch Ascension.
Ghostly Prison is a heavy lock, too, even if a bit expensive.
Besides, I suggest to run more counters and less fogs. I assume Remand is out of your budget, so try Mana Leak. Or add other Swan Songs and Negates. Dream Fracture could also be nice.
Oh, and add more islands. You need that blue mana.
3 days ago
I would board out polukranos against control and board in 2 Avaricious Dragon. Dont play dragon against control until you have nothing else to play. Sit on it. If u misplay it that causes the loss. This card reminds me Sire Of Insanity and how it screwed Sphinx's Revelation decks. It was junds answer. By the way 2x Shamanic Revelation in this deck would be a sick top deck late game against control as well.
| | |
| --- | --- |
| Color(s) | Blue White |
| Cost | XWUU |
| Converted cost | 3 |
Legality
| | |
| --- | --- |
| Format | Legality |
| Legacy | Legal |
| Vintage | Legal |
| Commander / EDH | Legal |
| Modern | Legal |
| Duel Commander | Legal |
Related Questions