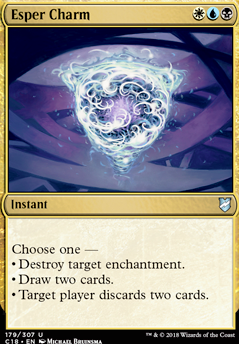 Legality
| | |
| --- | --- |
| Format | Legality |
| Tiny Leaders | Legal |
| Noble | Legal |
| Leviathan | Legal |
| Magic Duels | Legal |
| Canadian Highlander | Legal |
| Vintage | Legal |
| Modern | Legal |
| Vanguard | Legal |
| Legacy | Legal |
| Archenemy | Legal |
| Planechase | Legal |
| 1v1 Commander | Legal |
| Duel Commander | Legal |
| Unformat | Legal |
| Casual | Legal |
| Commander / EDH | Legal |
Related Questions
Esper Charm
Instant
Choose one —
Destroy target enchantment.
Draw two cards.
Target player discards two cards.
Have (13)
Shiromakuro , dplerner , RileySisay ,

a

b

b

y

3

1

5

,

i

t

h

e

o

r

y

z

, techneil , JohnBeaman ,

C

a

m

p

b

e

l

l

S

t

e

v

, Big-Foot ,

A

z

d

r

a

n

a

x

,

p

e

r

r

i

n

5

1

5

, MagnaAura , angesoir
Want (69)
OldSchoolFun , thedoh , Yomasta152 , Krawgnor , weirdal21 , FartMcMuffin , scitomniares , chawrles , nickjeu , kovellen , Missinigo , wants2belink , Xelgion , jamesesdad , gamerhat , hidoggie90 ,

R

e

d

Z

e

b

r

a

,

C

o

o

p

e

n

h

a

g

e

n

, Juggernate , rajahten , LastCall , ztheart , B2BB , afeuling , Kogan1911 , Vidjalante , opsi , Teufell , AzusaLostButSeaking , obitus , VSmith , MADNinjaSkills0 , Radish , king0fclubs , tomshwag , rocsta_ , sraid , NinjaExit , pldoran , Serinsar , mils ,

S

e

v

e

n

t

y

7

I

N

a

4

5

,

s

o

n

n

e

t

6

6

6

, pininga , Serfax , klokwurk , Roxmysox32 , drbishop05 , XIL_Ambition , RoninH3RO , protistapark , Raging_Zef_Lyfe ,

A

b

z

k

a

b

a

n

, bloodysmurf11 , Adorabloodthirsty , Turtlelover73 , buildingadeck , AirmanRamsey , Therrion , fireborne1986 , Jdun , volation , epic-jargon , DarkAngelsBlood1 , EggsTerminate ,

a

e

o

n

s

t

o

r

e

m

y

l

i

v

e

r

,

L

o

v

e

-

i

n

-

T

h

e

o

r

y

, 1337_Nerd , Greenshockwave
Esper Charm Discussion
1 month ago
Alright, awesome! I don't know your meta, so let me know if these suggestions aren't right for you and your playgroup(s).
First off, this is straight up Midrange. A couple counters and removal/control magic cards doesn't make it control.
Secondly, I would focus first on your mana base. The distribution of your lands will depend on the end result of the deck, as in how many black/blue/white symbols are on the card adn how early they appear. Some cheaper lands for esper are Fetid Pools, Irrigated Farmland, Sunken Hollow, and Prairie Stream. These are great choices as they have the basic land types and are able to be fetched with fetchlands, and the cycle effect on the first too can be really hand late game. I'd go with one or the other though, and those also turn on lands like Isolated Chapel, Glacial Fortress, and Drowned Catacomb. If your group plays lands that can be troublesome, cards like Ghost Quarter and Field of Ruin are some great ones that aren't straight up land destruction. I would heavily suggest Field of Ruin over Ghost Quarter though, as it doesn't set YOU back on mana. I would also strongly recommend playing at least 8 basic land cards and at least 25 lands with the amount of high cost cards you have as well.
This kind of deck really does not need Expedition Map, and Elixir of Immortality is really only good if there is an opponent on mill, there are better options if you need life gain. Cards like Wall of Omens, Ruin Raider, Twilight Prophet, Dusk Legion Zealot, Phyrexian Rager, Thassa, God of the Sea or Kefnet the Mindful are all great creatures that can help you draw cards and lands if needed. Spells like Preordain, Serum Visions, Impulse, Painful Truths, Discovery / Dispersal (which can act as removal as well, if need be), and Esper Charm are all well and dandy. If you choose to run any of these, with the kind of deck you're on, I would recommend choosing one of the 1 or 2 cost ones and running four, then run two copies of the 3-cost ones at max.
As for your enchantments, Sorin, Solemn Visitor, Sorin, Lord of Innistrad, or Elspeth, Sun's Champion, and Elspeth, Knight-Errant would all be better than True Conviction as they come down much faster (except Sun's Champion), are far easier to cast in a 3-color deck (W-Bla is much easier than WWW), they also give you creatures to flood the board.
The problem with Control Magic, is that it is far easier to get around than regular removal, but if you're adamant on stealing your opponent's toys, Entrancing Melody, Exert Influence for smaller creatures and Connive / Concoct which can double as rebuying a dead creature of yours, or Confiscation Coup paired with cards like Glimmer of Genius, Glint-Sleeve Siphoner, and Aether Hub. I recommend this because Control Magic can be destroyed by enchantment destruction effects adn let your opponent get their things back, especially if you don't have Privileged Position out, speaking of which
I wouldn't run it. Run more counterspells in its place. You don't want to broadcast the whole 'hit me, i'm setting up a hexproof Exquisite-Sanguine combo' and give them targets for their removal. You need to slam those things down and then protect them. Cryptic Command is amazing, and 3 is good enough. Depending on how your playgroup does with counterspells, og Counterspell, Mana Leak, Supreme Will, Ojutai's Command, Silumgar's Command, Negate, Essence Scatter, and Dissolve are all good. Arcane Denial if you want to be nice about it. You want to make them spend the mana on their way to answer your threats and then Dash Hopes (don't play that one, it's funny but not good). With Counterspells, you generally want to spend less mana on it than what you're countering, and they're better in multiplayer games than discard.
If you're playing 1v1 matches, you could go with discard effects over counterspells, but choose one or both. Cards like Duress, Thought Erasure, Divest, Harsh Scrutiny, Persecute, Arterial Flow (bonus points if you're playing with Twilight Prophet and friends with this one), Inquisition of Kozilek, Thoughtseize, Castigate, Blackmail, and Hymn to Tourach. You also have Kitesail Freebooter, Tidehollow Sculler, and Brain Maggot. From what you said with liking how your creatures take control, this is the route I would recommend for you, especially Kitesail Freebooters and Thought Erasures since one is a creature and the other can help fix your next draw step.
Once again, run Counterspells or Discard, and preferably counters in multiplayer. The simple reasoning is with discard you spend mana and resources and they don't spend mana and lose resources, counters you both spend mana and resources with you, preferably, spending less mana and quality of resources, and you don't want to tax your mana and resources doing both.
Don't run Riot Control. Don't do it. Run Eerie Interlude instead of Rootborn Defenses as it will trigger and enter the battlefield effects when your creatures come back and get you advantages that way.
Jace is cool, but run those Sorins and Elspeths I mentioned earlier instead, they fit better in your kind of deck.
Some way better creatures for you are Dragonlord Silumgar, Dragonlord Ojutai, Cloudblazer, Restoration Angel, Ravenous Chupacabra, Isareth the Awakener, Vona, Butcher of Magan, Nightveil Predator, Thalia, Heretic Cathar, Hostage Taker, Regal Caracal, Thraben Inspector, Noxious Gearhulk, Torrential Gearhulk, or Cataclysmic Gearhulk. There are so many options out there, and in the end it's your deck so you can make it however you would like. I hope this was at least a little bit of help.
Also, definitely find some room for Swords to Plowshares and Anguished Unmaking. Life is a resource and don't be afraid to spend a little bit or give your opponent some more if it means not letting them win or letting you win.
1 month ago
I like the jaceless attempt at esper, especially since I personally think JtMS is a bit of a trap. I have a few suggestions.
1: I think you should vary your manlands a bit. I would recommend running 2 colonnades and 1 Creeping Tar Pit.
2: even though Control decks want a higher land count, you're getting up to the scapeshift land count. I would reccomend cutting 1-2 lands.
3: Terminus is amazing in Jeskai and UW control, and I think it would be here as well, especially since you run four serum visions.
4: even though Esper Charm can strip the opponent's hand, it's usually only played 1-2 in mainboard because there are better things to play on T3 that cost less mana
5: I think you need a bit more early board interaction. Probably 1 fatal push and 1 dismember, although 2 pushes would be good with all your fetchlands.
2 months ago
mtggoldfish gives a very good idea of what the current metagame looks like.
I did some testing and your humans matchup is decent. It depends heavily on you resolving a board wipe, but doing so isn't too hard for the deck and if you can pull it off you basically just win because your end game is unstoppable. Because of that, I'd play 3-4 boardwipes in the mainboard. You usually won't have time to gifts for them, but having enough to consistently draw them will be really good for the deck. And you have so many ways to discard them that drawing them at the wrong times shouldn't be an issue.
This meta is very sad. I'm more convinced now that Esper Charm doesn't belong. If you stabilize, you won't need it. And if you try to cast it before you stabilize you'll probably just lose. At least against the Aggro decks that's the case. Vs the control and midrange decks... you're probably already better than them. Sure, the grave hate sucks, but you make them have it. And if they do, then you can still hardcast Obzedat and Liliana and other good cards and try to grind them out playing fair. I've done it more than my fair share of times while playing Grixis.
2 months ago
Woah, welcome back!
First thought: add Wrath of God to the mainboard. Wraths are really good right now. WW is a difficult cost, but it's probably worth it. Another option is Languish if you want to stick to BB - Languish is also nice because it leaves Obzedat alive.
This deck is in kind of a bad spot in this meta. There are a lot of graveyard decks, and accordingly a lot of graveyard hate. Expect to face Leyline of the Void. Not every match, but often enough to warrant preparation for it.
Search For Azcanta.... I keep going back and forth on it. Vs UW Control and Jund it's really good. But it's also very low-impact against the many aggro decks of the format. I've been doing a lot of testing with varieties of grixis decks, and I think I've settled on not playing Azcanta in Grixis, but that could change in the next week. Whether you play it or not depends heavily on how you think you fare vs control decks and vs aggro decks. If you need another card to beat control, then play Azcanta. If aggro decks are a struggle then I'd pass on them. This deck is so graveyard-dependent that Azcanta is probably a very good card to play.
I don't know how good Esper Charm is right now. I'd expect it's in a poor spot, but then again it's also an amazing card. My intuition for how this deck should be built is really bad. I'd never be able to brew this kind of deck.
Get ready for Assassin's Trophy. It's coming and it's going to be a scary time ahead. This is a good time to add another basic land to the mana base. But 4 is still pretty solid. Field of Ruin is also a card now - it's amazing for dealing with opposing Search for Azcanta Flip, Celestial Colonnade, and Tron lands. You have color-intensive costs, so I wouldn't play more than 1, but it's a really good 1-of.
Honestly, the sideboard is what needs the most changing, but I don't really know this deck's angle in the different matchups. I don't think Leyline of Sanctity is good right now because Storm will bounce it, KCI will kill it, and burn always has Destructive Revelry.
I'm sure I'm forgetting things, but I gotta get sleep. I'll definitely come back to this more. This has always been one of my favorite decks on the site. Easily in my top 5 favorites.
3 months ago
Im going to make these suggestions under the assumption that price is not an issue.
Card Suggestions
3 months ago
I would look at the charms...Jund Charm, Bant Charm, Naya Charm, Esper Charm, Mardu Charm, Sultai Charm, Temur Charm,Abzan Charm, Rith's Charm ect.
3 mana, 3 counters for Ramos, and a ton of different effects for multiple situations. Obviously not all of those should go in your deck, but I would definitely throw in your favorites.
3 months ago
EpicBox75 Hey.
I have also considered the problem with not having enough hard removal, currently I am trying 1 Lightning Bolt>Terminate probably, mainly cause I find the lifegain from Lightning Helix to be very strong against a lot of currnetly popular decks, but either is a viable option tbh. The Main creatures that I have had the problem with personally is Tarmogoyf, Gurmag Angler and Tasigur, the Golden Fang. I've always considered a resolved Primeval Titan to just mean gameloss, given that I haven't actually fought bloom titan in my last 800 games (according to the list I keep) and versus Titanshift it really is just game over.
Dreadbore is a card I have also been considering, sorcery speed sucks, but killing planeswalkers is obviously very helpful.
Supreme Verdict is hard to cast. There aren't many great wrath effects in modern really tho, and I really feel like the deck needs to be able to do something against a flooded board, Godless Shrine is something I have trying in place of 1 Watery Grave.
Esper Charm is prolly next on the chopping block to speak from my sideboard, what I like about the card is mainly that it does something in matchups where I normally have a lot of dead cards, like Tron, other control decks, combo decks like Ad Nauseam and Bogles (lol why bother tho), it is a decent way of dealing with cast triggers too (draw phase discard 2), but for sure isn't the best card in the deck.
Regarding matchups, I never finished the section cause I haven't had time quite yet and will now give my thoughts on how you perceived the matchups.
Amulet Titan: Haven't fought on MTGO in my last 800 games, can't say, my guess would be its fairly even.
Death and Taxes is just plain miserable too fight, a lot of the time they can just land Leonin Arbiter before you drop your second land and then it's just over, other times they draw Ghost Quarter after Ghost Quarter. This is fortunately for us not a very common deck, but def one I would avoid if possible. I honestly don't really know what put in your sideboard to deal with it effectively either as it attacks your mana, something like Alpine Moon targeting Ghost Quarter would be an options I guess, but not a massive fan of that plan as imo its otherwise not a great card and sideboard spots are scarce.
Storm, I actually like fighting storm with this deck, post-sideboard you can bring in Damping Sphere, Leyline of the Void and some of the general good stuff from your sideboard, you can ofc whiff and not draw any of your sideboard cards, but that's the case with all decks, but overall I have a good record against them, as both spot removal (for Baral, Chief of Compliance and Goblin Electromancer, Counterspells for EoT Gifts Ungiven and Echoing Truth together with hatepieces Damping Sphere and Leyline of the Void
Tron variants are all fairly annoying, as they're quite easy if you draw good (like Damping Sphere, Stony Silence, Logic Knot and some lands) basically means they don't get to play the game, while most hands w/o Damping Sphere are very hard to justify keeping as T3 World Breaker into T4 Ulamog, the Ceaseless Hunger is a real risk that not even counterspells can protect you from.
Burn is a matchup I personally despise, while it is winnable, I wouldn't say its good, the 4 Lightning Helixreally do improve it a lot, and imo Kolaghan's Command is also good here.
Most Jund variants are good matchups, but jund is a very diverse deck, just a few days ago (well GB to precise), with 8 manlands, 4 Liliana of the Veil, 4 Tireless Tracker and 3 Thrun, the Last Troll maindeck, which was obviously a miserable experience, so it varies a lot depending on the jund deck. Other times they run with few of the control-hate pieces and you kinda crush them.
Ponza is a deck that feels tailored to fight us, strangely enough I have won both the matches I had against it, but I am fairly certain that was pretty lucky tho. Basically I just try to keep fetches uncracked for as long as possible and I am not scared of shocking myself multiple times if needed, but I am certain that my 2 wins against this deck wont repeat themself often.
UW(G) Spirits are actually alright to fight, Spell Queller and Geist of Saint Traft are the only real threats they have, Izzet Staticaster pulls a lot of weight here post-board too.
I personally hate fighting other control decks, mainly cause of

Search for azcanta

and Teferi, Hero of Dominaria as they can make the matchup feel very luck reliant. How good one is against other control decks is also very much a question of how much sideboard you dedicate to it, Esper Charm, Dispel and Negate are all obviously great here, but this deck in general lacks a way to deal with t2

Search for azcanta

while being on the draw. Spell Snare could be an option, but I personally do not like the card. In general this deck has rather few ways of dealing with other control decks, if compared to for example, UW control which runs more Celestial Colonnades and actually runs Ghost Quarter and/or Field of Ruin, while having a bit more counterspells. Overall tho, control is rather rare in the current meta and I can accept having a slightly below average winrate against the decks.

Hollow One

variants are actually fairly reasonable with this ye, adding in a Terminate would obviously make it better, but Kolaghan's Command really is amazing here.

Mardu Pyromancer really comes down a lot to Blood Moon, if they manage to resolve on its generally over, but usually you have a decent shot at stopping them, or at least fetching accordingly, in which case the matchup is rather favorable, especially postboard with Izzet Staticaster

Humans, decent matchup, I'd say something like 60-65% in our favor probably, we got a lot of removal, but the nut draws from humans are basically unbeatable. Izzet Staticaster can also be amazing here.

Living End I haven't faced either, but should be good with Leyline of the Void and a few counterspells and Supreme Verdict
Vengebridge variants are imo easier than the straight up B/R

Hollow One

decks, as you can usually (not always) get a hand with Leyline of the Void and make them play a very bad aggro/midrange deck with a lot of dead cards.
Ironworks is one of those matchups where you will rarely drop a match, between Damping Sphere, Stony Silence , Leyline of the Void, Kolaghan's Command and counterspells you're almost gauaranteed to draw a starting hand that makes them miserable, so far my record against them in 5 - 0 with few of the sideboard games even being "real" games.
Death's Shadow depends a lot on what variant, Grixis is imo the worst one to face, but even that one is prolly around 45-50% chance to win, the non-blue variants are considerably easier as you can generally either stock up on burn spells and go face, or boardwipe>counter everything and win the more normal way.
Titanshift sucks to face, I have considered picking up Runed Halo,Leyline of Sanctity or Alpine Moon specifically for this matchup. Their actual combo isn't even the main problem, its that they can often kill you just by playing lands at you, even if you counter their bomb cards.
Load more