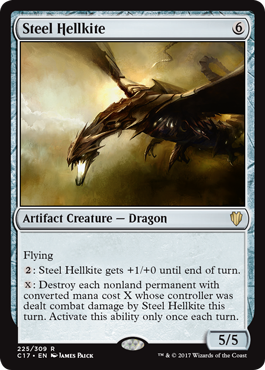 Legality
| | |
| --- | --- |
| Format | Legality |
| Tiny Leaders | Legal |
| Noble | Legal |
| Leviathan | Legal |
| Magic Duels | Legal |
| Canadian Highlander | Legal |
| Vintage | Legal |
| Modern | Legal |
| Vanguard | Legal |
| Legacy | Legal |
| Archenemy | Legal |
| Planechase | Legal |
| 1v1 Commander | Legal |
| Duel Commander | Legal |
| Unformat | Legal |
| Casual | Legal |
| Commander / EDH | Legal |
Steel Hellkite
Artifact Creature — Dragon
Flying
: Steel Hellkite gets +1/+0 until end of turn.
: Destroy each nonland permanent with converted mana cost X whose controller was dealt combat damage by Steel Hellkite this turn. Activate this ability only once each turn.
Have (54)

j

o

h

n

s

o

n

g

r

a

n

t

r

, Unjust_DiabIo , MagnaAura , ironax , Lucretian , angesoir ,

s

o

n

n

e

t

6

6

6

, Riku580 , marcus638 ,

g

o

l

g

a

r

i

g

i

r

l

, bradyofportdetroit , tragic_slip , ZombieFood , NOGzFTW , switchkill65 , pokemate0 ,

N

e

m

e

s

i

s

,

A

u

r

i

e

l

, Friedrice24 , Famicomania , joshw335 , thetechzombie , Shiromakuro , mziter501 ,

H

e

l

l

s

i

n

g

, rebelteddybear , zn.tportlock , Benniator , buildingadeck , Fineontheoutside , agardels , DrLitebur ,

L

T

m

i

l

l

e

r

, Xunfor6iv3nX , AlucardZain , DarkMagician , corys ,

c

h

r

y

s

a

r

i

e

s

,

S

p

i

n

a

l

r

i

p

p

e

r

, rhinoloupe , ZeroKotaha , rikertchu ,

K

i

n

g

O

f

G

r

i

x

i

s

,

R

i

d

e

r

s

_

o

f

_

B

r

o

h

a

n

, Diamonddragon2002 , MattN7498 ,

V

a

1

m

a

r

, DFDGamer , Slowbro23 ,

i

t

h

e

o

r

y

z

, mycheze ,

g

o

o

d

a

i

r

, mlouden03 ,

r

o

c

k

l

e

e

m

y

h

e

r

o

Want (42)
Iveliᴓs , Oskani , bops ,

B

r

i

n

g

e

r

O

f

S

t

o

r

m

s

, Roxmysox32 , Warxuaroz , aisthetikos , buildingadeck , kovellen , zomburs , Betamind ,

S

o

l

l

i

s

n

e

x

u

s

,

a

c

b

o

o

s

t

e

r

, raespadas ,

C

r

i

v

a

r

o

, JeremyTheMiner , dododestroyer , ElCamino , Blue_Otaku_No.1 ,

G

r

a

n

d

e

K

h

a

n

,

A

S

C

L

E

P

I

U

S

, zn.tportlock ,

D

a

m

i

e

n

B

e

l

l

1

3

, SlickWizard , duff87 , Killer_Tofu , hlnrog001 , brutusq13 , sleepy104 , Elphane , VaultTechy , Cracked_Sanity , afeuling , ztanos , Feyd-Rautha , rikimaru188 , xander025 , RazortoothMtg ,

S

i

r

F

o

w

l

e

r

, Uncommon_Courtesy , MementoMuffin , killzoid23
Steel Hellkite Discussion
6 days ago
Biggest issue I see here is a lack of focus and not enough creatures for a creatures only matter deck.
Animar, Soul of Elements wants two main things: Cast creatures and get +1/+1 counters to cast larger creatures. Everything in the deck should be focused on those two goals.
Setting up the deck to achieve this purpose will make it efficient and powerful. All cards should therefore do one of the following:
Ramp up to Animar.
Protect Animar.
Place counters on Animar.
Cast game ending creatures for cheap or free.
Draw cards to allow us to do 1 through 4.
Priority should be given to cards that does something now > does something before your next turn > does something on your next turn > does something eventually.
Because Animar offers a discount based on creatures played, the deck shouldn't be filled with only high cmc game enders, but creatures from low to high cmc, preferably with as little colored mana symbols as possible, to give the deck a natural progression to casting free or cheap high cmc game ending creatures.
Let's split the deck into 3 parts. Pre-Animar setup, Post-Animar setup, Finale.
Note that $: (0 to 0.99), $$: (1.00 to 4.99), $$$: (5.00 to 9.99), $$$$: (10.00 to 19.99), !$!: (20.00+)
Unnecessary on a computer, very helpful on a phone.
This section will be all ramp, and protection to get Animar out quickly and make sure he is secure.
- The land base should be arranged to where there is more emphasis on , then , then since can color fix and can offer protection.
- Exotic Orchard is pretty good and cheap and can usually offer every color in multiplayer, especially if an opponent has a Command Tower out or even a Vivid Grove without even needing charge counters. - Kazoo lands such as Simic Growth Chamber, Izzet Boilerworks, and Gruul Turf are good in casual EDH where there is lack of land destruction and they artifically increase your deck ammount by posing as two lands in one. Though overall you do not want too many tap lands as you'll constantly be a entire turn behind.
This section will be about setting up our board state to win. All cards from this point onwards will be casted after Animar has been casted.
This section will be about ending the game with giant behemoths.
1 week ago
@Padbras Great questions. First off, let me say this: Xenagos, God of Revels is more consistent than Mayael the Anima. The deck wins faster and more reliably. Mayael is more for the kind of player who values the experience of playing as much as (or more than) they value winning. Some of the best Magic memories I have are flipping those top five cards, one at a time, just hoping to turn over that clutch blocker. That degree of randomness isn't for everybody, but it's how I most enjoy the game.
As to your follow up question, yes, I would definitely recommend running Mayael on a budget. Most of the money cards I run are for 1) mana base consistency and 2) topdeck filtering. Those make the deck more reliable, but they're not necessary for it to be functional. Also, the fatties you choose to run are easily tuned to any budget. There are plenty of sub-optimal inclusions that can fill the role of expensive cards and still make a splash on the board. Here's some easy changes you can make to slash hundreds of dollars off the price tag:
Alpha duals ==> Battlebond duals. This is a no brainer. Battlebond duals are almost as good, especially if you cut fetch lands.
Fetch lands ==> Pain lands, Larwyn filter lands, and Odyssey filter lands. Filters are just a notch below fetches for mana consistency. Pain lands are a notch below that.
Ancient Tomb, Strip Mine, Wasteland ==> Basic lands. You'll need to run a few more basics without top-tier lands at your disposal. Trim the pricey colorless mana.
Mirri's Guile, Sylvan Library, Sensei's Divining Top, Scroll Rack ==> Crystal Ball, Darksteel Pendant, Lifecrafter's Bestiary, Seer's Lantern. It's still really important to have some topdeck filtering. These will get the job done.
Rings of Brighthearth ==> Illusionist's Bracers
Tooth and Nail ==> Another 5+ power creature
Crucible of Worlds, Mana Crypt ==> Any other mana rock. Basically the same effect, just slower and more fragile.
Avacyn, Angel of Hope ==> Spearbreaker Behemoth
Balefire Dragon ==> Steel Hellkite
Kozilek, Butcher of Truth, Ulamog, the Infinite Gyre ==> Artisan of Kozilek, It That Betrays
Hope that helps!
1 week ago
I really recomend tutors to fetch your summoning/myr, as you really need both to win. Shred Memory is a simple option. Grinding Station might not be as mana efficient as altar, but milling cards from the top of your library lets you drop a myr into your yard. Hoarding Dragon is a 3 drop tutor with a passable body. Indomitable Creativity/Molten Psyche etc let you try and reshuffle dead combo pieces to pick up more myr.
Sequestered Stash doesn't ruin your manabase and lets you look for more artifacts.
Red black is probably the least played colours for this kind of artifact combo because of the lack of tools to remove Rest in Peace or Leyline of the Void, which are in a lot of sideboards, so keep an eye on your meta. You don't want your best anti-enchant plan to be Mockery of Nature- if you can get a playset of Engineered Explosives and jam them maindeck to deal with those 2-drop 'no more graveyard' cards, do it. Steel Hellkite can do a passable impression, but at that point you might as well just jam Wurmcoil Engine.
3 weeks ago
Yes, although I recommend running either Hanna, Ship's Navigator (also from Dominaria) or Raff Capashen, Ship's Mage as your commander. Both fit the historic theme you've got going on. Both are great and flavorful options than can be built with a budget in mind. I'd say something like $50 is good enough to get you an entry-level deck.
Imagine using Raff to flash something like Steel Hellkite in at the end of an opponent's turn and then attacking immediately or using Hanna to repeatedly bring back a Soul Snare. Very cheap and lots of fun.
4 weeks ago
Ooh, things. And stuff. Here are some thoughts that didn't hurt:
1 month ago
Remove anything that doesn't say, "you may draw a card when a creature enters" or you might just deck yourself with your all-cheating. Momentous Fall, Soul's Majesty, or Life's Legacy could probably draw much better than Elemental Bond. With all the card draw this deck does, some redundancy with maximum hand size helps a lot. Spellbook, Library of Leng, Thought Vessel
I'm thinking a Brass Squire would be a nice inclusion, especially with some of my suggestions, or just because you move a lot of equipment around. Helm of the Host, can let you copy Grothama and have it fight itself for 20 cards drawn.
There are two big glaring weaknesses of this deck: Flyers, and removal. For removal best to worst: Beast Within, Song of the Dryads, Karn Liberated, Argentum Armor, Steel Hellkite, Spine of Ish Sah remove anything. Reclamation Sage, Acidic Slime, Bramblecrush, Woodfall Primus can slow down your opponents while building your board.
Never go without graveyard interaction, Tormod's Crypt, Scavenging Ooze, or Relic of Progenitus will put an end to the Spore Frog + Meren of Clan Nel Toth combo, Archaeomancer + Time Warp, and other shenanigans
Multani, Yavimaya's Avatar and Ulvenwald Hydra are both giant reach creatures that hang back on D. They can fight Grothama and live too, just be sure to Fog so they don't go attacking with 10 damage marked on them. Tornado Elemental, Whirlwind, or Hurricane can deal with your archetypal Angel, Demon, or Dragon, tribal decks. Alternatively, Deadly Recluse or Hornet Queen will make no one want to attack you
1 month ago
Maybe add in Mind's Eye, Mystic Remora, Overflowing Insight (to be cast for free from Jhoira), Thought Reflection, Mind Unbound, Staff of Nin and Honden of Seeing Winds for budget card draw.
Maybe if you feel like a bit of grouphug that benefits you as well and draws cards look into: Kami of the Crescent Moon, Temple Bell, Howling Mine and Font of Mythos.
You'll also want some protection from creatures and creature attacks, maybe stuff like: Crawlspace, Silent Arbiter and Propaganda.
But every deck needs some SPICE. And you have access to allsorts of spice in Red-Blue. Dominus of Fealty, Steel Hellkite, Wild Evocation, Sunbird's Invocation, Disrupt Decorum and Swarm Intelligence.
Some good removal: Arcane Denial, Chaos Warp.
Load more
Latest Commander