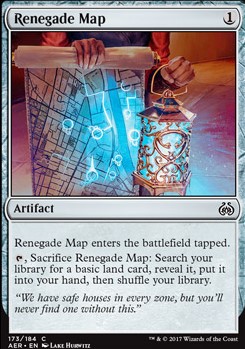 Renegade Map
Artifact
Renegade Map enters the battlefield tapped.
[symbol:t], Sacrifice Renegade Map: Search your library for a basic land card, reveal it, put it into your hand, then shuffle your library.
Browse Alters
View at Gatherer
Legality
| | |
| --- | --- |
| Format | Legality |
| Tiny Leaders | Legal |
| Gladiator | Legal |
| Highlander | Legal |
| Pioneer | Legal |
| Custom | Legal |
| Unformat | Legal |
| Arena | Legal |
| 1v1 Commander | Legal |
| Oathbreaker | Legal |
| Pauper EDH | Legal |
| Commander / EDH | Legal |
| Canadian Highlander | Legal |
| 2019-10-04 | Legal |
| Casual | Legal |
| Pauper | Legal |
| Duel Commander | Legal |
| Vintage | Legal |
| Block Constructed | Legal |
| Modern | Legal |
| Legacy | Legal |
| Limited | Legal |
| Leviathan | Legal |
| Historic | Legal |
Renegade Map occurrence in decks from the last year
Latest Decks as Commander
Renegade Map Discussion
3 weeks ago
some of these cards are control cards, put into an aggro deck. So they may be good in some situations, yes, but in a general circumstance they're more likely to be a hinderance than anything
Wrath of God is an okay boardwipe, but really you don't want to potentially devastate your board AND have to wait a turn to rebuild. Most of the time something cheaper will be better - Pyroclasm if you know you're going to face weenies or RDW or something of the like, or Blasphemous Act for just more general decks. Frankly, Blasphemous Act will potentially be worth a mere most of the time against Krenko or Thalisse even. Plus it hits them as well.
Idyllic Tutor finds you an enchantment, but what enchantment do you need? Again, you're playing an aggro deck so you shouldn't be taking your turn 2 or 3 to set up for later; you should be butting heads with anyone and everyone.
Torment of Hailfire is looking so shady here. It's a mid-lategame card that's meant to be used in tandem with heavy removal and attrition, and you're just chucking it in here as what? some sort of a finisher? Sure, it could be a finisher, but I think it needs to be somewhat built around / synergised with to actually be a viable pickup.
Replace
Yarok, the Desecrated
with
Panharmonicon
. cheaper and not colour-reliant. Harder to deal with than just a creature
Rootborn Defenses is to make your stuff indestructible. First off, there's cards that do the same thing for less, and there's even cards that do more for the same price - Make a Stand, Flawless Maneuver, Ready / Willing or even Heroic Intervention. Populate is going to be pretty inconsistent in this deck too, as there's only a small handful of token generators in the deck, so why not swap it out (or remove it, even) for something more efficient
Cinder Glade
is a tapland so you might as well replace it with
Sheltered Thicket
. I think, regardless, switching to
Sheltered Thicket
will be more beneficial - fetch and eot, on your turn it enters untapped, or it's in your hand and you treat it as you would treat a
Barren Moor
: cycle if you don't need it, or play if you do.
Jegantha, the Wellspring is 5 mana for a max of 3 mana per turn (estimate). With so few early ramp cards, how do you expect to consistently hit 5 mana on turn 5, 4, even 3? He may be neat, and help you ramp but you need to get him in play first. I just don't think he's worth in this deck. It's a 5-colour deck, but doesn't have a strong mana base. Also an aggro deck, so a 5 mana mana dork will kinda throw off your tempo anyway
Evolving Wilds, Fabled Passage, Terramorphic Expanse, Renegade Map, Burnished Hart, Solemn Simulacrum, Yavimaya Elder, Sakura-Tribe Elder all find little to nothing. Maybe if you add in some more basics, keep Fabled Passage and Solemn Simulacrum but not the others. The reason for these caards is to thin your deck, but thin them from basics, so if you have minimal basics to begin with you're not really consistently thinning (given that the chance of drawing all your basics is exceptionally higher than it would be with, say 10+ basic lands). Fabled Passage and Solemn Simulacrum give, for sure, the highest value so that's why I suggest to keep just them.
1 month ago
So, unfortunately I do have work today but I did 1 swap. Expedition Map in and Renegade Map out. We really want to start making rocks with our commander so fishing out Rakdos Carnarium is a big priority. Currently, I am mulling over potential combos we can dig to but I'll need more time.
2 months ago
Next step is card-draw and card-advantage. Unfortunately, the Boros colors are the worst at drawing cards. Graveyard recursion is a type of card advantage, so Colfenor's Urn can count. I've never seen that card before! Nice find and good instincts!
Here are some options for you.
First up, the cards I own that I'm willing to part with:
Seer's Sundial - Staff of Nin - Farsight Mask - Key to the City - Infiltration Lens - Mask of Memory - Tome of Legends - Outpost Siege - Khorvath's Fury - Humble Defector - Chandra, Flamecaller - Magus of the Wheel
---
Cards I don't have that you should consider:
Tectonic Giant is mandatory! He's so good! Protector of the Crown is on-theme too--highly recommend.
Bonders' Enclave would be worth picking up, I think.
Browbeat - Loreseeker's Stone - Arcane Encyclopedia - Vance's Blasting Cannons  Flip - Ignite the Future - Reforge the Soul - Wheel of Fate - Mind's Eye (used to be the gold-standard! Very mana-inefficient though) - Icon of Ancestry (interesting choice since it has the anthem) - Rogue's Gloves - Well of Lost Dreams (great choice with your commander!) - Coveted Jewel (ramp and draw! Unreliable and mana-expensive, but chaotic and fun!) - Mangara, the Diplomat - Runehorn Hellkite - Dragon Mage - Knollspine Dragon - Herald's Horn - Endless Atlas (a bit suspect in two-color decks unless your colors are very skewed or you have lots of Renegade Map-type cards) - Bag of Holding - Arch of Orazca - Geier Reach Sanitarium - Mazemind Tome
---
Underworld Breach, Sunbird's Invocation, and Stolen Strategy might count as card-advantage, should you feel jaunty. Stolen Strategy is definitely a fun card and get you fodder for Brion's throwing.
Howling Mine + Inspiring Statuary is kinda funny. Probably not worth it though.
2 months ago
skoobysnackz, What about Evolving Wilds, Terramorphic Expanse, Ash Barrens, Fabled Passage, Prismatic Vista, Armillary Sphere, Bant Panorama, Esper Panorama, Grixis Panorama, Jund Panorama, Grixis Panorama, Blighted Woodland, Burnished Hart, Expedition Map, Myriad Landscape, Renegade Map, Sakura-Tribe Elder, Solemn Simulacrum, Sword of the Animist, Thaumatic Compass  Flip, Thawing Glaciers, Traveler's Amulet, Wanderer's Twig, Wayfarer's Bauble, or Wood Elves?
For some of the casual play groups I've been in Opposition Agent would really hose their ability to mana-fix and I can't think of anything more annoying than sitting on removal you could use to take it out, but not having the right mana to cast it.
8 months ago
Grinning Totem is a reusable tutor in your deck. Renegade Map is a cheap reasuble ramp card.
Instead of always having to cast the artifacts there are a few black cards that allow you to discard X cards for effect. Not sure that would be worth it without reworking the entire deck to let you mill a ton of artifacts into the graveyard though. Still, if everybody has to discard cards you could just keep discarding the same one over and over.
Load more