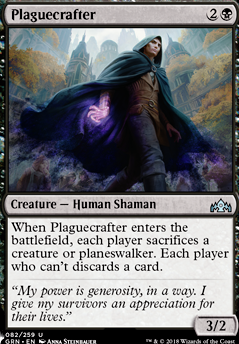 Plaguecrafter
Creature — Human Shaman
When Plaguecrafter enters the battlefield, each player sacrifices a creature or planeswalker. Each player who can't discards a card.
Browse Alters
Trade
Legality
| | |
| --- | --- |
| Format | Legality |
| 1v1 Commander | Legal |
| Arena | Legal |
| Block Constructed | Legal |
| Canadian Highlander | Legal |
| Commander / EDH | Legal |
| Duel Commander | Legal |
| Gladiator | Legal |
| Highlander | Legal |
| Historic | Legal |
| Legacy | Legal |
| Leviathan | Legal |
| Limited | Legal |
| Modern | Legal |
| Oathbreaker | Legal |
| Pioneer | Legal |
| Tiny Leaders | Legal |
| Unformat | Legal |
| Vintage | Legal |
| Casual | Legal |
| Custom | Legal |
| Quest Magic | Legal |
Latest Decks as Commander
Plaguecrafter Discussion
3 weeks ago
Sup lobsternips!
As a baseline, you'll need to add lands, which I'm sure you know. Since you're making Treasure and Gold tokens in this deck you'd probably be good with roughly 34-36 lands, leaning more to the most mana color you'll need, say like a 25/25/50 split if thats what you're going for.
That basically does it for my brief review, hope I was of some help!
1 month ago
Hello , i see that you are missing a lot of protection for Muldrotha and have a lot of ramp spell that will not be useful in your graveyard later on. Here some suggestions for you if you want to explore other avenue.
Protection: Command Beacon - It will ensure you can always cast muldrotha for cheap. Bojuka Bog - very important to interact with your opponent graveyards, if not needed cycle it and use it later if needed.
Lightning Greaves For me its a no brainer especially how much muldrotha cost to cast we need to help him..or her staying on the board.
Spore Frog is just amazing if you are in a playgroup that go to combat a lot your just dont care sac spore frog everytime and recast it on your next turn for a huge shield... if you playgroup dont use combat a lot leave it out.
Elephant Grass Is also very good to keep you safe while you are building up your board. Dont want to pay the cumulative upkeep, sac it and replay it again :)
Glen Elendra Archmage is also going to disturbed your opponent plans when its on the board and I pair her with Mikaeus, the Unhallowed so she always come back without me having to recast her, and Mikaeus is just awesome in this deck.
Im Testing and trying Lilting Refrain for counter spell which seemed a good deterrent like Glen Elendra and it can be reutilized.
Ramp You are using a lot of sorceries for this category, I was doing the same before and felt that these card had no value on the long run.
I now use a different approach on ramp. I use milling and I play cards like Ramunap Excavator , Dryad of the Ilysian Grove , Springbloom Druid (should replace cultivate), my favorite is World Shaper (instead of your splendid reclamation) and sac it for massive boost, same for The Mending of Dominaria it just feed your grave and have a massive outcome + they can be replayed later by your cmdr.
I would play 1 or 2 drop mana dorks over ramping sorceries for sure. The only sorcery I really suggest is Life from the Loam so good to feed your graveyard or get your land back if needed.
Self mill: Jace, Memory Adept will do better than Beleren , pair this with Syr Konrad, the Grim and other mill option ... let me know in your reply if you would like this avenue a have a few good cards that can help.
Tutor: You also want to replace your Beseech the Queen for Gravebreaker Lamia or Sidisi, Undead Vizier same thing it does the same and can be replayed over and over.
Card Draw: I would replace Lifecrafter's Bestiary for Secrets of the Dead which will make you draw like crazy when you cast back stuff from your grave.
Ohter: Fleshbag Marauder is a good effect, but you can have more versatile and mana efficient creatures which are also cheap: Demon's Disciple and Plaguecrafter both are an auto include when repeated over and over they are very nasty.
Hostage Taker is very very fun .
Steal Enchantment is a very good 2 mana value card which will make you live the dream of having a Smothering Tithe , Rhystic Study or any other broken enchantments.
I can go on an on on card that will benefit your deck , what I would say check to replace your instant and sorceries with permanents that will benefit you during the entire game.
Let me know what you think and what you will change I can then help you tweaking a few more things.
1 month ago
Your deck looks like it is off to a great start! The first commander deck I ever built was a Korvold deck and I've been playing with Korvold for a while. Personally, I think (with the way you've built this deck) that Tergrid, God of Fright  Flip is pointless in here, with the overwhelming amount of potential from Tergrid I think that there should be more discard effects and effects that force your opponents to sacrifice their stuff to take complete advantage of her. More effects like Dictate of Erebos and Plaguecrafter . I suggest this because these kinds of effects are super powerful in their own right and Tergrid makes them even more powerful. If I were forced to build Korvold again with a different strategy then I would go with the discard and opponent sacrifice effects. If you would like to look at my own current build of Korvold then here is the link Korvold Sac Deck. Take a moment to read my description of my deck and maybe that can help you out some too.
1 month ago
Take out Vinelasher Kudzu (shit card), Vulturous Zombie (Too slow), Overbeing of Myth (Too slow), Mossbridge Troll (Not a great card), Elvish Aberration (Too Slow).
Cards to consider Alexi's Cloak , Omen of the Sea , Omen of the Hunt , Plaguecrafter , Spore Frog , Seal of Primordium , Secrets of the Dead , Throne of Death , Syr Conrad, The Grim, Perpetual Timepiece , Executioner's Capsule , Nihil Spellbomb , Aether Spellbomb , Sultai Ascendancy , Seal of Removal , The Eldest Reborn , Titans' Nest
2 months ago
It almost looks like you want to play some Battlecruiser magic! Battlecruiser is a strategy where your first half of the game is spent ramping and playing tight threat removal. Cards like Plaguecrafter , Mire in Misery , and Tribute to the Wild , or even Sedge Scorpion or Foulmire Knight play into this strategy super well... as long as you're ramping, too.
The second half of a Battlecruiser strategy is preparing for an alpha strike: that means waiting until the moment is right to play Muldrotha and not allowing her to be killed or countered before you're ready (she's expensive enough that you can ramp past her cmc and wait it out). You've got a couple effective synergies that become insanely powerful if you can do them the same turn you drop your commander, which is totally possible with cards like Daring Apprentice . Preparing for that alpha strike becomes a game of setup: you gotta be ramping, self-milling, getting those combo pieces into your graveyard while taking out the most dangerous threats. It's fun if you do it right! Just ramp ramp ramp!
Consider Renegade Map , Traveler's Amulet , Horizon Spellbomb , or similar!
2 months ago
This deck seems sweet. One thing I think would make it better is taking out some of the generic staple ramp and removal and replacing it with ramp and removal that helps the decks strategy.
For the ramp, might I suggest Priest of Forgotten Gods as a great source of card advantage, removal and mana with all of your tokens. Pitiless Plunderer is also great for fueling the mana needs of decks like this, It is the single best card in my korvold deck and I'd be surprised if it didn't do work here.
For the removal there's numerous options of sackable creatures to pay off all your triggers such as Plaguecrafter , Merciless Executioner , Fleshbag Marauder , Demon's Disciple , Shriekmaw (this feels like too many as you still want a few instant speed, no restriction pieces of removal to save you in a pinch but take your pick of your favourite).
Now for draw, Yawgmoth, Thran Physician is one of the most broken cards in any aristocrats deck,it's a sac outlet, removal for small creatures and it draw hella cards, definite include if you can afford the fairly large price tag. Now there aren't that many cards that draw whenever a TOKEN creature dies but there are a few more niche ones that I'd include, Species Specialist would be good if you have alot of one particular type of token and Dark Prophecy is good if the mana base can support triple black. Also if you're worried about having enough nontokens to sac that you won't run the classics like Midnight Reaper i'd take another look at the Judith, the Scourge Diva in the list I'd also recommend the commander storm cards as they seem very cool in the list when you're repetitively casting the commander, especially the red one letting you basically recast the commander for every casting of it before. Theres also Ashnod's Altar and as another great sac outlet for the deck although idk how much you'll need when you've a guaranteed sac outlet in the command zone. If you're looking for cards to cut I'd immediately look at the instants and sorceries that are just generically good if you're planning on building solely around the back side. I'd also look at the expensive token makers such as Marionette Master and Siege-Gang Commander as those are effects you want earlier in the game. This deck seems very cool and I feel like there's a lot that can be done with it and I do love aristocrat strategies, one of the reasons black is the best colour.
2 months ago
Lots of this is what I would put in this deck, a few swap outs for creatures could be more ETB creatures that way if you cast Extus for his front you can get double value out of them. Stuff like Plaguecrafter Shriekmaw and Slum Reaper are just a few of those examples. Also doubling on Extus's ability might prove useful so stuff like Ravos, Soultender and Sheoldred, Whispering One would also make great additions. Since The back side cares about sacrificing creatures tokens are an easy way to get things to sac for the sorcery side so doubling up with Anointed Procession is a good idea. If we cast the Sorcery side a bunch of times we can also get a lot of value out of cards like Empyrial Storm Skull Storm and Fury Storm allows us to copy those spells in multiple instances as well as a Commander's Insignia may prove useful if you want to swing with creatures/tokens. Swap kill spells and throw in spells that make your opponents sacrifice as the Sorcery side already does that and throw in a Tergrid, God of Fright  Flip to get more benefit (Had to fix my first comment mb)
2 months ago
Well, a good classic card for storm decks is Aetherflux Reservoir and you aren't running a Bolas's Citadel which imo is too good to pass up. Also some bombs in this deck is Endless Cockroaches , Cloudstone Curio , Ayara, First of Locthwain and Priest of Gix . Demon's Disciple and Plaguecrafter are also good cards, can't have too many Fleshbag Marauder effects.
I also enjoyed playing Painful Quandary , Smokestack , Descent into Madness Bitterblossom and Contamination when I built Endrek Sahr, Master Breeder and Tergrid, God of Fright  Flip would probably fit here too.
This commander I used as a sac stax deck with a storm win con, Exsanguinate is another win con you can use for this deck.
Good luck, hope your play group keeps playing with you haha
Load more