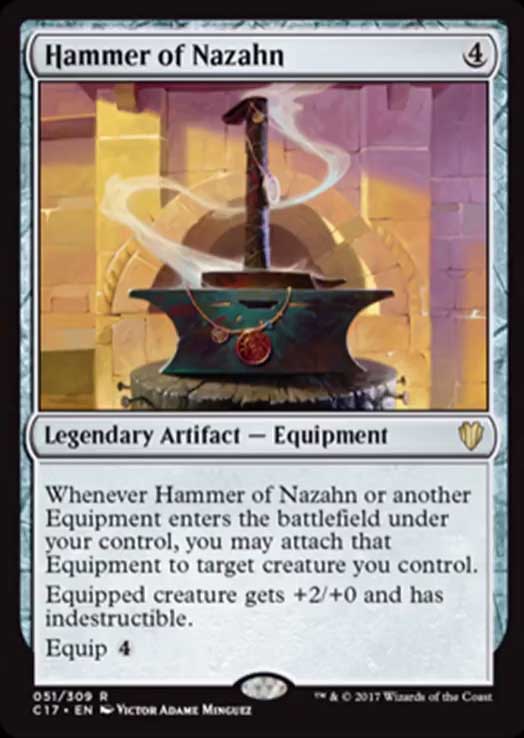 Legality
| | |
| --- | --- |
| Format | Legality |
| Tiny Leaders | Legal |
| 1v1 Commander | Legal |
| Magic Duels | Legal |
| Canadian Highlander | Legal |
| Vintage | Legal |
| Custom | Legal |
| Leviathan | Legal |
| Legacy | Legal |
| Duel Commander | Legal |
| Oathbreaker | Legal |
| Casual | Legal |
| Commander / EDH | Legal |
Hammer of Nazahn
Legendary Artifact — Equipment
Whenever Hammer of Nazahn or another Equipment enters the battlefield under your control, you may attach that Equipment to target creature you control.
Equipped creature gets +2/+0 and has indestructible.
Equip
Hammer of Nazahn Discussion
1 week ago
TL;DR: https://www.youtube.com/watch?v=26SblcKLQsM
1 month ago
@NensouHiebara - I feel like if things have gone the route where Gideon Blackblade is a viable equip creature target, things have gone horribly, horribly wrong... because the mana investment equates to temporary gains; it's akin to your equipped creature dying/being exiled, regardless of indestructibility/Hexproof.
Balan being able to equip everything at instant speed for 2 mana, is what makes it the best equipment general. Gideon isn't bad, per say, but the whole "being a creature and also a planeswalker" thing is overrated when the equipments fall off every turn. It's versatile, and early game it could do a significant amount of work to pump balan/something else, but late game, it's only going to be for the keyword +1. If that's enough for you, then it's all good, but I find it hard to justify when, unlike equipment tutors, this can't be fetched without making cuts for it's tutor(s).
Gideon is basically an attackable enchantment. Instead of that, Open the Armory or Steelshaper's Gift gets you whatever you need. Need indestructible? Fetch Darksteel Plate or Hammer of Nazahn . Need Vigilance? Fetch something like Sword of Vengeance . Lifelink? Fetch Loxodon Warhammer . Etc. Of those, Sun Titan gets back 3 of the 4, nevermind anything else. If you don't have Vigilance on board, you're likely to pick that just to try to keep Balan up as a blocker for Gideon, which might not always be ideal if you're also missing hexproof/indestructible.
1 month ago
Thanks Joe_Ken_, I will add Mox Amber to the maybe list. It does play well with some of the other artifact/historic triggers in the deck and there are plenty of legendaries in this deck though it is a bit expensive. Hammer of Nazahn is already inside the deck because in this deck it gives indistrtuctible at instant speed.
1 month ago
Mox Amber could be a good mana rock for this deck since it could be flashed out for whenever you need another mana.
Also Hammer of Nazahn could help keep him alive.
1 month ago
I would cut the following cards as they are just wasted space and either are inefficient, or they only combo with one other thing in the deck:
Zealous Conscripts , Kiki-Jiki, Mirror Breaker , Splinter Twin , Combat Celebrant , Sanguine Bond , Exquisite Blood , Helm of Obedience , Leyline of the Void , Helm of the Host , Godo, Bandit Warlord , Panharmonicon , Hammer of Nazahn , Basalt Monolith , Rings of Brighthearth
And add Tainted Strike and Purphoros, God of the Forge .
1 month ago
I've revised down my combo list to the following -
I've also increased my ramp to literally half my deck (33 lands + 16 rocks = 49). I only have one tutorable card draw, Necropotence , but once it hits the boards it's all the card draw I need. Finally, I've added some more tutorable answers like -
I really miss the Life and Limb + Sporemound combo, but something had to give for all the additional ramp.
Please let me know if y'all feel like I've made any improvement.
Thanks!
1 month ago
I'd personally drop Darksteel Plate , Hammer of Nazahn , and Helm of the Host . They can all work nice together if you have enough support for them, but they seem to just be eating room in a way that is unnecessary to make the deck function efficiently.
Load more
Hammer of Nazahn occurrence in decks from the last year
Commander / EDH:
All decks: 0.03%
White: 0.45%
Red: 0.16%