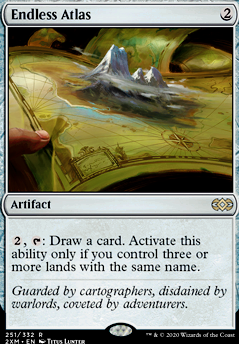 Endless Atlas
Artifact
, : Draw a card. Activate this ability only if you you control three or more lands with the same name.
Browse Alters
Trade
Legality
| | |
| --- | --- |
| Format | Legality |
| Oathbreaker | Legal |
| 2019-10-04 | Legal |
| Canadian Highlander | Legal |
| Casual | Legal |
| Vintage | Legal |
| Leviathan | Legal |
| Legacy | Legal |
| Limited | Legal |
| Duel Commander | Legal |
| Highlander | Legal |
| Commander / EDH | Legal |
| Tiny Leaders | Legal |
| 1v1 Commander | Legal |
Latest Decks as Commander
Endless Atlas Discussion
3 weeks ago
Ok first of all, +1. I like this deck. Relatively low to the ground for Norin, has a general sense of purpose (dealing damage). I have a several comments and suggestions...
Fanatic of Mogis - I've found him to be lackluster, what has your experience been with it, do you usually have enough devotion to make him meaningful?
Pia and Kiran Nalaar - Similar to above, but I see you have another theme of tokens and damage dealing ETB enchantments/cards. I just find the activated ability to expensive and slow. I would always rather play something from my hand.
Deflecting Swat - Such an amazing card, but if only Norin could stay. What has your experience been with it in Norin, I'm very tempted to slot one in.
Sculpting Steel - Same question as above?
What is your meta comprised of, power level?
Darksteel Citadel - What is the purpose of this, stealing an artifact with confusion?
Roiling Vortex - Meta call?
Cloudstone Curio - Experience with this card, ups and downs?
It feels you suffer from red's lack of card draw, to be addressed in suggestions below. You have virtual card advantage through looting, but little card advantage aside from wheels and a little others.
Tome of Legends - Best card for Norin ever printed. Don't sleep on this
Endless Atlas - Almost as good as above
Hedron Archive/Mind Stone - Ramp when you need it, card draw when you don't
Mind's Eye/Memory Jar - Top of the curve for draw but can help you out when you need then late game. Mind's eye is especially fun with wheels and Honor-Worn Shaku, as you use shaku + norin and mind's eye to draw during each opponents draw step.
Blast Zone - Speaking of red's weakness, this can work as enchantment removal.
I think you should cut some of the less impactful non basics and add more basics. This will fuel valakut and will help you with extraplanar lens - which itself is a very risky card.
A cool combo (not a serious suggestion but funny to note) is Ugin, the Ineffable + Top + Experimental Frenzy = Draw your whole deck. Each piece is good on it's own (maybe even frenzy in this deck given your lack of card draw?) and Ugin works as both card draw and enchantment removal.
Heat Shimmer + Dualcaster = Infinite Hasty Dualcasters, each piece is good on it's own. There are 1-2 other cards that work with dualcaster as well but escape me at the moment.
Light Up the Stage - With all your damage dealing, this is easy to cast, works well with top too, allowing you to knowingly be able to cast a card rather than risk it in exile.
Ignite the Future - Similar to above but flashback payoff has won me games.
Curse of Opulence - Ramp and politics. I recently had 2 games in a row in a 3 man pod where me and opponent #2 both cast this on opponent #3 on Turn 1. Very fun
Outpost Siege - Draw when you need it, damage when you don't, primarily used for draw in my experience
4 weeks ago
I've got a few suggestions for your value engine Zirda.
First and foremost: your card draw. The first problem with it is that a lot of what you labeled card draw..... well isn't really card draw since while you are drawing cards it doesn't actually net you any cards (you lose a card to get a card, net zero cards that way). The cards that do net you cards are very, very, very inefficient. I can see you're trying to take advantage of Zirda's ability to draw cards, but you're taking bad cards and making them mediocre.
If you want to use Zirda to make drawing cards easier, I've got a few suggestions. First off, Endless Atlas is a much, much more efficient option that becomes even more efficient when Zirda is out. Besides that, the best options for drawing cards that Zirda makes more efficient are equipment. Mask of Memory, Sword of Fire and Ice, even Rogue's Gloves. After that, you'll have to look at other sources of card draw. Red has excellent options in both wheel effects (Wheel of Fortune, Reforge the Soul, Magus of the Wheel actually synergizes with Zirda!) and in impulsive draw (Light Up the Stage, Tectonic Giant, heck even Experimental Frenzy could be better since Zirda makes blowing itself up easier).
I do think your ramp package because of Zirda is much more solid and efficient. Additionally, I think you've got the right idea with running creatures that can pump out tokens for mana (which Zirda reduces). I recommend leaning into that. Heliod, God of the Sun is another excellent creature that does that.
Lastly I recommend improving your removal package. White has access to the best removal in EDH. Swords to Plowshares and Winds of Abandon I consider staple level in decks that have white (aka any deck with white should strongly consider them).
1 month ago
enpc And with newer colorless card draw becoming much better, modern playable Mazemind Tome, EDH specific Endless Atlas, and older Sensei's Divining Top/Scroll Rack always being powerful options!
Things that synergize with white's effects like counters with Mindless Automaton, lifegain with Well of Lost Dreams, and tokens or small dudes with Skullclamp, that or Sword of Fire and Ice for equipment strategies, Smuggler's Copter and Bonders' Enclave for other strategies.
And in white, after looking it up for Omniscience_is_life, here is my new, semi-educated package:
Land Tax, Mangara, the Diplomat, Alms Collector, Weathered Wayfarer, Mesa Enchantress, Kor Spiritdancer, Sram, Senior Edificer, Stonehewer Giant, Dawn of Hope, Puresteel Paladin, Mentor of the Meek, Bygone Bishop, Luminarch Ascension, Emeria, The Sky Ruin, Sun Titan, Sevinne's Reclamation, Ranger of Eos, and Castle Ardenvale
Not to mention tutors being Weathered Wayfarer/Ranger of Eos being tutors, alongside Steelshaper's Gift, Open the Armory, Recruiter of the Guard, Ranger-Captain of Eos, Academy Rector, Arena Rector, Call the Gatewatch, Idyllic Tutor, Enlightened Tutor, Heliod's Pilgrim, Quest for the Holy Relic, Three Dreams, Boonweaver Giant, Auratouched Mage, Djeru, With Eyes Open, Taj-Nar Swordsmith, Thalia's Lancers, Totem-Guide Hartebeest, Relic Seeker, Priest of the Wakening Sun, Forerunner of the Legion, Ignite the Beacon, Plea for Guidance, Kithkin Harbinger, etc.
Oh, and there is more, just look!
1 month ago
You marked two Daxos for the deck. If you do have an open slot then maybe Endless Atlas could be put in for some extra card draw.
1 month ago
Fiery Emancipation > Other damage doubler. Costs more but non symmetrical and does a lot more damage.
Buried Ruin - Recur 1/5th of your deck
Inventors' Fair - Tutor, lifegain
Myriad Landscape - While a bit slow, ramp is needed in red, worth considering
Strip Mine - Interaction on cradle, coffers, field, etc...
Blast Zone - Interaction on enchantments and others
Confusion in the Ranks - Triggers on itself so it is enchantment removal, with norin you get a creature each turn, really fun with Dockside Extortionist
Curse of Opulence - Ramp and politics. Attack them with Norin, then Norin runs away and comes back with treasure :D
Ignite the Future/Light Up the Stage - "Draw" which you can use until your next turn, really good with Top as you can look at your top 3 or more importantly, use top to draw a card and then you know you can cast top easily.
Chandra, Torch of Defiance - Ramp, draw, removal and a wincon all in 1
Endless Atlas - Draw
Honor-Worn Shaku - Ramp with Norin, purphorous, chandra, etc...
Skullclamp - Draw
Lmk what you think of each suggestion and if you want ideas for cuts :)
1 month ago
Hedron Archive > Worn Powerstone. Costs 1 more, but the option for card draw is nice. Alternatively, Arcane Signet or Ruby Medallion can work as well.
Deflecting Swat - WAY too much utility and for free? Sign me up!
You're lacking some card draw there, you can't always rely on your commander. Endless Atlas, Mind's Eye, Skullclamp, even Solemn the sad robot is potentially worth an inclusion as it helps mitigate your weaknesses of lack of ramp and card draw
Command Beacon - For when your commander is too expensive
Blast Zone - Gets rid of enchantments that you can't interact with
I understand limiting your nonbasics is a priority given your 4 mana doublers, should you wish, you can remove myriad landscape, but personally, I think myriad is a great card and is not a target for LD. If they destroy your Myriad, then thats LD thats not gonna target your cavern of souls or any other relevant utility land.
Load more