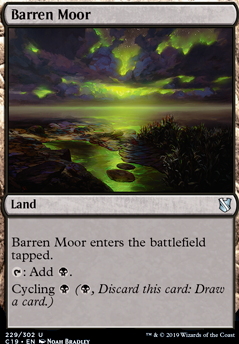 Barren Moor
Land
Barren Moor enters the battlefield tapped.
: Gain .
Cycling (, Discard this card: Draw a card.)
Browse Alters
Trade
Legality
| | |
| --- | --- |
| Format | Legality |
| Oathbreaker | Legal |
| Canadian Highlander | Legal |
| Arena | Legal |
| Pauper | Legal |
| Vintage | Legal |
| Tiny Leaders | Legal |
| Magic Duels | Legal |
| Unformat | Legal |
| Historic | Legal |
| Leviathan | Legal |
| Modern | Legal |
| MTGO | Legal |
| Commander / EDH | Legal |
| Pauper EDH | Legal |
| Penny Dreadful | Legal |
| Highlander | Legal |
| Noble | Legal |
| Duel Commander | Legal |
| Block Constructed | Legal |
| 2019-10-04 | Legal |
| 1v1 Commander | Legal |
| Legacy | Legal |
| Casual | Legal |
Barren Moor occurrence in decks from the last year
Commander / EDH:
All decks: 0.12%
Barren Moor Discussion
4 days ago
MB's Suggested Additions
3 weeks ago
Oh, I also really like the split between Witch's Cottage and Barren Moor. They're basically the same thing even when the cottage enters tapped. You're not getting the card in your hand but you're getting the best card in your graveyard on top of your deck.
1 month ago
I've always loved cycling and the decks built around the mechanic. In fact, one of my favorite competitive decks of all time was built around cycling. (Of course, that was during a time where affinity had first appeared on the seen and the Gw deck was built to strictly hose those early affinity decks) have you considered Secluded Steppe Barren Moor Forgotten Cave they should all be modern legal. I would also suggest more cards that cycle for utility Djeru's Renunciation follows the game plan by being able to cycle but it's a cheap utility card in a pinch. Astral Drift may give you a some decent utility as well. Gilded Light might be a good sideboard option. Overall a very fun looking deck!
5 months ago
Personally I think the logistics of the deck should always come down to playtesting and the local meta. That being said, here's what I'd change out from a glance. Also I avoided most of the discard to make room for card draw.
Remove - 15
Add - 15
Bonus
You'll still have 20 rats in the deck, which should keep Marrow-Gnawler happy. Read the Bones and Morbid Curiosity are probably the easiest thing to change here for sideboard. I'd probably replace it with Throat Slitter and/or Okiba-Gang Shinobi (or two of the bonus cards) depending on the meta. Hope this helps and I wish you luck with you FNM =).
5 months ago
No problem, glad to help.
I like Ayara, First of Locthwain for card draw and it works nicely with Piper of the Swarm. I think these two work fine without the Nezumi Shortfang. I think you deal enough damage with the other rats in the deck without jumping through hoops for the "Rat-Rack" (Rat-ck?), also I think the Nezumi Bone-Reader is a little better anyway since you can make people discard more than one a turn.
As far as card draw goes, Barren Moor is fine, Castle Locthwain though might conflict with your ninjas a bit if you plan on returning creatures to your hand. Morbid Curiosity, Priest of Forgotten Gods, and Read the Bones might be better options than potentially losing more than paying four mana (including tapping the castle) and life for one card. Morbid Curiosity works particularly well with your expensive ninjas and fuels Ayara (or sac Ayara for 3 cards in a pinch).
Westvale Abbey is a great finisher for this deck. You can pair together with Oketra's Monument to set it up even faster. Hope this helps.
Load more