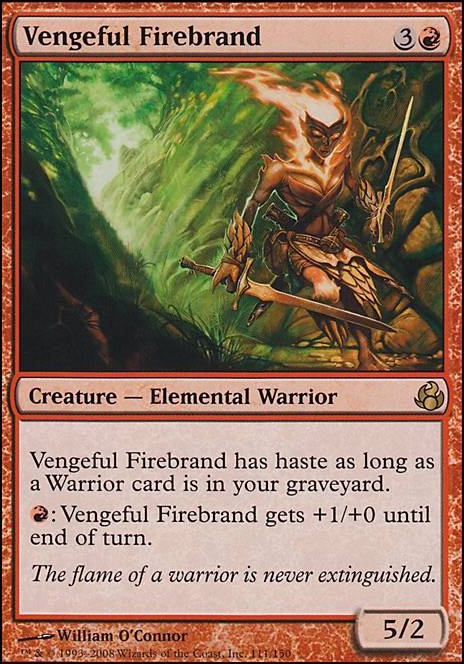 Legality
| | |
| --- | --- |
| Format | Legality |
| Pre-release | Legal |
| Noble | Legal |
| Leviathan | Legal |
| Tiny Leaders | Legal |
| Magic Duels | Legal |
| Vintage | Legal |
| Modern | Legal |
| Penny Dreadful | Legal |
| Casual | Legal |
| Vanguard | Legal |
| Legacy | Legal |
| Archenemy | Legal |
| Planechase | Legal |
| 1v1 Commander | Legal |
| Duel Commander | Legal |
| Unformat | Legal |
| Pauper | Legal |
| Commander / EDH | Legal |
Vengeful Firebrand
Creature — Elemental Warrior
Vengeful Firebrand has haste as long as a Warrior card is in your graveyard.
(Red): Vengeful Firebrand gets +1/+0 until end of turn.
Vengeful Firebrand Discussion
4 months ago
Your force is formidable, but there are plenty of Warriors you should look into for upgrades. A few particularly useful options include Archetype of Aggression, Bloodmark Mentor, Heartlash Cinder, Neheb, the Eternal, Ogre Battledriver, Paragon of Fierce Defiance, and Vengeful Firebrand.
You seem to want to attack a lot, so why not more than once a turn? Combat Celebrant, Savage Beating, World at War or, my personal favorite, Aggravated Assault are all great tech to keep the beats going.
Why stop at just hitting more though? Red offers plenty of way to apply even more damage every time you hit something. Try out Furnace of Rath, Dictate of the Twin Gods and especially Gratuitous Violence for extra pain.
Other than those, all I can think of that you may want are some basic staples in Red. Blasphemous Act and Chaos Warp are the best removal you can pack in this color. Mana doublers like Caged Sun, Extraplanar Lens, Gauntlet of Might and Gauntlet of Power will help you out a ton. Other useful tech such as Insurrection, Shared Animosity and Valakut, the Molten Pinnacle can give you the extra boost your deck might want.
Granted, not all of these are cheap, but just keep them in mind for long-term goals. Mono-Red is tough to play well in this format, so you'll need plenty of help to attain victory. Good luck!