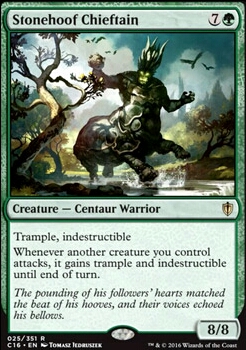 Legality
| | |
| --- | --- |
| Format | Legality |
| Commander / EDH | Legal |
| Duel Commander | Legal |
| Vintage | Legal |
| Legacy | Legal |
Stonehoof Chieftain
Creature — Centaur Warrior
Trample, indestructible
Whenever another creature you control attacks, it gains trample and indestructible until the end of turn.
Stonehoof Chieftain Discussion
5 days ago
DISCLAIMER
I am particularly hard on this deck because I know the builder in person, and he has asked for some help. This is not a comment on a random deck tearing it a new one.
1 week ago
I agree with the above comment, Stonehoof Chieftain, Angel of Serenity, and Terastodon are all fantastic cards. I'd also advise adding Spearbreaker Behemoth and Spellbreaker Behemoth, as well as Summoner's Pact.
I'd also add some lands like Sunhome, Fortress of the Legion, Gavony Township, Slayers' Stronghold, Kessig Wolf Run, and Rogue's Passage. Without them, Tempt with Discovery just isn't very good.
I'd cut Protean Hulk - you can't get more than one creature off him, and while there are some choice cards to get... do you really need a seven mana tutor? Omnath, Locus of Rage is great, but you can't really abuse his landfall, so I'd cut him. If you're looking to make the deck "no dick moves," then Blightsteel Colossus and Vorinclex, Voice of Hunger are both out of place. I'm not sure how effective Mayael's Aria and Martyr's Bond have been for you, but they seem slow and generally less effective than you'd like.
2 weeks ago
Upgrading the quality of the deck a bit!
Removing:
Adding:
3 weeks ago
Can't edit Tappedout comments...
If you want different/ bigger/ more draw, perhaps consider Rishkar's Expertise, Life's Legacy, Momentous Fall, Soul's Majesty, Overbeing of Myth, and/ or Urban Evolution.
For some added protection, consider Asceticism, Archetype of Endurance, Heroic Intervention, Lightning Greaves, and/ or Whispersilk Cloak.
And for that final push to victory, consider Stonehoof Chieftain, Decimator of the Provinces, Pathbreaker Ibex, Craterhoof Behemoth, Archetype of Imagination, and/ or Invert the Skies.
You will get hit by boardwipes and removal, so to combat this, consider Wildest Dreams, Eternal Witness, Evolution Charm, Greenwarden of Murasa, and/ or Seasons Past.
3 weeks ago
Nice deck :)
I'd suggest Stonehoof Chieftain from commander 2016 as an excellent beater.
Regal Behemoth as a mana doubler and some card draw. It would be easy to hold on to monarch in this deck.
Song of the Dryads is great flexible removal. Green has a hard time removing creatures.
City of Solitude to protect from instant speed removal and counterspells.
Load more