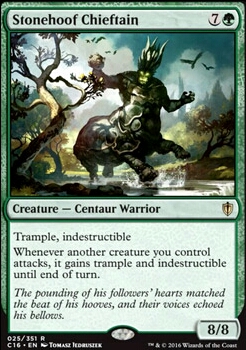 Legality
| | |
| --- | --- |
| Format | Legality |
| Tiny Leaders | Legal |
| 1v1 Commander | Legal |
| Magic Duels | Legal |
| Canadian Highlander | Legal |
| Vintage | Legal |
| Leviathan | Legal |
| Legacy | Legal |
| Duel Commander | Legal |
| Casual | Legal |
| Commander / EDH | Legal |
Stonehoof Chieftain
Creature — Centaur Warrior
Trample, indestructible
Whenever another creature you control attacks, it gains trample and indestructible until the end of turn.
Have (10)
Lindough , Clawsun73 ,

V

a

s

b

e

a

r

1

, AlucardZain , MagnaAura , damo_rox , brentkc49 , Shiromakuro ,

D

i

m

a

r

x

, mlouden03
Want (12)
Turtlelover73 , AlphaSp , snowmaster55555atgmaildotcom , Warxuaroz , Ranzetta ,

F

u

l

l

m

e

t

a

l

m

a

g

e

, Vestrinex , afeuling , angelx , arthurxisde , Ntothemana , Loading_Error
Stonehoof Chieftain Discussion
6 days ago
Biggest issue I see here is a lack of focus and not enough creatures for a creatures only matter deck.
Animar, Soul of Elements wants two main things: Cast creatures and get +1/+1 counters to cast larger creatures. Everything in the deck should be focused on those two goals.
Setting up the deck to achieve this purpose will make it efficient and powerful. All cards should therefore do one of the following:
Ramp up to Animar.
Protect Animar.
Place counters on Animar.
Cast game ending creatures for cheap or free.
Draw cards to allow us to do 1 through 4.
Priority should be given to cards that does something now > does something before your next turn > does something on your next turn > does something eventually.
Because Animar offers a discount based on creatures played, the deck shouldn't be filled with only high cmc game enders, but creatures from low to high cmc, preferably with as little colored mana symbols as possible, to give the deck a natural progression to casting free or cheap high cmc game ending creatures.
Let's split the deck into 3 parts. Pre-Animar setup, Post-Animar setup, Finale.
Note that $: (0 to 0.99), $$: (1.00 to 4.99), $$$: (5.00 to 9.99), $$$$: (10.00 to 19.99), !$!: (20.00+)
Unnecessary on a computer, very helpful on a phone.
This section will be all ramp, and protection to get Animar out quickly and make sure he is secure.
- The land base should be arranged to where there is more emphasis on , then , then since can color fix and can offer protection.
- Exotic Orchard is pretty good and cheap and can usually offer every color in multiplayer, especially if an opponent has a Command Tower out or even a Vivid Grove without even needing charge counters. - Kazoo lands such as Simic Growth Chamber, Izzet Boilerworks, and Gruul Turf are good in casual EDH where there is lack of land destruction and they artifically increase your deck ammount by posing as two lands in one. Though overall you do not want too many tap lands as you'll constantly be a entire turn behind.
This section will be about setting up our board state to win. All cards from this point onwards will be casted after Animar has been casted.
This section will be about ending the game with giant behemoths.
1 month ago
I took Stonehoof Chieftain because of the indestructibility he offers. Good point about my CMC. If i didnt know what my commander does, i wouldve screamed in terror tbh. Also nice reminder about my constant evasion, thanks PI3L0V3R, i appreciate it.
1 month ago
trust me you will thank me for this
1 month ago
Even though I imagine that you aren't going really competitive, I would say bench some of the expensive cards unless you can cheat them out. Imo Najeela runs better when you have more warriors out and attacking, so I would think about getting rid of either expensive creatures like Stonehoof Chieftain or even expensive spells like Kindred Dominance. I'll give you my list to show you what I did with these expensive spells when I had them: Najeela: Infinite Combats and Swinging and stuff
1 month ago
Nice deck! Here are some additional ideas:
Hope any of this makes sense. Happy gaming! And should you have the time and inclination, I would appreciate feedback on one of my EDH decks. Thanks.
Regards,
NV_1980
Load more