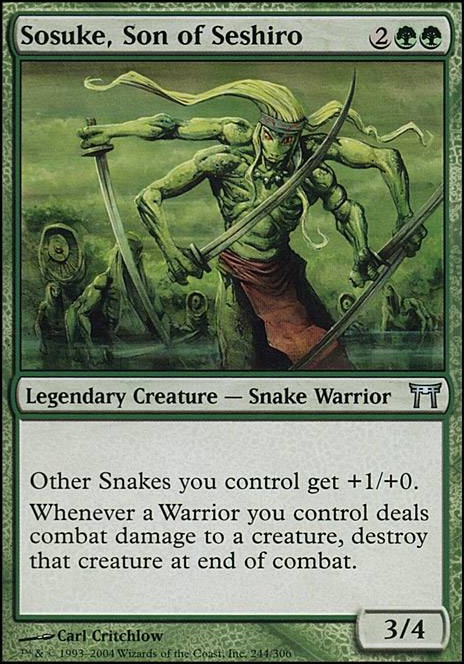 Legality
| | |
| --- | --- |
| Format | Legality |
| Noble | Legal |
| 1v1 Commander | Legal |
| Vintage | Legal |
| Modern | Legal |
| Casual | Legal |
| Vanguard | Legal |
| Legacy | Legal |
| Archenemy | Legal |
| Planechase | Legal |
| Duel Commander | Legal |
| Unformat | Legal |
| Pauper | Legal |
| Commander / EDH | Legal |
Sosuke, Son of Seshiro
Legendary Creature — Snake Warrior
Other Snake creatures you control get +1/+0.
Whenever a Warrior you control deals combat damage to a creature, destroy that creature at end of combat.
Sosuke, Son of Seshiro Discussion
5 days ago
I was unable to find a tribe in your deck. There are some token generators, but few enough that a tribal card would be a dead draw most of the time. For those reasons, I'd recommend removing these:
---
A lot of the utility of the deck comes from being able to massacre your tokens in the name of -1/-1 counters (e.g. Blowfly Infestation and any of Flourishing Defenses, Nest of Scarabs, or Hapatra, Vizier of Poisons herself. Add Blood Artist (or similar) and it's an infinite wincon). Any creature with 2+ toughness will not be killable from a single counter, so anything that buffs toughness without a major benefit just weakens the deck. For those reasons, I'd recommend cutting these:
But at the same time, and for the same reason, I would
add
Skullclamp
.
---
Various other cuttables:
---
You need to have a minimum of 37 lands. You're also playing , the color whose greatest strength is the massive ramp it can accomplish. If you swap all the cards noted for lands and acceleration, i would expect the deck to play significantly better. Also, don't use rocks for the ramp, unless land-wipe is common in your meta. It's easy and common for artifacts to die, but (usually) much harder to kill a land. I'd recommend the standard ramp:
etc
You could also likely benefit from more draw and recursion, such as Dark Prophecy/Phyrexian Arena, or Phyrexian Reclamation,
4 months ago
Looking back on previous comments, I realize I've made the mistake of not actually including early game warriors, which is a crying shame, as it's likely the best strategy with such a poorly supported tribe (poorly supported in these colors).
So here GemKnightDante, is a long list of creatures that cost 4 or less (one exception), that would fit quite well in a warrior themed deck. Unfortunately, the way warriors work, you'll likely be going heavy into boros, and splashing green, but I'll try my best.
Exert Creatures: Missed quite a lot of these on my first search, which is why I was so biased against them at first, but now I realize there's an Exert lord! Throw as many as you can in, they're a great subtheme for the deck. Also include Ahn-Crop Champion here.
Any creature that grows bigger: Just what the deck needs, as I mentioned in my first post. These cards are cheap in the early game, and only get stronger as the game goes on. Lord of Shatterskull Pass is an honourable mention, as he can wipe boards clean for your warriors late game.
Voltaic Brawler: An un-assuming enough creature. Doesn't really scale, but he can brawl with the best in the early game. As with any good warrior, he's efficiently statted, and costed. His energy ability makes him a beast against superfriends, as he'll kill any early game 'walkers before they can get going.
Dragon Hunter was a strange ommission from the first draft considering you said you were facing a dragon deck. Throw him in and he'll block the big nasties for you all day.
Neheb, the Eternal: The minotaur, the myth, the legend. This card is leading my current favorite edh deck, and so I'll vouch that this will easily pay for itself in a very short amount of time.
Hunted Troll: But this card gives my opponents blockers! Yes, but not all of them, and it's an 8/4 with Regenerate. Other than being a fantastic creature, this guy doesn't do much, but isn't being an 8/4 warrior with regenerate enough?
Anyways, the goal of this 3rd (and hopefully last) list was to give you some early game cards so you could drop your cuerve down a bit. Cards like Furystoke Giant, and Gisela, Blade of Goldnight only get better the more creatures you can field after all.
7 months ago
Friendly reminder that you don't need to pick one over the other.
The best anthems in the format either aren't creature specific: Crescendo of War, Cathars' Crusade, Archangel of Strife, Archangel of Thune, Eldrazi Monument, Jazal Goldmane, and Elesh Norn, Grand Cenobite, or don't mention one type over another: Coat of Arms, so there's no reason all your tokens need to be of the same type. (Before anyone says it, it does not matter that some of those buff your opponents' creatures. The fact that you are going to have so many more creatures than them will negate any advantage they might stand to receive.)
If you're planning on going wide, Jor Kadeen, the Prevailer is without a doubt the best choice as commander, although Adriana, Captain of the Guard can be solid if you don't want to build into artfacts and usually play with 4 or more people.
As far as Soldiers or Warriors as a tribe, building tribal decks is much less an issue of how many good creatures there are of that tribe, and more about how many cards give you bonuses for sticking to that tribe and including a lot of creatures of that type. In this respect it's much more useful to search though all the cards that mention that type in their text box, rather than looking though all the creatures that are that type.
Soldiers: Gather Search (106 cards, 96 in Boros colors)
Warriors: Gather Search (90 cards, 39 in Boros colors)
Just looking at those numbers, it's easy to see that Soldiers are more supported than Warriors, and especially so in red and white. To break it down further, lets check how many of those cards have effects that are relevant is commander (i.e. generate card advantage, scale well in multiplayer, are cost efficient, and/or allow you to cast spells more efficiently.) Specifically, I'm looking for effects that reward you for playing Soldiers or Warriors, rather than cards that just make them like Assemble the Legion, which can go in any deck.
Soldiers:
Here we have, 2 cost reducers, 4 anthem effects, 1 cheater, 2 removal spells, and a sword. Kind of mediocre actually, the anthem effects are outclassed by what I listed above, and only Catapult Master, Preeminent Captain, and Unified Strike really require you to build heavily into their tribe.
Warriors:
(Non-Boros)
Here we have, 1 sac outlet / life drainer, 2 evasion effects (probably better options for this, Cover of Darkness for example), 1 cost reducer, 1 (meh) haste granter, and 3 anthem effects. Clearly, Warriors are the less supported tribe here.
To sum up: Soldiers have more support than Warriors, especially in Boros; there's no reason to stick to one over the other; don't go nuts trying to force a theme if there's no reward for it.
8 months ago
I have seen another snek deck similar to this. It was also budget snek tribal, and it had the same thingies as yours does.
First of all, Snake Basket doesn't give you sneks. It gives you cobers. The audacity I know! But instead of the snek basket, put in Obelisk of Urd, which makes your sneks mondo huge.
2.Sosuke, Son of Seshiro is fantastic with sneks since Kaseto already gives them unblockable to do the damages.
Load more
Latest Commander