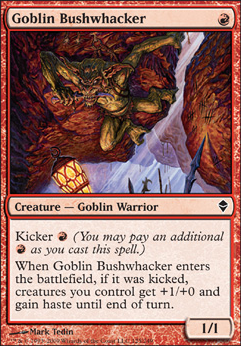 Goblin Bushwhacker
Creature — Goblin Warrior
Kicker R (You may pay an additional R as you cast this spell..)
When Goblin Bushwhacker enters the battlefield, if it was kicked, creatures you control get +1/+0 and gain haste until end of turn.
Goblin Bushwhacker Discussion
3 days ago
thanks for the suggestions! I did take out the mountains and added some Shared Animosity, Dynacharge, and Goblin Bushwhacker. I also thought I would try a pair of Obelisk of Urd as a way to pump my guys for the later game so that all my guys are at least 3/3 and much harder to deal with. This is still under construction though so feedback is much appreciated.
4 days ago
Hordeling Outburst, Foundry Street Denizen, Goblin Chieftain, Mogg War Marshal, Goblin Bushwhacker, Goblin Grenade, Krenko's Command, Dragon Fodder, Shared Animosity, Goblin King, Mardu Scout, Zo-Zu the Punisher, etc.
1 week ago
Hey friend, I hate it but Goblin Lackey isn't modern legal!
---
The following is my opinion only; see what you think:
A) I think you have a bit too many 3 drops. Ditching a few will make you faster and have fewer mana problems. Try: Things to Cut-2 (maybe all 4) Goblin Rabblemaster because tho he's very good, he's more of a finisher and will not let you keep your creatures from attacking;
-2 Goblin Assault for the same problem, the cards I will suggest in a bit will make up for the token generation;
-2 Goblin Warchief because some of the one drops I will mention have haste built in and by virtue of being one drops do not need the "Goblin spells cost 1 less to cast".
-4 Hordeling Outburst because its a 3 drop and because I just found a better token generator in Mogg War Marshal.
-4 Lightning Strike because generally you don't want to pay for more than one mana on burn/removal.
-2 Mountain, because your curve will get low and you need more room.
---
B) I think you need a few more one drops. Things to Add:+2 Goblin Grenade because with this many cheap goblins, 5 damage at a creature or player for the cost of R and a goblin is gold.
+4 Legion Loyalist because he has haste and rewards you for playing a bunch of goblins.
+4 Mogg War Marshal You get a free token and if you don't want to pay his evoke cost, another free token. It's like Hordeling Outburst but on steroids.
+4 Foundry Street Denizen pumps himself
+4 Goblin Bushwhacker anthems all your tokens your about to create
---
That should equal out to 18 substitutions. I don't think you need Krenko, Mob Boss nor in fact the Rabblemasters, but that just my opinion. What you could do in place of those 3 cards is 3 Shared Animosity. Its basically like turning all your goblins into Goblin Piledriver. And it cuts your curve even lower. Also, if you ever win the lottery or something, 4 Goblin Guide would be a great substitution for Raging Goblin.
| | |
| --- | --- |
| Power / Toughness | 1/1 |
| Color(s) | Red |
| Cost | R |
| Converted cost | 1 |
Legality
| | |
| --- | --- |
| Format | Legality |
| Heirloom | Legal |
| Legacy | Legal |
| Vintage | Legal |
| Commander / EDH | Legal |
| Modern | Legal |
| Duel Commander | Legal |
| Pauper | Legal |