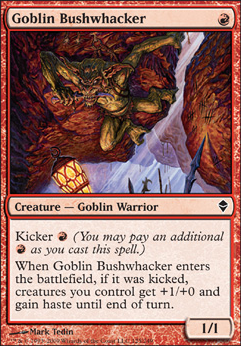 Goblin Bushwhacker
Creature — Goblin Warrior
Kicker R (You may pay an additional R as you cast this spell..)
When Goblin Bushwhacker enters the battlefield, if it was kicked, creatures you control get +1/+0 and gain haste until end of turn.
Goblin Bushwhacker Discussion
1 week ago
Thanks for the feedback. The idea I was going with was that I need as many artifacts as possible to rush and untap Krenko since the entire deck basically revolves around him going off and releasing a bunch of Goblins.
I considered Reckless One, Legion Loyalist, Goblin Lackey but they seemed subpar since what I really wanted was just to pump out tokens so in place of bringing them out, I'd have artifacts that allow me to do it much faster. Lacky would sometimes bring out a goblin or two early on, but it was pretty pointless since I could just cast them with my open mana.
This is more of a Krenko combo type of build over a goblin tribal. I do like Goblin Bushwhacker though.
2 weeks ago
Cool Krenko deck, it looks mean. If you aren't strictly relying on combo wins, here's a few more utility goblins to consider: Beetleback Chief, Frenzied Goblin, Goblin Bushwhacker, Goblin General & Siege-Gang Commander.
Some non-goblins that may be fit for the swarm: Adaptive Automaton, Marton Stromgald & Hellrider
Perhaps these won't fit the theme of what you're trying to accomplish, but here's some other Krenko-friendly treats: Brightstone Ritual, Massive Raid, In the Web of War, Mana Echoes, Warstorm Surge, Burn at the Stake, Goblin War Cry, Roar of the Crowd, Rings of Brighthearth, Magewright's Stone & Thousand-Year Elixir
2 weeks ago
Easily the most powerful budget tribal token deck is Goblins. (And you don't need Goblin Guide!)
I don't have a sample decklist available, but the kind of cards you could consider are Krenko's Command, Hordeling Outburst, Goblin Arsonist, Goblin Bushwhacker, Foundry Street Denizen, Goblin Chieftain, Goblin Wardriver, Goblin Grenade, and most importantly, Krenko, Mob Boss.
Also, if it suits your fancy, you can add Quest for the Goblin Lord and you can put in Goblin Assault (which is a budget version of Goblin Rabblemaster.
| | |
| --- | --- |
| Power / Toughness | 1/1 |
| Color(s) | Red |
| Cost | R |
| Converted cost | 1 |
| Avg. draft pick | 4.6 |
| Avg. cube pick | 7.26 |
Legality
| | |
| --- | --- |
| Format | Legality |
| Heirloom | Legal |
| Legacy | Legal |
| Vintage | Legal |
| Commander / EDH | Legal |
| Modern | Legal |
| Duel Commander | Legal |
| Pauper | Legal |