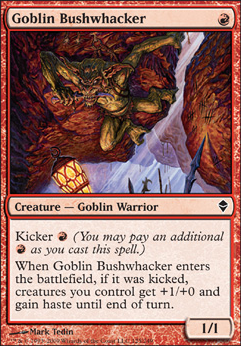 Goblin Bushwhacker
Creature — Goblin Warrior
Kicker R (You may pay an additional R as you cast this spell..)
When Goblin Bushwhacker enters the battlefield, if it was kicked, creatures you control get +1/+0 and gain haste until end of turn.
Goblin Bushwhacker Discussion
4 days ago
shadow63 thanks for the input! I think you were referring to Mardu Scout, who is really good, but I think that Goblin Bushwhacker currently works better in this deck, considering it gives all of your creatures haste and +1/0 until end of turn when it's kicked. I'm so on the fence about adding burn in right now...I just don't really know which one would be the most comprehensive. I'll have to do more research. I think the main thing is to get rid of Searing Spear.
1 week ago
Why don't you run bloodghast? Do you not like the price or did it just beat you to many times. And I don't really like Goblin Bushwhacker maybe Golgari Brownscale? More dredge plus life gain.
1 week ago
Hey billpasdmf, awesome job so far with the deck. I saw that you saved up and got those Goblin Guide, which must have been exciting lol.
Anyway, Mardu Scout is a fun card and I think dashing makes it possible to run in here, but honestly I think that as far as ''two drops'' are concerned, Goblin Bushwhacker is better. He's an automatic haste (not super important most of your creatures have haste), but that extra +1/0 on all of your creatures I think is better than dash, even if you can only kick him once. What do you think?
Also, I really don't think your deck needs Bloodstained Mire. Unless you use it to splash some black! +1
1 week ago
Goblin Bushwhacker it lets you play some goblins and then swing with them that same turn with increased value.
1 week ago
---

Modern Ryotenchi
SCORE: 14 | 0 COMMENTS | 1898 VIEWS
---
Pros:
Cons:
Slow.
Needs a yard to exist.
Isn't very threatening..
Pros:
Makes Bloodghast better.
Makes all creatures better by a small margin.
Allows delve threats to swing asap which is great.
Cons:
Makes Bloodghast better.
Costs 2 to utilize where as the mancer cost 2 and 2 cards but not on the same turn.
Don't want to cast it turn one.
Doesn't interact with the yard.
Kinda useless without a board full of threats.
What Ill probably do:
-1 Domri Rade - Kinda useless and wiffs a lot, also buffs goyf in the yard, which Im not running..
-1 Grim Lavamancer - Since its kinda bad except when its good.. w/e that means. (Leaving one)
Also want an opinion on Ground Seal, it triggers dredge and stops Scavenging Ooze, but is it worth a sideboard slot?
Other Criticism/Opinions about the deck itself?
| | |
| --- | --- |
| Power / Toughness | 1/1 |
| Color(s) | Red |
| Cost | R |
| Converted cost | 1 |
| Avg. draft pick | 4.62 |
| Avg. cube pick | 7.26 |
Legality
| | |
| --- | --- |
| Format | Legality |
| Heirloom | Legal |
| Legacy | Legal |
| Vintage | Legal |
| Commander / EDH | Legal |
| Modern | Legal |
| Duel Commander | Legal |
| Pauper | Legal |