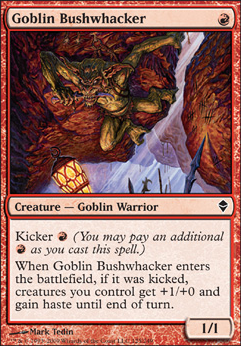 Goblin Bushwhacker
Creature — Goblin Warrior
Kicker R (You may pay an additional R as you cast this spell..)
When Goblin Bushwhacker enters the battlefield, if it was kicked, creatures you control get +1/+0 and gain haste until end of turn.
Goblin Bushwhacker Discussion
2 days ago
I like it +1. I agree with you on Goblin Bushwhacker, he never actually became relevant and more often than not ended up being a vanilla 1/1. I would definitely try to add in the Legion Loyalists, they were in my goblin company build pre-Goblin Piledriver and were an absolute power house as they always let my Goblin Rabblemasters find a way through. the number of rabblemasters i found that seemed comfortable to me was 2 in the new piledriver build. Atarka's Command has worked out fairly well in the sideboard along with Destructive Revelry and the old faithfull Blood Moon worked well too. overall great build!
here's the link to mine if you feel inclined to check it out and lend your opinion:
3 days ago
If you're looking for cards to cut, Shared Animosity and Mogg War Marshal are a start. The war marshal just isn't good enough. 2 1/1's for 2 is far worse than other cards you desperately need to fit in the mainboard. Shared animosity just won't be as good as you think it is. When some of the most popular decks are Delver, Tron, and Jund, you will have a very difficult time getting enough creatures to make it worth it.
(and if you really need a cut, Goblin Bushwhacker is not super good for the same reasons)
4 days ago
for these modern RDW, I really like Goblin Bushwhacker. Pumping the whole team and giving haste to everyone is super good for 2 mana. I would drop shard volley. I feel this isn't a good deck for it with only 18 land.
2 weeks ago
Archetype of Aggression, Bloodmark Mentor, Bloodshot Trainee, Brighthearth Banneret, Falkenrath Marauders, Flamerush Rider, Goblin Bushwhacker, Hammerfist Giant, Hamletback Goliath, Ignition Team, Kargan Dragonlord, Keldon Warlord, Markov Blademaster, Ogre Battledriver, Spiraling Duelist if you run lots of artifacts, Tahngarth, Talruum Hero, Vulshok Battlemaster, Zealous Conscripts, and Zo-Zu the Punisher are all decent creatures that get buffed by your commander. Sorry if some of them were already mentioned.
| | |
| --- | --- |
| Power / Toughness | 1/1 |
| Color(s) | Red |
| Cost | R |
| Converted cost | 1 |
| Avg. draft pick | 4.6 |
| Avg. cube pick | 7.38 |
Legality
| | |
| --- | --- |
| Format | Legality |
| Heirloom | Legal |
| Legacy | Legal |
| Vintage | Legal |
| Commander / EDH | Legal |
| Modern | Legal |
| Duel Commander | Legal |
| Pauper | Legal |