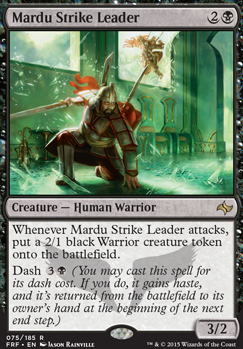 Mardu Strike Leader
Creature — Human Warrior
Whenever Mardu Strike Leader attacks, put a 2/1 black Warrior creature token onto the battlefield.
Dash (You may cast this spell for its dash cost. If you do, it gains haste, and it is returned from the battlefield to your hand at the beginning of the next end step.)
Browse Alters
View at Gatherer
Tokens
Legality
| | |
| --- | --- |
| Format | Legality |
| Casual | Legal |
| Unformat | Legal |
| Custom | Legal |
| Tiny Leaders | Legal |
| Block Constructed | Legal |
| Canadian Highlander | Legal |
| 1v1 Commander | Legal |
| Pioneer | Legal |
| Legacy | Legal |
| Vintage | Legal |
| Modern | Legal |
| Highlander | Legal |
| Oathbreaker | Legal |
| Limited | Legal |
| 2019-10-04 | Legal |
| Duel Commander | Legal |
| Leviathan | Legal |
| Commander / EDH | Legal |
Latest Decks as Commander
Mardu Strike Leader Discussion
3 months ago
Hi Shayda!!!
Dude those dragons are doing so well (when no one wipes them)!
Did you want a similar deck? 'Cuz that's what you've got here... but I think you should lean into go-wide-aggro > midrange and play more 1-2 cmc creatures and move all your ramp to 2 (Rampant Growth, signets, etc).
I'd also recommend Golgari Charm, Boros Charm, and Heroic Intervention.
Tribal decks have so much flavor! Hope this helps, maybe we'll see it next weekend? :o
3 months ago
okay, a few things-first, TypicalTimmy, Parhelion II and Mardu Strike Leader don't help trigger battalion. Battalion triggers when creatures are declared as attackers. If a creature enters attacking, it was never declared as an attacker.
---
hmm. a creature that shows progression through the golgari. lets try this:
Rotsifter Recruit
creature-human shaman
whenever ~ enters the battlefield or attacks, put the top two cards of your library into your graveyard.
as long as there are at least 5 cards in your graveyard, ~ gets +1/+1 and has deathtouch.
As long as there are more cards in your graveyard than your library, ~ gets +3/+2, is a zombie in addition to its other types, and has menace and trample
2/2
---
I want to see a creature that is a situational Bogle, with Bogle in this instance meaning a 1-drop creature with hexproof. Either it is only sometimes a one-drop, or only sometimes a bogle.
8 months ago
Hmmm, there are a bit of things you can add in as I tried playtesting it earlier and it definitely feels a bit clunky. Your goal is to make a lot of tokens and use them to kill people. You should focus more on value cards like i.e.
Just to make some tokens while you are idle. And some kill effects like Triumph of the Hordes or effects like those. What is the main goal you want to do?
1 year ago
Awesome! B/W Warriors was the first MTG deck I built and still my favorite. Mardu Woe-Reaper Graveblade Marauder and Mardu Strike Leader all have their uses, but Brutal Hordechief is absolutely essential. Really adds to the board you've been building and his activated ability wins games. Oh, also Glory-Bound Initiate + Herald of Dromoka / Brave the Sands + Arashin Foremost means you're gaining 8 life per swing by turn 4 ;)
Check out my deck for some ideas!
My deck:
---

Modern* mufasamike
SCORE: 2 | 5 COMMENTS | 363 VIEWS | IN 3 FOLDERS
---
Load more