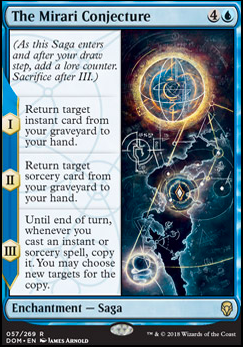 Legality
| | |
| --- | --- |
| Format | Legality |
| Pre-release | Legal |
| Tiny Leaders | Legal |
| Magic Duels | Legal |
| Brawl | Legal |
| Modern | Legal |
| Penny Dreadful | Legal |
| Standard | Legal |
| Leviathan | Legal |
| Legacy | Legal |
| Frontier | Legal |
| 1v1 Commander | Legal |
| Duel Commander | Legal |
| Unformat | Legal |
| Casual | Legal |
| Commander / EDH | Legal |
Related Questions
The Mirari Conjecture
Enchantment — Saga
(As this Saga enters and after your draw step, add a lore counter. Sacrifice after III.)
— Return target instant card from your graveyard to your hand.
— Return target sorcery card from your graveyard to your hand.
— Until end of turn, whenever you cast an instant or sorcery spell, copy it. You may choose new targets for the copy.
Have (10)

N

i

v

S

t

o

r

m

f

r

o

n

t

, mziter501 ,

f

i

r

e

m

i

n

d

1

2

, Thunderbeard , Pumpkinking913 ,

o

r

z

h

o

v

_

i

s

_

r

e

l

a

t

i

v

e

l

y

_

o

k

a

y

8

1

9

, samuelproulx ,

g

o

l

g

a

r

i

g

i

r

l

, philktoken8998 , Bluboltar
Want (3)
mordredaggrfall ,

n

o

c

i

p

h

e

r

, kovellen
The Mirari Conjecture Discussion
2 weeks ago
Here are my personal recommendations (with help from n8dm) for cards to add and cut from the deck. Let me know if you have any questions about cuts or recommendations.
Let's start with permanents:
Metallurgic Summonings
helps with getting out chump blockers.
Now for instants and sorceries:
Now to recommend some cards to cut:
2 weeks ago
To BlazingAbsol, thanks for all the great suggestions.
I've done some testing and The Mirari Conjecture is rockstar in my revamped build.
I'm sure how I feel about Abrade over Lightning Strike. Against decks that have life gain Lightning Strike it is invaluable. And against dedicated artifact decks Abrade doesn't feel like enough. I'll have to study the meta more thoroughly to decide which is better overall.
Now that I've put in The Mirari Conjecture Strategic Planning has gotten a lot stronger, not only because the cards go to the graceyard but also it's a sorcery. I won't be switching it for Anticipate.
Keep the suggestions coming and good luck with your brews!
3 weeks ago
Thanks BlazingAbsol for the vote. I haven't had a chance to test out The Mirari Conjecture. I'll definitely try it out. Baral, Chief of Compliance might be ok. I'm not sure how well He'll do in this shell but I'm willing to explore.
I've been contemplating swapping out 1 Abrade for 1 Lightning Strike. I don't want to take out all my lightning strikes because they are game winning. There are a lot of games where my opponent gains life and I have to knock them down to 20 with lightning strike to finish them off with Fight with Fire. As for the Abrade By Force swap you may be right on the money.
Strategic Planning has been great to me. It makes my deck run so much smoother. I personally like it more than Opt for the card selection. I do have light graveyard interaction with Flood of Recollection. I still might switch it with Anticipate when the next set drops.
Nezahal, Primal Tide looks pretty sweet I'm going to find a spot for him.
4 weeks ago
This seems like the kind of deck that would love The Mirari Conjecture. Have you done testing with it? Also, Baral, Chief of Compliance might be sweet in the sideboard. Wait until they've taken out all their removal, then side him in.
I think Abrade is better than Lightning Strike, especially since your main/only win condition is copying a kicked Fight with Fire--3 damage to your opponent's face doesn't really do much. That would also let you cut By Force from the sideboard for something more versatile.
How has Strategic Planning been for you? Since you don't have any graveyard synergies, I'd think a different cantrip would be better.
Finally, if you're looking for another resilient win condition for the sideboard, you could try Nezahal, Primal Tide. Super hard for your opponent to kill with all of your carddraw.
1 month ago
I love the idea of this deck! I'm testing frenetically right now. Thank you for posting this!
My two cents:
I think Abrade would be better than Lightning Strike, since the win condition it's a OTK, so Abrade deal with threats like Heart of Kiran and Aethersphere Harvester, which Lightning Strike don't.
I don't like Cancel in this deck. For a counter it's too slow. On the draw you need something to counter threats like Steel Leaf Champion, Thrashing Brontodon. I think Censor or Essence Scatter would be better, not sure which yet though. 4+ res creatures it's really hard to deal with this deck, that's why I suggested Abrade, Censor and Essence Scatter because I don't think Hour of Devastation alone is enough to deal with them.
I never reached Ascend, so I think replace Secrets of the Golden City for more Champion of Wits would be better because Champion of Wits can chump block in times of need and the Eternalize is really a powerful effect that can help find the combo to finish the match. And if you discard a Instant/Sorcery you can take it back with The Mirari Conjecture anyways.
I don't know if I losing something here, but I found As Foretold useless in this deck. On the play it's too slow and on the draw you lose much tempo and almost never recover.
About the sideboard, I don't know... maybe a Baral, Chief of Compliance against control decks? I didn't test against control decks yet.
1 month ago
I mean sure, have Primal Amulet Flip flipped and put down The Mirari Conjecture, but relying on that leaves yourself open to be gutted by removal. If they can destroy artifact/enchantment, it seems like it'd be hard to bounce back.
1 month ago
Out of your maybeboard, my thoughts are:
As a general rule, you should also NEVER assess a planeswalker for a deck based on their ult. It's bad form and you end up running a bunch of clunky cards on the off chance you could do something with them.
Load more