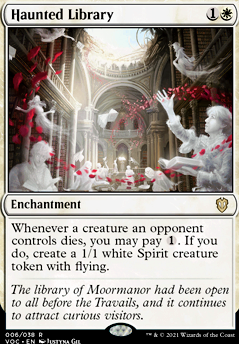 Haunted Library
Enchantment
Whenever a creature an opponent controls dies, you may pay . If you do, create a 1/1 white Spirit creature token with flying. (Dying is being put into the graveyard from the battlefield, tokens are put into the graveyard before they cease to exist.)
Latest Decks as Commander
Haunted Library Discussion
5 months ago
kirbysan Eloniel esperdeathblade Halestor19 Sorry for the late response! I should have the crimson vow update coming soon. For my thoughts on the cards you mentioned, Kaya, Geist Hunter is a bit win-more. Her +1 isn't useful, and her -2 is slow to use repeatedly. I'd run Anointed Procession over her if you want this effect. However, tokens aren't the main strategy of the deck, and she doesn't actually produce any on her own.
Morbid Opportunist and Welcoming Vampire, like Kirbysan said, don't have as high a ceiling as our current draw pool. It's nice they trigger off of tokens, but only drawing one card per turn is a bit slow compared to our other cards. They're great budget options to replace any pricy card draw though.
Haunted Library, being something we can't trigger ourselves, doesn't synergize much with the rest of the deck. It's nice in slow, grindy situations, but we'd prefer creatures we can sac immediately.
Shattered Sanctum is a fine budget replacement for any of our current lands, but we don't actually need more duals, especially some that conditionally enter tapped. The only land we have that can enter tapped is Fabled Passage and that's because it can generate value with Brought Back et al. With the amount of fetches we have, color consistency isn't a problem. I also wouldn't replace a basic with it, since we need our basics for Land Tax, Keeper of the Accord, etc.
Storm of Souls is the best card we're getting with this set. It does everything we want in a mass reanimation spell, and funnily enough, them turning to 1/1s is somewhat of an upside for Skullclamp reasons. However, I wouldn't replace Agadeem's Awakening  Flip for it. Awakening is played in a land slot since it's essentially a swamp with a small life tax that doubles as a huge reanimation spell. Not that I will, but I would replace a swamp over awakening any time. It's one of our best lands. I'm probably going to replace Command the Dreadhorde because we care more about reanimating our whole graveyard for no life than having the option to reanimate opponents' creatures. While we could play both, they fill the same niche, and we have tutors for when we really need this effect.
Persistent Specimen has a lot of potential. I'm on the fence about it. On the one hand, it's good redundancy for when our Reassembling Skeleton is lost or when we need to draw either. On the other hand, we have so many tutors that I'm not sure how much more we gain by running two of these. By costing 3 to reanimate, it requires an extra source of mana generation to go infinite, so I'm going to bench it for now.
Thanks for being patient and keeping up the discussion! I'll get the update out soon.