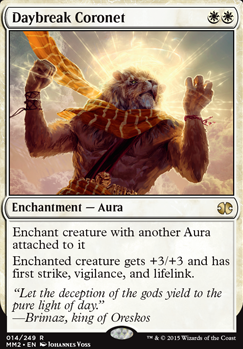 Daybreak Coronet
Enchantment — Aura
Enchant creature with another Aura attached to it
Enchanted creature gets +3/+3 and has first strike, vigilance, and lifelink. (Whenever it deals damage, its controller gains that much life.)
Have (11)

s

l

e

m

u

l

v

,

s

l

o

v

a

k

a

t

t

a

c

k

,

x

z

a

v

i

e

r

x

, cpoweryeeps ,

H

a

l

c

y

o

n

M

T

G

, Shade_Nitewake ,

j

e

c

d

e

r

,

j

p

v

,

w

n

o

r

r

i

s

1

7

, kingofcramers , Gameover209X
Want (15)
Galdelonian ,

V

a

m

p

i

r

e

A

r

m

y

, Nate_D , Raistlin911822 , DudeMan1031 , chaosrealmdreams ,

g

r

e

y

n

i

n

j

a

, zachi ,

N

e

r

a

h

K

e

r

o

, Rocknj06 , starro01 , supersalamandar ,

C

r

i

m

s

o

n

K

i

n

g

, osirisbray , Gameover209X
Daybreak Coronet Discussion
1 day ago
I have added:
1x Bitterblossom

2x Spellskite
1x Tezzeret the Seeker

2x Mox Opal
Additionally, I have added
to my haves.
My wants are currently as follows:
3x Tarmogoyf
Snapcaster Mage

(I have up to 3 additional non-foil snappies to trade up into these if this is offered.)
2x Abrupt Decay

1 day ago
I want
4x Spectra Ward
and any Daybreak Coronets you might have, even though I probably don't have enough for them.
Here's my binder. I also have an unlisted 10$ iTunes card if you're interested in that.
1 day ago
I think Zur the Enchanter is a excellent card to use. It avoids Lightning Bolt and Abrupt Decay, can block Vendilion Clique, Delver of Secrets Flip, Lingering Souls and Pestermite, and it attacking is like, drawing a card and playing it for free that hates on whatever deck you want.
Instead of Thassa, I would have preferred Aqueous Form, because scry, though I don't know how often one would be turning Thassa into a creature,
Personally, I think it could have done a much better in terms of tool-boxing. Instead of Spreading Seas, I would have liked to see things like Ghostly Prison, Sanctimony, Monastery Siege, Suppression Field, Bitterblossom, Brain Maggot, Daybreak Coronet, Curiosity, Nevermore, Porphyry Nodes, Athreos, God of Passage (fairly easy to activate his devotion) and Runed Halo.
However, I could also see that the reason for the plethora of Spreading Seas could have been because of how imperative it is to have something against Tron, Affinity man-lands, and Junk's fragile mana-base. Not too mention Zur, swinging, tutoring up Spreading Seas, potentially destroying Junk's play for the next for turns, AND gaining card advantage is quite powerful.
| | |
| --- | --- |
| Color(s) | White |
| Cost | WW |
| Converted cost | 2 |
| Avg. draft pick | 3.52 |
| Avg. cube pick | 1.68 |
Legality
| | |
| --- | --- |
| Format | Legality |
| Legacy | Legal |
| Vintage | Legal |
| Commander / EDH | Legal |
| Modern | Legal |
| Duel Commander | Legal |
| Tiny Leaders | Legal |