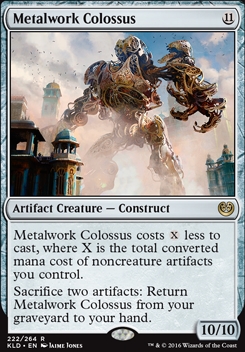 Legality
| | |
| --- | --- |
| Format | Legality |
| Tiny Leaders | Legal |
| 1v1 Commander | Legal |
| Magic Duels | Legal |
| Canadian Highlander | Legal |
| Vintage | Legal |
| Modern | Legal |
| Pioneer | Legal |
| Leviathan | Legal |
| Legacy | Legal |
| Frontier | Legal |
| Duel Commander | Legal |
| Oathbreaker | Legal |
| Unformat | Legal |
| Casual | Legal |
| Commander / EDH | Legal |
Related Questions
Metalwork Colossus
Artifact Creature — Construct
Metalwork Colossus costs less to cast, where X is the total converted mana cost of noncreature artifacts you control.
Sacrifice two artifacts: Return Metalwork Colossus from your graveyard to your hand.
Metalwork Colossus Discussion
1 week ago
ignore the last comment. it's old.
1 month ago
I speak from experience when I say Spine of Ish Sah would be a pretty nasty addition to the deck. My sister runs it in paper and if she gets that out with a Goblin Welder I lose unless I can deal with it within a few turns. KCI works in tis place though, if you don't wanna add the Welder. Also suggest Metalwork Colossus
Paradox Engine has been banned in EDH recently though, and Tolarian Academy is banned as well in the maybe list.
3 months ago
I'm thinking you'll want to maximize on artifacts that are sacrificed in order to reap great benefit.
If you want access to some great ramp for you deck, Tooth of Ramos and Heart of Ramos will allow you to get 2 mana from them. After they are sacrificed, if Gerrard dies you get them back for free. Now I'm not sure on the technicality / legality of it, but I believe Horn of Ramos , Skull of Ramos and Eye of Ramos can also be used in your deck. Their errata text contains the mana symbols, but the physical cards do not; They list the color by name, not by identification. So I believe they are legal in all decks, regardless of colors.
Probably a few I missed but there you go.
3 months ago
This is mostly the same list I run. My wincon was ol' Tezz himself. That +1 is no joke. An addition I would consider is Metalwork Colossus . Mine consistently pops out turn 3 or 4 and is in itself a wincon.
Load more
Metalwork Colossus occurrence in decks from the last year
Commander / EDH:
All decks: 0.02%