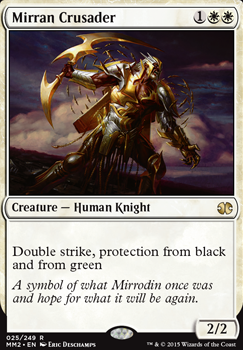 Mirran Crusader
Creature — Human Knight
Double strike, protection from black and from green
Have (30)
Valentine35 , the.beanpole ,

r

a

k

d

o

s

2

4

, Dark_Shadow , Cheezylizard , Nixin72 ,

j

e

c

d

e

r

, McBobson ,

H

a

v

o

k

X

, chrishuffman95 , Xathrid845 , Murrack , IcehawkFFC10 , ironax ,

G

r

a

n

t

l

e

y

9

1

, zbell92 ,

M

a

g

i

c

r

a

f

t

e

r

,

j

p

v

, kaboomeow , firemind12 ,

W

o

s

1

3

3

7

, joecartoon96 ,

s

l

e

m

u

l

v

, EminentEncounter , geazykagar , Liuv , davidmassee , Adameus2012 ,

s

a

j

0

2

1

9

, puimuri
Want (4)
CarbonDan , alphaword1283 , yokushin , fireborne1986
Mirran Crusader Discussion
21 hours ago
Darcis, thanks for the suggestion. I would probably put one or two in at most.
anvildust, I was trying to add Mirran Crusader tapped out isn't working properly, even on my PC. I took Fabled Hero out after I realised it was a dead card.
HyperViper191 I can agree on that, that's why Affinity is so strong. I think Godsend wouldn't make it, would be too slow unfortunately. I like the Bonesplitter, Darksteel Axe idea. Kor Duelist is brilliant, I believe that'll be going in there over Accorder's Shield if tapped out decides to let me add cards. Thanks for the suggestions. :)
23 hours ago
Duelist is great. There's also one that gains flying when equipped. I think its a two drop though the name escapes me. Also Mirran Crusader is pretty good too. A three drop with double strike and protection from two colors is nothing to frown at.
1 day ago
Didn't come across my mind at the time of putting the deck together. If only equipment did trigger it. That'd be so broken. I'll be sure adding four Mirran Crusader's later as for some reason my phone isn't letting me.
That must be a quite amusing moment. Would be quite awesome if your opponent just stopped playing anything.:P
2 days ago
Id replace Grove of the Guardian with Stirring Wildwood if your not on a huge budget. :P
I see your halfway on the hatebear list, planning on bear-ing out?
If not, considered at least Mirran Crusader for your sideboard against

/

matchups? Potentially mainboard-able.. :P
3 days ago
By similar ideas I just meant the lower costing creatures haha :P. Elite Vanguard and Mirran Crusader could be options for you.
Your enchantment deck is Modern while mine is Standard, a lot of the things I couldnt bring in even if I wanted to. Thanks for checking it out though.
1 week ago
Mirran Crusader puts a big damper in my plans as it can freely block anything I swing with and can attack for a consistent 4 damage per turn.
It bypasses all my typical ways of removal including forcing it to block, blocking it, fighting it, or Dismembering it.
Is trampling over my only choice or are there other cards out there to help?
| | |
| --- | --- |
| Power / Toughness | 2/2 |
| Color(s) | White |
| Cost | 1WW |
| Converted cost | 3 |
Legality
Not legal in any format