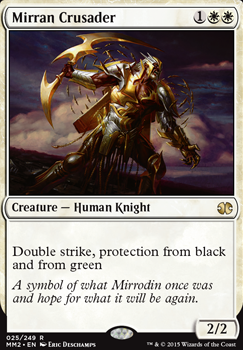 Mirran Crusader
Creature — Human Knight
Double strike, protection from black and from green
Have (28)

r

a

k

d

o

s

2

4

, Valentine35 ,

s

a

j

0

2

1

9

, cpoweryeeps ,

j

e

c

d

e

r

,

F

r

o

7

8

0

,

j

p

v

, davidmassee , geazykagar ,

i

t

h

e

o

r

y

z

,

L

a

m

e

_

D

u

c

k

, TXMetal ,

A

T

R

E

Y

U

t

y

,

H

e

l

l

s

i

n

g

,

B

i

g

g

R

e

d

d

5

4

,

d

e

a

t

n

1

3

4

2

,

C

o

m

i

c

a

l

f

l

o

p

,

r

o

c

k

l

e

e

m

y

h

e

r

o

,

v

i

s

h

n

a

r

g

,

A

l

w

a

y

s

H

a

r

m

o

n

y

,

J

a

y

, MythicLegend , g0dcomplex , TrumpetsforKings , darkside420 , Countertop , Selcath , Kamae555
Want (6)
Gman6664 , Schmawl , TheAnnihilator ,

O

r

c

i

n

b

o

b

,

i

t

h

e

o

r

y

z

, jimykid86
Mirran Crusader Discussion
3 hours ago
Mirran Crusader? I know it isn't heroic, but it has relevant protection and double strike. Alternately, Phyrexian Crusader already has infect and just needs to be pumped. Or, maybe all of this is irrelevant haha.
1 day ago
I understand that with Mirran Crusader, TheAlexGnan, which is why Jund is higher on the list in terms of difficulty than it is with Junk. However, it is still a VERY good beater in terms of about 25% of the meta. Having a total of 4 power means that Twin can't block with Deceiver Exarch, and Zoo, Mono-G Aggro, Collected Melira and Hatebears, all have difficulties getting through something with protection from green. He must be answered, otherwise he deals massive impacts towards the board state. But him being weak to bolt is the reason why he's at a 2 of, but he still kicks ass when you combine him with Noble Hierarch.
6 days ago
Check out Knight of Meadowgrain and Knight of the White Orchid. They're worth it instead of Accorder Paladin. Also I'd drop the 3rd Kinsbaile Cavalier for the 4th Student of Warfare or the 4th Mirran Crusader since you're only running 21 lands. I'd also cut 1 Emeria for another plains since drawing your 2nd copy is much worse than drawing a plains, plus the fact that you don't need to play the first one early for any reason. If you can eventually get a Sword of Fire and Ice (it's pricey, but worth it), I'd do it. Bonesplitter is a good equipment to think about since it is very cheap to both cast and equip for when you don't have your Puresteels out.
6 days ago
I would maybe cut Umbra Mystic and Dauntless Escort for Boar Umbra and Bear Umbra since they both give the same protection your looking for with the 2 creatures and they make a better voltron. I also would drop Mirran Crusader since the pro green is counter productive to your auras. Maybe bring in a Courser of Kruphix or an Oracle of Mul Daya instead for the draw filtering. Fyndhorn Elves is not really the best mana dork in town, i would maybe recommend Joraga Treespeaker since you can put Sigarda on turn 3 with it. The Day of Judgment could be replaced with a Winds of Rath wich is cheap for the advantage it gives you most of the time.
Eternal Witness is kinda a staple in green and is even better if you bring in a Flickerform as either evasion or combo with other ETB cards such as your Fiend Hunter, and if you really want to be hated with that aura, put it on an Acidic Slime.Your Mana Tithe and Savage Summoning are there because I'm guessing that there is a lot of
control in your playgroup, but I'd say it's a bit overkill and not always relevant, with this kind of deck i'm more in the mindset of putting more enchantments with synergy and letting the other player trying to deal with these, since enchantment removal isn't such a big part of most players in EDH. Like putting a Luminarch Ascension and with your Dueling Grounds it's a good enchantment since once it's on you have infinite blockers and attackers and you don't fear wraths or removal anymore. You can also go for Sigil of the Empty Throne but the mana cost is turning me down.
Sorry for the long text so here's my +1 and come and check my take on 1v1 Sigarda if you want! I've been piloting it and updating it for 2 years now :D Sigarda, French Banlist commander duel
| | |
| --- | --- |
| Power / Toughness | 2/2 |
| Color(s) | White |
| Cost | 1WW |
| Converted cost | 3 |
| Avg. draft pick | 1.29 |
| Avg. cube pick | 4.99 |
Legality
| | |
| --- | --- |
| Format | Legality |
| Legacy | Legal |
| Vintage | Legal |
| Commander / EDH | Legal |
| Modern | Legal |
| Duel Commander | Legal |
Related Questions