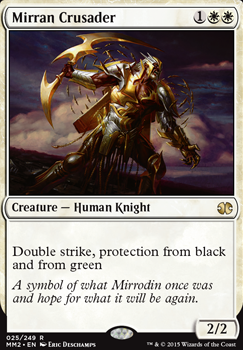 Mirran Crusader
Creature — Human Knight
Double strike, protection from black and from green
Have (26)

G

r

a

n

t

l

e

y

9

1

, IcehawkFFC10 ,

H

a

v

o

k

X

,

s

a

j

0

2

1

9

, Xathrid845 , McBobson , mtGG_Studios , alex922 , the.beanpole , Themiband , avatarofdiscord ,

r

o

c

k

l

e

e

m

y

h

e

r

o

, hammythepig ,

H

e

l

l

s

i

n

g

,

k

y

l

e

s

p

e

a

r

s

i

s

d

e

a

d

, LtCmdCB , GabeCubed ,

W

o

s

1

3

3

7

, ironax , firemind12 , Dark_Shadow , AlbinoLion , Valentine35 , philktoken8998 , RDorothy , captainawesome3
Want (1)
MoJoMiXuP
Mirran Crusader Discussion
1 day ago
Pretty sure Mirran Crusader's double strike means he's fast enough to land the killing blow. However, Phyrexian Crusader has first strike, so he gets in a hit before he's killed... And then the infection takes hold.
1 day ago
Who would win? Phyrexian Crusader or Mirran Crusader? obviously I'm talking outside of the game, where they'd be able to hurt one another.
after that done, lets move on to other things.
1 week ago
NateJH: 1) It really depends on the deck I'm facing. I'll usually try to use hand disruption t1 and 2 to strip them of removal, and then drop Mentor t3 or 4. But against more aggressive decks or interactive decks like Storm, I'll push to get Mentor out ASAP.
2) Mentor doesn't offer advantage on his own. The advantage comes from his interaction with all the other spells in the deck. He is an engine that adds value and utility to everything else I play. Goyf is stronger on his own, but doesn't add as much value to other cards.
Shathief: Glad to see you like the deck. To be honest, I've switched the sideboard a little too in the list I play on paper. The Mirran Crusaders were for Junk and Boggles. I've since replaced them with Kor Firewalker to deal with Burn. The Boros Charm were originally for decks with Wraths, but they've been underwhelming. I've been considering dropping them, probably for something like Molten Rain to deal with Tron, although Path to Exile does tremendous work against Wurmcoil Engine.
The Shadow of Doubt is really just for testing. I've seen it hyped quite a bit, including on this site, and so I figured I'd give it a shot. So far in a handful of games its been neither impressive or disappointing. It'll stay for now until I see more results one way or the other.
1 week ago
I Have been running your old list for the last few months as my go to Modern deck and it has been holding up really well - I have messed with the SB a bit though.
What match ups are you siding in the:2x Boros Charm2x Mirran Crusader
and why did you add in the 1x Shadow of Doubt
| | |
| --- | --- |
| Power / Toughness | 2/2 |
| Color(s) | White |
| Cost | 1WW |
| Converted cost | 3 |
Legality
Not legal in any format