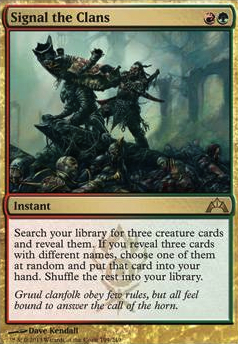 Signal the Clans
Instant
Search your library for three creature cards and reveal them. If you reveal three cards with different names, choose one of them at random and put that card into your hand. Shuffle the rest into your library.
Browse Alters
View at Gatherer
Trade
Legality
| | |
| --- | --- |
| Format | Legality |
| Tiny Leaders | Legal |
| 1v1 Commander | Legal |
| Magic Duels | Legal |
| Canadian Highlander | Legal |
| Vintage | Legal |
| Modern | Legal |
| Block Constructed | Legal |
| Pioneer | Legal |
| Leviathan | Legal |
| Legacy | Legal |
| Duel Commander | Legal |
| Oathbreaker | Legal |
| Unformat | Legal |
| Casual | Legal |
| Commander / EDH | Legal |
Signal the Clans occurrence in decks from the last year
Commander / EDH:
All decks: 0.01%
Rules Q&A
Signal the Clans Discussion
3 weeks ago
My spoilers in the comment above arnt working for me so im trying something different. "If you want to sift through some cards you can look at each section, but I would recommend just looking at the first grouping to start with, as I went a bit too far with the other lists. Those lists are fine to just look at ideas or "good cards" but there are far too many to call them suggestions.
: The short list
Headtext for first 3 entries. Show
Enters tapped but sac's for free Show
Doesn't enter tapped, cost mana to sac Show
Cards that do similar but arnt lands Show
Adding to the goboi theme Show
Because creature tokens Show
3 weeks ago
If you want to sift through some cards you can look at each section, but I would recommend just looking at "The short list" to start with, as I went a bit too far with the other lists. Those lists are fine to just look at ideas or "good cards" but there are far too many to call them suggestions.
3 months ago
Hey, nice concept for a budget Korvold deck. The suggestion to add the persist combo with Grumgully is a good one.
Budget cards to consider adding:
Cards to consider cutting:
Cinder Marsh
Everglades
3x Swamp
2x Mountain
Basal Thrull
Blood Bairn
Nightshade Stinger
Shrapnel Blast
Accorder's Shield
Fountain of Youth
Phyrexian Walker
Desperate Gambit
Vial of Poison
Delif's Cone
Fling
Consider cutting Shrapnel Blast and some of the cost artifacts? I don't think Blast is good enough of a card to want to include these artifacts. Good luck with your deck.
3 months ago
If a player copies Signal the Clans , can they take a shortcut by searching their library for six creatures cards and putting two at random into their hand, or much they search separately for each instance of the spell? I know that copying Demonic Tutor or a similar spell allows a player to take a shortcut and search their library for two cards, but the game still considers them to have searched and shuffled twice, but StC may be different.
3 months ago
Hey, you're welcome.
You want to try to limit the amount of high mana cost cards (four drops or higher) you have in your deck.
These are all better high mana cost cards then Brass's Bounty . Bounty makes treasures, but that's all it does and it costs seven mana. There's better cards for less mana that make treasures. Bounty makes treasures equal to the amount of lands you have therefore you can't even ramp into Bounty with nonland sources such as mana rocks or mana dorks.
You don't need Butcher of Malakir if you have Dictate of Erebos . Butcher is seven mana redundancy (the same thing) which is too much. If you didn't have Dictate then Butcher would be fine. There's too many five drops here especially since Korvold is a five drop and it's the five drop you want to cast more then the rest. The other five drops that are worth keeping are:
I'm not a fan of Revel I would cut it because I think treasures are better to sac and make mana or to grow Korvold and draw then keeping ten of them on the battlefield hoping to win with Revel.
Sidisi, Undead Vizier is a good tutor, consider more tutors? Diabolic Intent is worth clearing $10 to add. It makes you sac a creature before you can tutor which is has synergy with the sac theme of Korvold. Consider cutting Growing Rites of Itlimoc Flip for Intent? Rites is a fine card, but for your deck it's not better than Intent since Intent can tutor directly for Dockside Extortionist .
Eternal Witness is great with Intent and Temur Sabertooth . Witness can recur Intent letting you cast it again. Sabertooth can bounce Witness back to your hand to cast it again and recur Intent or something else. Having the ability to recur any card is very helpful when the strategy with Korvold is to sac your permanents. To make room in the budget for $5 Witness consider cutting $6 Mazirek, Kraul Death Priest ?
Because Dockside Extortionist is so good with Korvold then having other tutors that can get him are helpful.
These are good budget creature tutors. Evolution goes with the sac theme since you sac a creature before you tutor for another one and put it onto the battlefield. Signal can tutor for three different creatures and then randomly you put one into your hand. Empath can tutor for Prossh or Avenger. Summons can tutor for both Extortionist and Sabertooth.
---
Korvold is five mana and you kind of want him on the battlefield before you start sacing permanents to get the value. The problem is you need more ramp to do this. More early game ramp is good with Korvold; it can be used to cast him faster and then ramp permanents can be sac fodder for his ability. The nice thing about Korvold is even if you all draw are ramp and nothing else it's fine because ramp lets you cast him faster and then the ramp or lands can used to sac to grow him and draw.
One drop mana dorks are some of the best cards for ramp in Commander.
5 months ago
Hey, nice job keeping the budget low and interesting version of Xenagos with Planeswalkers.
The majority of my budget cards suggestions to you to consider are lower mana cost cards to help to reduce the avg. CMC of your deck which is high at 4.4 or cards that are the same mana cost, but are upgrades.
Cards to consider adding:
These are cards that I think can help your deck since they provide something that's missing here. Early game ramp is good when playing a five drop Commander who you would like to get onto the battlefield quick. There's also many high mana cost creatures here that more early game ramp can help to cast them. Farseek can search for a dual land: Cinder Glade or Sheltered Thicket . Being able to land ramp with a dual land is helpful. Elvish Mystic and Llanowar Elves are one drop mana dorks who are some of green's best cards for Commander.
Creature tutors: Fierce Empath and Signal the Clans are helpful to get a creature into your hand after getting Xenagos onto the battlefield. Either, but especially Empath can get Ghalta, Primal Hunger . Repeatable draw is very good in Commander especially draw that has interaction with your Commander. Greater Good and Garruk, Primal Hunter is powerful repeatable draw when you have a creature with a lot of power which a creature gets from Xenagos's ability. Ghalta for instance can draw 24 cards after doing 24 combat damage. Greater is also good with Moldgraf Monstrosity , a way to kill it which then reanimates two creatures giving you more fuel for both Xenagos and Greater.
Moldgraf and Greenwarden of Murasa are ways to recur or reanimate cards from your graveyard. They are creatures which gives them interaction with Xenagos and Greater. Having recurion/renaimation is helpful in Commander because your creatures are going to die and being able to use a card more than once is good. Chaos Warp and Beast Within are versatile instant removal spells in Commander since they can target any one permanent this includes a problematic opponent land.
---
Cards to consider cutting:
Timber Gorge
Gruul Guildgate
Shivan Dragon
Essence of the Wild
Hoard-Smelter Dragon
Rumbling Slum
Zhur-Taa Ancient
Protean Hulk
Shamanic Revelation
Hunting Wilds
Planewide Celebration
Enlarge
Blanchwood Armor
Consign to Dust
Good luck with your deck.
5 months ago
Hey, nice version of Wildborn, pretty underrated casual Commander.
Cards within the budget to consider adding:
The first of these suggestions are lands that give you value, repeatable value with Crucible. I see Grounds and Glade in the manabase which makes Lore a good two drop land ramp spell. Signal and Empath are additional tutors for your finishers creatures. Cultivate and/or Reach are not ideal, but they're pretty good with Wildborn because they basic land ramp and put a basic land into your hand which you can play because of Wildborn.
Cards to consider cutting:
2x Forest
2x Mountain
Ground Assault
Indomitable Creativity
Pillage
Seek the Horizon
Vengeful Rebirth
Traverse the Ulvenwald
Harmonize
Slice in Twain
Undergrowth Champion
5 months ago
Hey, there's definitely a lot of Dragons here, too many. Have you thought about the mana curve?
There's only three two drops? Consider adding more early game ramp? Cards within the budget to consider adding:
These suggestions are low mana cost ramp and tutors to get the better Dragons into your hand such as Utvara Hellkite .
For the manabase consider adding some Tri lands replacing the ETB tapped Fetch lands?
These types of Fetch lands are consistently going to get dual lands that will also ETB tapped which is really slow. Tri lands are also slow, but only delaying one turn and then they give you one color of three choices.
---
Cards to consider cutting:
Bad River
Flood Plain
Grasslands
Mountain Valley
Rocky Tar Pit
Zendikar Resurgent
Chromium, the Mutable
Nicol Bolas
Dromoka, the Eternal
Dragonlord Kolaghan
Palladia-Mors, the Ruiner
Dragonlord Atarka
Sarkhan the Masterless
Prismatic Geoscope
Firemind Vessel
Good luck with your deck.
Load more