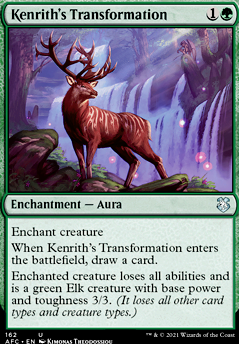 Kenrith's Transformation
Enchantment — Aura
Enchant creature
When this enters the battlefield, draw a card.
Enchanted creature loses all abilities and is a green Elk creature with base power and toughness 3/3. (It loses all other card types and creature types.)
Latest Decks as Commander
Kenrith's Transformation Discussion
3 weeks ago
I really like this take on elfball. It looks like it has a lot of avenues of play, which I have a mono-green elfball deck, and a lot of the time that's the downside. Like, sometimes it feels like I'm just waiting on the right card rather than being proactive with what's on the board, and that seems like a way that this deck really shines. Here are a couple things I can think of from my green deck and from a little bit of experience I have in modern golgari.
Vivien, Champion of the Wilds Emergence Zone and/or Yeva, Nature's Herald can give your creatures flash, which is always nice, but I'd expect it to play very well with deathtouch. Just the threat of flashing things in when you are a creature deck can keep your opponents from attacking.
Crashing Drawbridge will net a ton of mana if you get it down early. It's slower than Thousand-Year Elixir but it can also give you some surprise attacks that elixir can't.
Vivien, Monsters' Advocate is a really nice planeswalker. The tutor ability can be invaluable. It's similar to Pyre of Heroes which is also an awesome card for creature decks.
Eternal Witness and Den Protector are great for recurring things that got removed. Survivors' Bond is great with them too. It can get back and elf plus witness who can then get something else back or wait in hand.
Pattern of Rebirth is a viscous card if they don't have enchantment removal. A lot of the time it basically makes a creature unblockable or makes everyone at the table stop attacking into you.
Kenrith's Transformation kinda just does it all. It's removal, it draws a card, you can buff a dork if you really need to. All in all, it's a very versatile card and always preforms something great.
Wren's Run Packmaster can just be a nice beater that takes the place of a dork, it can be a mana dump, it can create amazing blockers, and can even be tutored by Elvish Harbinger as well as any other creature tutor. It's a good creature by itself and if you do ever go infinite mana, it's a wincon with drawbridge or another haste enabler.
Lolth, Spider Queen is a great planeswalker for a deck with a lot of dies triggers. Getting the ultimate is not that hard and it can turn all of your small creatures into huge threats. Might be a little pricey though, and planeswalkers are never the best in edh, but it's a very potent one.
Slippery Bogbonder gives you a flash in blocker and also protection for any of your creatures. Best part is that the hexproof sticks around and you can even send counters to that creature. It's nice when your counterspell adds another creature to your board.
That's all I can think of :) This deck looks pretty awesome, and is giving me ideas on how to spice up my own one. There are plenty of infinite mana combos in elfball too, but it seemed like you were going for more of an attacking strategy.
Thanks for posting this one!
1 month ago
This List already looks pretty good! A couple of things I noticed in building my own Galea that i wanted to mention.... 1. The 'swords' cycle is awesome in equipment only decks, but can sometimes mess up your own auras if it gives protection from the auras colour(s) to your creature, as the aura then unequips and has to be discarded :( 2. Top deck manipulation can be just as good as card draw in this deck, so getting extra ways to play stuff off your library like Augur of Autumn, Courser of Kruphix or even just extra ways to scry are sweet. 3. Ardenn, Intrepid Archaeologist is sweet for reequipping both Aura's and Equipment FOR FREE, which is always nice. You can even move around your Imprisoned in the Moon and Kenrith's Transformation to new targets if you so wish.
4 months ago
If you're looking to hold onto Karona, your best bet is probably Homeward Path , which will let you take her back once per turn cycle (though your opponent will control her long enough for instant speed shenanigans). However, there's no way to permanently supersede her swap ability short of just removing it with Kenrith's Transformation or similar, which kind of defeats the purpose of playing Karona in the first place.
If you're looking to mitigate her drawback, consider cards like Vow of Flight to prevent her from attacking you and Clout of the Dominus to make her untargetable, which will at least make it harder for players to use her against you or otherwise mess with her.
5 months ago
ya so youve gotten alot of the good bant enchantments down but theres some that you missed that I think are really good. With Bant enchantments it gives you a way to modify your removal package to be a bit more synergistic. cards like Frogify , Mystic Subdual , Prison Realm , Darksteel Mutation , Kenrith's Transformation and even On Thin Ice if you run snow lands are great synergistic removal spells that can shut down commanders while also drawing you tons of cards or other effects.
Mirrormade is just another copy of your best enchantment
Idyllic Tutor , Lost Auramancers , Heliod's Pilgrim , Open the Armory are all fantastic tutors for cheap
Sterling Grove , Privileged Position to protect your whole board
you've already got your card draw all on enchantments which is great but have you thought about ramp too? You can very easily go all in on enchantments this way with land auras. Cards like Fertile Ground , Wild Growth , Overgrowth , Utopia Sprawl , Omen of the Hunt all make your lands better.
finally Canopy Cover is really cool, and i'd drop eutropia, nessian wanderer, and thirst for meaning. You have better ways to get lands and draw cards
Load more