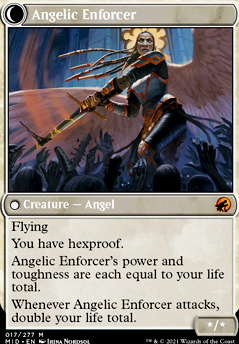 Front:
Enduring Angel
Flip
Legality
9 months ago
Assuming Infinite Reflection is still enchanting Edgar, Charmed Groom  Flip, the creatures will return with their back face up as Edgar, Charmed Groom  Flip. They will not be Edgar Markov's Coffin because Infinite Reflection is still making them enter as copies of the creature Edgar, Charmed Groom  Flip, not as an actual copy of the card. If they're instructed to transform by some other means, you'll flip the card over, but they'll still be copying Edgar, Charmed Groom  Flip.
If Infinite Reflection is no longer in play, the creatures will return on their back face, not copying anything, so as Lord of Lineage and Angelic Enforcer as @Polaris mentioned.
If the transforming double face card isn't a creature on the back side, it will return as the back side regardless of whether Infinite Reflection is still in play, such as Liliana, Heretical Healer  Flip returning as Liliana, Defiant Necromancer or Golden Guardian  Flip returning as Gold-Forge Garrison. In the case of the card returning as an aura (such as Faithbound Judge  Flip or Binding Geist  Flip returning as Sinner's Judgment or Spectral Binding) you get to choose the object the aura enchants, and doing so does not target so you can enchant an object with Shroud or Hexproof.