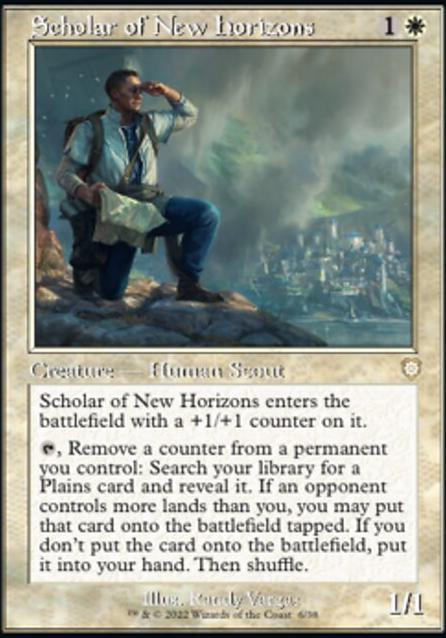 Legality
Scholar of New Horizons
Creature — Human Scout
Scholar of New Horizons enters the battlefield with a +1/+1 counter on it.
, Remove a counter from a permanent you control: Search your library for a Plains card and reveal it. If an opponent controls more lands than you, you may put that card onto the battlefield tapped. If you don't put the card onto the battlefield, put it into your hand. Then shuffle.
6 months ago
hello rakdosrunner!!
i really enjoyed the enforce that u had describing the deck and the mechanics.
i'm playing Lathiel for a long long time and i'm updating him a lot since then.
all the cards that u described i alredy test it, some of then still in the deck but mostly i had cut from the deck in order to be fastier and be more "Go for the troat" (my playgroup dont play easy haha).
firstly i wanna say the awesome cards that i wouldn't dare to touch that u metion before: Aetherflux Reservoir Authority of the Consuls Mangara, the Diplomat True Conviction Worldly Tutor Teferi's Protection Ozolith, the Shattered Spire Branching Evolution Light of Promise Well of Lost Dreams Scholar of New Horizons Tribute to the World Tree Esper Sentinel
it took me a long time to get this deck better and i still getting some frustations but if you like to consider, here some tips of cards to be implemented in order to have a better experience with it: ( mostly of this cards i proxed it because i dont wanna spend a lot of money and because i dont have a headache changing they every 2 months when wizards bring some new things )
starting with the nasty combos :
God Mode ( infinity mana + infinity draw :D ) : Argothian Elder or Priest of Titania + Quirion Ranger+ Ashaya, Soul of the Wild + Beast Whisperer with Eternal Witness in the deck u can even cast your grave again
Lathiel Gatling Gun: Walking Ballista + Heliod, Sun-Crowned or Cleric Class
"Life moves pretty fast.." — Ferris Bueller's Spike Feeder + Light of Promise
ramp : Marwyn, the Nurturer : counters will get him a good ramp Mirari's Wake : awesome ramp Land Tax: can save you in early game Burgeoning : get ahead Priest of Titania : every elf in the battlefield Exploration : get ahead again Arbor Elf : very good with Selesnya Sanctuary or some mana that u need Mana Reflection: awesome ramp Circle of Dreams Druid : gaeas crandle in creature Nykthos, Shrine to Nyx : why not ? proxy <3 Crop Rotation: get those good lands in battlefield Carpet of Flowers: very good against 2 or more people Smothering Tithe : just perfect
draw : Generous Patron: our green budget risky study, perfect in lathiel Guardian Project : good in general The Great Henge : we have big creatures so probably will cost onle 2 green mana Toski, Bearer of Secrets : unstapable, can't be countered and draw Archivist of Oghma: meh... sometimes good sometimes not, but its 2 mana
tutors: Finale of Devastation : go for the troat Enlightened Tutor: very good tutor in our deck Eladamri's Call : get those pieces that u need Fauna Shaman : get those pieces that u need Defense of the Heart: this is funny, but moste of times works haha Yisan, the Wanderer Bard : good in general Natural Order : to the battlefield! Primal Command : say goodbye to ur grave zombie players
utility: Akroma's Will: defense or end game Alhammarret's Archive : it's 5 mana, but double life gain and double draw Eternal Witness : u have awesome cretures that people wanna destroy so... also good piece of combo God Mode Elesh Norn, Mother of Machines : Hushbringer + Hardened Scales, but better Serra Ascendant: sooooo goood in this deck ... first piece to be tutored by yisan, the wanderer bard Angel of Destiny: go for the troat Ashaya, Soul of the Wild: combo, but also a big creature Overwhelming Stampede : go for the troat Walking Ballista: good in general andd combo Cleric Class: combo but also grave Spike Feeder : Snowball effect, one of the best synergy of lathiel, 'each turn' change counters for life/
Good interactions : Aura Shards , Force of Vigor 2 ducks 1 shot ,Farewell exile :) , Kenrith's Transformation (interaction with draw)
7 months ago
2ND ROUND OF CHANGES:
REMOVED: Temple of Deceit, Temple of Enlightenment, Temple of Silence, Tempered Steel, Liquimetal Torque, Scholar of New Horizons, Thopter Shop, Sphinx's Revelation, Bident of Thassa, Alela, Artful Provocateur, Etched Champion, Armix, Filigree Thrasher, Myr Battlesphere, Filigree Attendant, Vedalken Humiliator, Tawnos, Solemn Survivor, Losheel, Clockwork Scholar, Marionette Master, Teshar, Ancestor's Apostle, Ethersworn Adjudicator, Indomitable Archangel
ADDED: Glimmervoid, Power Depot, Forsaken Monument, Mind Stone, Darksteel Ingot, Hedron Archive, Dance of the Mance, Thoughtcast, Thirst for Knowledge, Master Transmuter, Lodestone Golem, Research Thief, Treasure Keeper, Mycosynth Golem, Myr Retriever, Sculpting Steel, Mechtitan Core, Mystic Forge, Dispeller's Capsule, Dispatch, Burnished Hart
COMMENTS: Deck feels powerful, but one dimensional in that it's just trying to pump out big dumb creatures asap; kinda cool. I've played 3-4 times with the current iteration and I'm looking to speed the deck up a little bit; lands coming in tapped, not quite enough draw, and too many non-artifact creatures being the two major areas of focus. I've actually reduced the amount of creatures with this round of changes so I need to check that this is OK.
Lands probably need more work, still too many tapped lands by far. Scholar of New horisons is fine, just doesn't fit in the deck, same with Tawnos (who likely needs his own deck, but I have done a few cool things with him). Tempered Steel, Indomitably Archangel and Ethersworn Adjudicator were hard cuts. But I've added removal, ramp in so I want to see if that's better. Tempered Steel with the thopters was particularly good and may get added in.