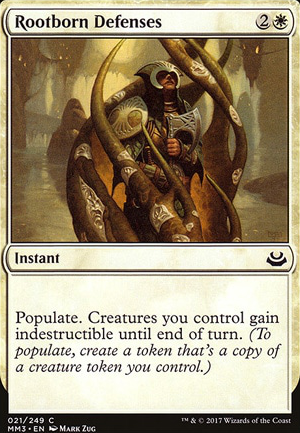 Legality
| | |
| --- | --- |
| Format | Legality |
| Pre-release | Legal |
| Tiny Leaders | Legal |
| Magic Duels | Legal |
| Vintage | Legal |
| Modern | Legal |
| Penny Dreadful | Legal |
| Casual | Legal |
| Leviathan | Legal |
| Legacy | Legal |
| 1v1 Commander | Legal |
| Duel Commander | Legal |
| Unformat | Legal |
| Pauper | Legal |
| Commander / EDH | Legal |
Related Questions
Rootborn Defenses
Instant
Populate. Creatures you control are indestructible this turn.
Rootborn Defenses Discussion
4 days ago
I looked closer at your deck and I have some suggestions for ramping up your deck's token generating abilities, and a few other personal favorites.
Sram's Expertise, Migratory Route, Rootborn Defenses and Rise from the Tides jump out at me. Those are just four great cards for an azorius token deck. The fact that you can rebound them makes them very powerful.
Tier 1 cards to get would be Anointed Procession and Elspeth, Sun's Champion. The former can turn a lot of your token generators into broken, game wrecking things. Elspeth, Knight-Errant might be worth a look too.
Sheltering Light is a little one dimensional but can provide excellent synergy for both letting Taigam swing freely and wrathing the board asymmetricly. Shelter and Gods Willing work in that same fashion. If they're not needed on your turn, they can be surprising cards to play in response to an opponents wrath or spot removal, respectively. Even more so with As Foretold out.
I threw a lot of cards at you, here's some cut suggestions, in no particular order:
Snap- Too one dimensional, untapping two lands at your upkeep is small value, since you lose the mana you could create when you move to your main phase.
Mind's Desire- You can't control what you cast, and all the spells you cast aren't from your hand, therefore cannot gain rebound.
Declaration In Stone, Oblation- you have lots of spot removal, gotta draw a line somewhere.
Steel of the Godhead- did you know Taigam is your only UW creature?
Bastion Protector- useful but ultimately always temporary buff. This would work wonders on an enchantment/artifact, not on a 3/3 body.
Temporal Mastery- You have the good extra turn spells. If this one makes it to your hand, which can totally happen with all your card draw, it is really kinda terrible.
Phew I hope I gave you food for thought, let me know what you think.
6 days ago
A problem I see with your deck is you dont have any way to face boardwipes. Boros Charm, Rootborn Defenses and the excellent Teferi's Protection are cards that could help you with that. If a boardwipe happens and you dont have any of those cards, you need card draw. Tbh, in this format aggro decks need card draw or they will run out of gas.
2 weeks ago
Hey there! Welcome to the wonderful world of Commander! First of all, I would strongly recommend thinking about Trostani, Selesnya's Voice as your commander for a token, lifegain theme. Then, I would consider the following cards:
In any case, I hope you grow to love Commander as much as I to; it's extremely fun to play! Enjoy!
2 weeks ago
1st - I love the decklist, I can't wait to try it out for myself.
2nd - Just two suggestions, both that came from Commander 2017 this year. Path of Ancestry is another command tower that will pretty much let you scry off every creature in this list, maybe sub out a basic plains for it. The other card is Teferi's Protection in place of your Rootborn Defenses - it will help against exile type board wipes as well as many other things.
1 month ago
Dusk isn't really useful here, Dawn is, but you can get cheaper cards that have just the Dawn effect. Since you're placing a ton of counters on your stuff, Dusk will become a wrath of God, or in some cases, a one-sided board wipe only affecting you. ('Cause y'know [Primer] Doran the Unstoppable exists)
Maybe remove the "vanilla" vampires, primarily Falkenrath Reaver. I also don't feel as though you should run anything but Vampires, as Markov prefers vampires over anything, so Pious Evangel and Mentor of the Meek might be worth taking another look at. (Evangel might work, but I don't think you can make enough mana for Mentor to be that useful)
On to card suggestions!
Impact Tremors/Goblin Bombardment/Raid Bombardment/Pandemonium
(I can't actually suggest any of these cards, 'cause according to tapped out, everything but basic lands in banned in Leviathan. I swing at you for lethal with 3 mountains and a swamp, lol)
1 month ago
With a heavy Equipment theme you aren't going to have much room for utility. A such, all non-card-draw utility cards should probably be removal. I would include at least two board wipes (more is often better, depends on your meta). Blasphemous Act and maybe Rout are good budget options. Vandalblast is sick. I'm super big on enchantment removal so Return to Dust is S-tier outstanding. Not super budget but not expensive either. I like Ray of Distortion a lot. It's very mana-intensive but the fact that you can do it twice is awesome in EDH. Dust to Dust will be handy. Lots of artifacts in EDH. I kind of like Revoke Existence since artifact recursion is common.
Chained to the Rocks, Oblivion Ring, and Banishing Light are versatile on a budget--as are the other cards with similar effects.
White is really good at shutting down commanders with things like Darksteel Mutation, Prison Term, Arrest, Pacifism, Faith's Fetters, etc.
There is also Crib Swap, Swords to Plowshares, and Path to Exile--budget willing. Chaos Warp is good in EDH. Very versatile.
There is lots of random utility to find out there. Reconnaissance and Dolmen Gate are usually great for aggro decks but your commander makes it far less necessary. Perhaps Brave the Sands and Always Watching . Fervor and Hammer of Purphoros are sick too. Ogre Battledriver is nice but not a samurai.
Boros Charm, Make a Stand, and Rootborn Defenses can save your board state.
Really, at this point the sky's the limit. You could do random stuff like Throne of the God-Pharaoh or Gift of Immortality.
Forgot to mention Mask of Memory when discussing card draw and equipment. Slate of Ancestry would be good in your deck.
1 month ago
Hey, love playing Boros in EDH. Sunforger is a real overperformer, but you don't really have a lot of good targets. Boros Charm and Orim's Thunder are fantastic. I might cut the rest of them except Crib Swap. Boros is about tapping creatures and so you end up open a lot in multiplayer, a couple of games running Comeuppance, Deflecting Palm, and Dawn Charm will make people realize there are consequences for hitting you, especially if you can tutor for things. Other cool targets include: Path to Exile, Return to Dust, Rootborn Defenses, Swords to Plowshares, and Wild Ricochet
Load more