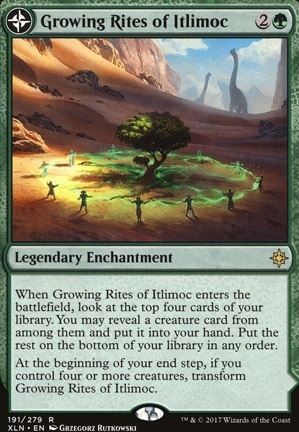 Back:
Itlimoc, Cradle of the Sun
Legality
| | |
| --- | --- |
| Format | Legality |
| Pre-release | Legal |
| Tiny Leaders | Legal |
| Magic Duels | Legal |
| Canadian Highlander | Legal |
| Vintage | Legal |
| Modern | Legal |
| Standard | Legal |
| Leviathan | Legal |
| Legacy | Legal |
| Arena [BETA] | Legal |
| Brawl | Legal |
| Frontier | Legal |
| 1v1 Commander | Legal |
| Duel Commander | Legal |
| Unformat | Legal |
| Casual | Legal |
| Commander / EDH | Legal |
Growing Rites of Itlimoc
Legendary Enchantment
When Growing Rites of Itlimoc enters the battlefield, look at the top four cards of your library. You may reveal a creature card from among them and put the rest on the bottom of your library in any order.
At the beginning of your end step, if you control four or more creature, transform Growing Rites of Itlimoc.
Have (25)
Lucan2000 , killstars , Aquacomics , damo_rox , admizell , LegendDeer ,

b

r

o

k

e

n

d

w

a

r

f

,

c

l

a

y

p

e

r

c

e

, Diamonddragon2002 , Unlife , Slowbro23 , a_murpheus ,

o

r

z

h

o

v

_

i

s

_

r

e

l

a

t

i

v

e

l

y

_

o

k

a

y

8

1

9

, teslacoil7992 , bpiser95 ,

s

a

j

0

2

1

9

, PlatanoPower ,

i

t

h

e

o

r

y

z

,

C

a

m

p

b

e

l

l

S

t

e

v

, Pumpkinking913 ,

A

z

d

r

a

n

a

x

, Swamy ,

V

a

s

b

e

a

r

1

, gildan_bladeborn , MagnaAura
Want (58)
sebek33 , Killer_Tofu , DarkAngelsBlood1 , imapuncha , Pulseman , SurfyBasilisk , starkzero , phoere , Elphane , Clawsun73 , Zepcos , Funi1234 , PembrokeWelshCorgi , gmoseronover , Vestrinex ,

m

e

t

a

l

m

a

g

i

c

, esono , ToshiChan , Drizztleo , SlickWizard , angelx , ryuzaki32667 , bigblue32123 ,

C

r

y

A

l

l

, Flaktastick , chrishuffman95 , LeahStormsFury , Der_Schwarzritter , flipdipple , skaspels ,

f

a

d

e

l

i

g

h

t

n

i

n

g

m

m

,

v

a

s

h

a

c

l

a

r

e

n

s

, Xphasmatis , Lowlifecoot0630 ,

S

i

r

F

o

w

l

e

r

, link2213 , JGMFC , mrnking57 , Oniwa , MasterRoach117 , Nightdragon779 , Feanoriel , Firedfromlife , RedJokr , DragonMoffon , Elementalism , AlphaSp , Uncommon_Courtesy , arthurxisde , TerminalMarch , LotusPhi , xyl0ph0ne , jp262 , Red_Feathers , blaze333 , relyks16 , PlayNemesis , MagnaAura
Growing Rites of Itlimoc Discussion
15 hours ago
Delta-117, your post is nothing but impressive. 75 minutes is alot of time to dedicate to a single post. Thank you.
Back in 2016, I wanted to acquire an Atraxa deck for myself, but unfortunately she was completely sold out everywhere. I had to settle for Breya, Etherium Shaper and Yidris, Maelstrom Weilder. Fast forward to 2018, and at a new LGS I spotted an Atraxa precon just sitting in the window. I asked if she was for sale, and ended up trading a Engineered Explosives and paying roughly 20ish bucks I think. I was lucky, because I wasn't the only person interested. I really wanted to build a deck surrounding the Praetors, because well...they're just really cool cards. I picked up a few at another LGS...but for this deck? I had plans.
Also, yes playing this deck is alot like archenemy. I am quickly voted Persona non grata, and the whole table quickly swoops in to destroy and dismantle all of my tools...while other less "scary" decks establish better boardstates, and eventually dominate the table into submission. Every game needs a villain, and I happily fill that role. And at the very least I have fun with it. I can't help but joke when I infect the whole table.
LANDS: The bond lands are cool and all, I just feel hesitant to include non-typed duals. Also the drawback is that those lands are duds if I ever play a 1v1 game. Admittedly it'd be rare when that happens, but it is definitely a possibility. Also,they can't be tutored. I'll admit the manabase is far from perfect, but i'll do some thinking (using your suggestions of course) and revise the list. What's funny is that I have a physical copy of Inkmoth Nexus in the deck already, but it's not on the digital list lol. Thanks for pointing that out.
Steady Progress is there primarily to keep tempo and increase poison counters on players, and drawing an extra card before the beginning of a turn is always a win. Now, Reliquary Tower is pretty niche. My deck doesn't get me a lot of draw unfortunately (something i'm working on), and the rare chance that Jin-Gitaxias, Core Augur stays on the board long enough to really make Tower relevant...would be a surprise to me. I have a 2019 Reliquary Tower promo of it in my trade binder, I think i'll hold onto it and maybe do some experimenting.
Gavony Township seems like a really cool include. Given that most infect creatures need an increase in power and toughness placing +1/+1 counters on all of them in one fell swoop could be just the solution i'm looking for. I'll find a way to include it in the list.
CREATURES: I have a Phyrexian Swarmlord, just been trying to figure out how to work it into the deck. Corpse Cur has definitely been something of a dud where there have been just so few valid targets to bring back from the grave. My only qualm is that the deck needs some form of recursion, but Phyrexian Swarmlord is the bomb that this deck definitely needs to have a strong board state in the late game. I'll go ahead with your suggestion of swapping out the Putrefy, and see what happens. As for Champion of Lambholt, given that +1/+1 counters will never take center stage i'm hesitant to include her despite the benefits of the evasion she provides. Blightsteel Colossus is cool. Really, really cool. On theme, and intimidating- however the high CMC (even for this deck) just makes it unappealing to me.
Your other suggestion of Conqueror's Flail offers good protection (at least on my turn) and can potentially pump my creature up to +4/+4. If I see one, i'll pick it up and experiment with it. Also, I took a look at both lists and both Become Immense, Vines of Vastwood, and Mutagenic Growth (the flavor!) all caught my eye. All cards are instant speed, and can definitely make a player who begrudgingly accepts 1 poison counter to get far more than they bargained for. I want to figure out what to cut in order to include these beauties. Now, for Spellskite I like it. Full of flavor, and would be potentially a great albeit temporary defense. I just don't know what to cut for it. But the suggestion of Hatred really gave me pause. That's cool. It's applicable both early and late game...and can potentially end a player immediately for a fee of 9 to 17 life. Nobody would see it coming and it would be brutal. I'll definitely see if I can pick one of those up.
So on the topic of planeswalkers...I briefly considered including a Karn of some sort...but they deviate too far from theme. Honestly, I'm not really much of a fan of the mechanic. I have a few decks that have some Planeswalkers in them...but i feel really meh towards them. Just meh. Doubling Season would be great if this were a superfriends deck, but that is definitely something I want to stay away from. I'm just not a fan of those builds. As to your question about that Elesh Norn, Grand Cenobite, the answer is yes. I have an actual copy of that card. Long story short I was at my LGS playing EDH with a friend and I mentioned that I wanted a copy of that card, but it was 1 - very difficult to find, and 2 - very expensive. Then he just casually mentions that he had one - for trade no less. For a moment I was dumbfounded, but then he reminded me that he was a judge. Funny I didn't pay attention to that. So, with not a moment to spare I whipped out my trade binder and said "do your worst". The follow list below is what he picked up (it's a long one):
It was quite the trade. My friend took my juicy trade binder to town. But in the end, it was all worth it. I look forward to more discussion on this deck. I'll post more of my thoughts later. Thanks for commenting.
4 days ago
Sterling Grove is a powerful card, but not just for Sylvan Library, if that is your best option, don't run it.
I understand Spike Feeder and Archangel of Thune combo perfectky well, simply in a competitive environment, either one will be countered, or they will be removed with something like Chain of Vaporing the Archangel, in response to the first activation of Spike Feeder. That is a blowout like a Time Walk since you can't activate it again without killing the Spike Weaver. Felidar Sovereign with Chord of Calling is your best actual wincon, but I mean... 9 mana/creatures? What turn are you on? If this deck consistently puts out creatures and mana like that by turn 3, since you need to win by turn 4 at the latest for this to be a combo/aggro cEDH deck, then run it, I just don't think that is plausible.
2/2 Cats aren't a real strategy on their own. They don't make mana, and so don't combo out and win, simply put, I could get into Commander theory and the 'Aggro Problem', but I will just copy and paste the work I already did for something else:
So, in EDH, there is a common dilemma called
The Aggro Problem
, in which is, what many believe to be the reason for the idea that EDH is so slow. Unlike Modern, Legacy, Standard, Pauper, or Vintage, EDH has each player's original life totals set to 40, or 50 for the
Oloro, Ageless Ascetic
player. This would be a bit difficult for normal aggro to exist, but because it is a four-player format, from the point of veiw of an aggro player, they need to dole out 120 life, which isn't something they can do nearly at all. Even if your opponents start killing each other, an aggro player would averagely have to deal 60 damage if they attack each other and not you, or averagely 80 damage under a normal circumstance of each player dealing out damage to each other.
---
This is too much for them. Generally there are a few way aggro compensates, one of which abuses the already built-in system of 'Commander Damage.' Building up a ton of auras and equipment on a commander to make it huge and swing in for 21 damage works in a lot of cases, and is called "Voltron." The main issue with this is a cheap and fast commander like Rafiq of the Many is too easily prone to removal like Swords to Plowshares, and more controlling commander like Sigarda, Host of Herons or Uril, the Miststalker are generally a bit too , slow to get around board wipes like Toxic Deluge, Wrath of God, Damnation, Day of Judgment and Supreme Verdict.
---
But there are other tricks aggro has up its sleeves, think infect. Really, infect is just as powerful in Modern or Legacy than in EDH, right? Well, not exactly, yes infect still only needs to deal 10 poison counters to kill a player, but you still have to deal at least 30 damage given your opponents can't kill faster than you, or if they are also playing infect. It's tracked differently, so if someone is at one life, they can take up to 9 poison counters and still live. Running Atraxa, Praetors' Voice can give some inevitability to your infect win, and stuff like Saskia the Unyielding can also be run to make you only have to deal 20 damage to win with infect.
The biggest issue with infect is that players generally frown upon it, and will target you, or player cards like Solemnity as a counter to it. Some playgroups set the poison counters needed to kill to 15 or 20, and some outright ban it. Also, since there are no commanders other than Skithiryx, the Blight Dragon directly support it, there is little consistency to infect decks, despite there explosive turns and wins.
---
Well, that is the aggro problem, it is what leads so many decks to be control, midrange, combo, or hybrid builds, and why the format is generally considered slow. This isn't to say decks can't win turn 1 or anything, tons of combo decks can, however, this is what leads to the final point. Combo is generally the best win condition, not to say a deck like Edric, Spymaster of Trest shouldn't beat face to win, but for most decks, combo with differing levels of disruption is the best strategy.
Many playgroups don't use combos, whether they are more casual, frown upon combo, outright ban it, or simply run more beatdown strategies and don't care for combo particularly. This is perfectly fine, and reasonable, but it is the work-around for the aggro problem, while not relying solely on control.
Okay, so now you see the problem with aggro, and why 2/2 cats in essence aren't a wincon, Archangel of Thune can be removed in response to the first Spike Weaver activation, and so aren't as instant win as you thought, and even so, unless you have enough creatures to kill each other player, it isn't going to win the game, as they will simply win on their turn, in a cEDH meta. Since Felidar Guardian combo is too slow generally, and you only run 4 tutors for the Thune-Weaver Combo, it isn't a fast combo deck.
That isn't to say it isn't competitive, you could make it stax, run the fast elf-ramp, and Armageddon until you win, but that still requires a different gameplan.
---
Again, all of this is meaningless if you don't want to make it stax or fast combo, but without blue, your card draw isn't their for permission control, and that means you aren't able to consistently make this cEDH competitive, but I won't claim it is bad or anything, it is simply a high-powered mid-level EDH deck, and I think that is fine.
You were very right on one of your points on that many other commanders would be better, I would suggest Selvala, Explorer Returned and do something like Explorey-Os! Selvala Combo/Stax.
---
On ramp, most of the options you mentioned were sub-par, Tithe, Cultivate, Kodama's Reach, Growing Rites of Itlimoc Flip, Mirari's Wake all are either too expensive or not impactful enough, 1 mana ramp is where you want to be, the fast rocks, Ancient Tomb/Gaea's Cradle/Gemstone Caverns, elves, etc.
---
Good luck!
4 days ago
Hi SynergyBuild,
Thanks for the suggestions, will take me a bit to go through it. Here's some additional followup questions.
Survival of the Fittest makes sense to me CMC3 to tutor a creature (if I have a creature).
Because I don't have haste, Fauna Shaman is less effective, but perhaps still required (just to get more consistency).
Instead of creatures, like Avacyn's Pilgrim because I don't have haste, I tried to go more low-cost spell based mana ramp. As well as having no real way to Counterspell mass removal, they are susceptible. Here is some examples:
Three Visits - playing a Savannah = Net ramp cost
Nature's Lore - playing a Savannah = Net ramp cost
Green Sun's Zenith - playing a Dryad Arbor = Net ramp cost . Also a modular tutor if I don't need the ramp.
Nissa, Vastwood Seer

Flip - in hand Forest (or if no other land drop that turn) = Net ramp cost or best case (Special note: I was testing to see if the slowness/poorness of the ramp, was offset her +1 Draw/Ramp once flipped. So far I haven't had her flip, so she hasn't worked yet.
Plus the standard: Chrome Mox, Mana Crypt, Sol Ring.
Is this strategy better than the 1/1 Elf route? To make Arahbo, Roar of the World work, I'll also need a concentration of 2/2 Cat otherwise better to choose an 1/1 Elf Commander?
I think the overall I get is, I don't have enough ramp? I'm thinking these would be good?
Tithe, Birds of Paradise, Harrow, Crop Rotation + Gaea's Cradle (I don't have this card yet though :/), Mox Diamond, Ancient Tomb.
What about less exciting options like: Cultivate or Kodama's Reach? Growing Rites of Itlimoc Flip? Mirari's Wake?
Or is it better to go 1/1 Elf, to get the Priest of Titania + Staff of Domination route? Will I be able to get enough 1/1 Elf into the deck without losing the 2/2 Cat Commander? My spouse will not play 1/1 Elf.
I should put Sterling Grove in to Tutor Sylvan Library, right?
I use/tutor Alms Collector all the time, Spirit of the Labyrinth worries me because it shuts down my draw Sylvan Library, Puresteel Paladin, Sword of Fire and Ice, Skullclamp, Hunter's Insight, etc. But I understand that Selsnya () isn't the same draw level as other commanders, so perhaps, slowing everyone including myself down would be ok.
Archangel of Thune and Spike Feeder can win the game on the same turn, even if both do not have haste. Remember that Archangel of Thune gives a +1 to each creature (not just the Spike Feeder), so any creature becomes "Weaponized", and with the Trample/Evasion built in, can usually strike 1 or more players. Also, usually I Chord of Calling in the Archangel of Thune to try and protect her and allow her to avoid summoning sickness, and attack on my turn. Yes, I can win next turn with a Felidar Sovereign or Chord of Calling > Felidar Sovereign. Once she resolves unless they can stop Activated or Triggered abilities, I get the Infinite Life.
I'll do a more indepth review later. I'll also share some of your $50 suggestions on KimJongman deck later as well.
Cheers!
1 week ago
Rude Awakening lets you animate and untap your lands. Living Plane, Nature's Revolt, Natural Emergence, and Life and Limb are some other ways to animate your lands permanently. Growing Rites of Itlimoc Flip give you a lot of bonus mana when your lands are animated. Kamahl seems quite expensive to animate lands, even though his second ability is useful. Beastmaster Ascension can pump your lands for less mana cost (meaning you don't have to tap them for mana so you can attack with them).
It also feels like right now your strategy is split between animating lands and attacking, casting a big Scapeshift to burn opponents with Valakut, or using one of those X mana spells to burn them. If you want to focus on attacking with animated lands, it might be better to drop all those other wincons and add other cards to the deck.
1 week ago
Nice deck, +1 for sure.
But do you have any thoughts on Growing Rites of Itlimoc Flip?
I run it on my Yisan and it helps a lot being another Cradle to abuse later.
1 week ago
Hey dude :)
really nice deck !
You'll probably lack some removals and/or counterspells in order to be efficient : Counterspell, Mana Leak, Memory Lapse, Remand, Pongify, Rapid Hybridization and Song of the Dryads are very efficient ones and quiet affordable.
I like the tempo on Selkie Hedge-Mage and Tidebinder Mage but it's a matter of taste :)
I tried some games with Lullmage Mentor and in a multiplayer format it is kinda useless unless you have 20+ counterspells :/. If there is already 7 merfolks on the board the wrath is comin' !
Your curve is kinda low (which is good) so you probably won't need that much ramp. You can probably cut 1 or 2 thing in Growing Rites of Itlimoc Flip Cultivate Kodama's Reach Sol Ring Song of Freyalise and instead add creatures that will help you hit your lands each turns such as Silvergill Adept, Jadelight Ranger, Wistful Selkie or Merfolk Branchwalker. Thada Adel, Acquisitor is extra to steal the signets/sol rings of your opponents early game and powerfull stuff in end games.
Surgespanner is a must have in your deck and combine with some untap shenaningans and enough manas you'll be abble to bounce the whole board. Empress Galina is a blast in multiplayer and some Vedalken Orrery or Leyline of Anticipation will help you maximize the value of such key creatures that need to pass one turn in order to be effective. Opposition is a must have in blue heavy creatures wide decks and when you have the tools to untap your creatures it's even better :)
I really like the draw on Vanquisher's Banner furthermore it has an impact the time it enters the battlefield which is really nice
Merrow Commerce is really nice in duel but not that good in a multiplayer format.
Forbidden Orchard works well with Intruder Alarm and makes infinite mana with Kiora's Follower.
If you wanna take a look at my builds (they're made for duel so it's kinda different but maybe you'll find interesting stuff) :
---

Commander / EDH* Senomar
SCORE: 1 | 46 VIEWS | IN 1 FOLDER
---
---

Duel Commander* Senomar
SCORE: 1 | 318 VIEWS | IN 1 FOLDER
---
Have fun !
Load more