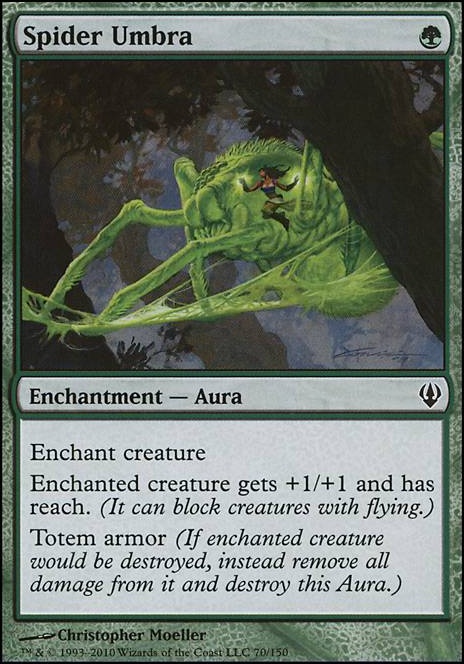 Legality
| | |
| --- | --- |
| Format | Legality |
| Tiny Leaders | Legal |
| Noble | Legal |
| Leviathan | Legal |
| Custom | Legal |
| Magic Duels | Legal |
| Canadian Highlander | Legal |
| Vintage | Legal |
| Modern | Legal |
| Casual | Legal |
| Pauper EDH | Legal |
| Vanguard | Legal |
| Legacy | Legal |
| Archenemy | Legal |
| Planechase | Legal |
| 1v1 Commander | Legal |
| Duel Commander | Legal |
| Oathbreaker | Legal |
| Unformat | Legal |
| Pauper | Legal |
| Commander / EDH | Legal |
Spider Umbra
Enchantment — Aura
Enchant creature
Enchanted creature gets +1/+1 and has reach. (It can block creatures with flying.)
Totem armor (If enchanted creature would be destroyed, instead remove all damage from it and destroy this Aura.)
Spider Umbra Discussion
1 month ago
I also read your deck help request and I've got a few possible additions. Bear in mind though, you didn't really specify a budget, so I'm just going to aim for under $20 per card:
I have to run for now, I'll add voltron-esque cards in another comment later.
3 months ago
Wow, we definitely have different opinions on how to run this haha, but that's totally ok! That's what makes this game great. The instants are what make this deck so much fun for me because I love pulling combat tricks on folks, and well, the fact that things can be countered applies to all the reanimation spells as well—although that is not to say the reanimation stuff is bad. It's another clever way to work with how Skully keepa his counters, which is fantastic. Plus it prevents you from having to pay commander tax, also clutch. I suppose Ive never really worried about paying the tax though since he starts off at 2. Ive played plenty of games where he's ended up costing 14 or 16 lol. I used to run more ramp and looking back at my list i think i will make a few adjustments in that regard.
Stuff like Skarrg Goliath is expensive but they are game-changers and I love that. Plus in the event I need a creature on the board I can throw him down. Epic Proportions and Enlarge are super hilarious to me and have worked. Of course every meta is different so for you maybe they wont. Lastly, Berserk and Hatred are generally one shot kills. Again, something I think is phenomenal in voltron. But to each their own!
I like Keen Sense ! Ill try to get my hands on a copy. I run Rogue's Passage too. Bear Umbra , Snake Umbra and Spider Umbra are dope auras too.
Glad you also sort of like Hot Soup !
5 months ago
Hello fellow Skullbriar player,
I like your deck-list a lot! I like how you are running Triumph of the Hordes . I never really thought of going that direction for a win. You're also running a lot more creatures which is cool to see!
The "Umbras" are also key. I think I'm running Snake and Spider Umbra and no Bear Umbra .
Skullbriar for me, is the perfect deck to throw a bunch of combat trick stuff and janky pumps/unblockables like: Elbrus, the Binding Blade Flip, Hot Soup , Prowler's Helm , Epic Proportions , Gigantomancer , Emergent Growth , Berserk , Hatred , Hunt the Weak , Trailblazer's Boots , Burst of Strength , Might of Oaks and Enlarge (so hilarious to pull-off). Here is my Skullbriar brew
A few of what I mentioned like Hatred I'm not actually running due to budget but hope to eventually have in the deck one day. Dauthi Embrace is another really good idea for unblockable too.
Hope some of that helps!
5 months ago
My immediate thought with utilizing the Bros efficiently was to emphasize artifact creatures (ex. Goblin Replica ) and enchantment creatures (ex. Courser of Kruphix ) so you could always have options on what to sacrifice to answer a problem. You have the creature portion covered completely but I honestly cannot see you wanting to sacrifice any of your enchantments without also hurting yourself.
Most options to make expendable enchantment tokens are not great, like Pharika, God of Affliction , but some like Renowned Weaver could be viable because, again, it gives you options on what you want to sacrifice.
Bros' cost is also kind of expensive so ways to reduce it or generate more mana (you are in ) will allow multiple activations if need be. Heartstone and Thran Turbine come to mind to reduce their cost and Burnished Hart , Wild-Field Scarecrow , Solemn Simulacrum , Skittering Surveyor and Pilgrim's Eye are great early game to fix your mana while late-game you can sacrifice them to either ability.
You mentioned reanimation in the description so some more options are Animate Dead , Dance of the Dead , Phyrexian Delver , Oath of Ghouls , Palace Siege , Entreat the Dead , Feldon of the Third Path , Victimize , and Whisper, Blood Liturgist .
I would also consider other sacrifice options so in case you do not need to activate Bros you can still generate value via sacrificing your tokens or creatures. Altar's Reap and Costly Plunder for card advantage, Sidisi, Undead Vizier to tutor, Priest of Forgotten Gods for multi-value, etc.
You have the protective-footwear covered but I would consider adding Spider Umbra and Kaya's Ghostform so you can protect or sacrifice them if need be. Other personal favorites of mine are Undying Evil and Supernatural Stamina .
Looks nefariously "fun!"
8 months ago
ArchonBlue, in a vacuum I would say that Spider Umbra IS strictly worse than Vines of Vastwood , but that's not the case in a Bogle deck, for instance, and in this case Spider Umbra has the benefit of being backed up by Canopy Cover while also providing an ongoing benefit (rather than a momentary one), protecting the creature from a host of board-sweeping threats (which nothing else in the deck does) and offering a buff that can be cast before it is needed, potentially freeing up mana in the next crucial round. I will continue to tweak the deck of course, but that's the reasoning behind some of the decisions.
As far as mana-base, I could add two more fetches, certainly, but I've found that since I'm going with 19 lands and with such a strong dependence on green mana, a couple of Inkmoth's in my hand can make me fatally slow. Dropping one for a Forest seemed to smooth those issues out.
8 months ago
Spider Umbra seems strictly worse than Vines of Vastwood . I'd also drop 1-2 Rancor (bad against Control) for 1-2 more Become Immense . Your mana base is a little weird too. I'd run 8 fetches and 4 Inkmoth Nexus . Not sure if the current mana base reflects budgetary concerns. And drop 3 Forest for the three additional lands I mentioned.
Load more
Spider Umbra occurrence in decks from the last year
Commander / EDH:
All decks: 0.0%