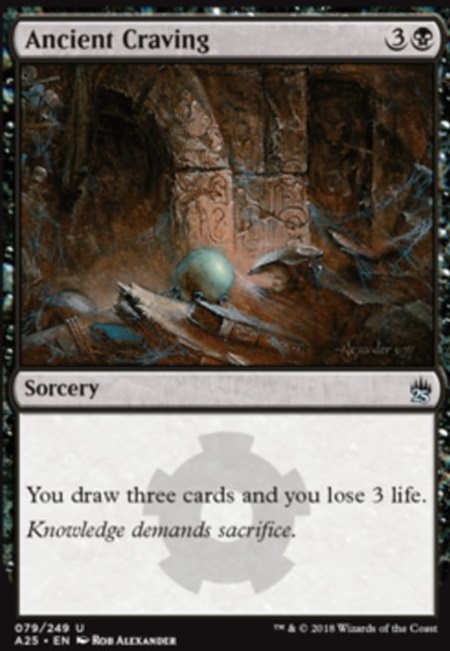 Ancient Craving
Sorcery
You draw three cards and you lose 3 life.
Browse Alters
View at Gatherer
Trade
Legality
| | |
| --- | --- |
| Format | Legality |
| Duel Commander | Legal |
| Canadian Highlander | Legal |
| Vintage | Legal |
| Casual | Legal |
| Highlander | Legal |
| 1v1 Commander | Legal |
| Oathbreaker | Legal |
| 2019-10-04 | Legal |
| Unformat | Legal |
| Magic Duels | Legal |
| Noble | Legal |
| Commander / EDH | Legal |
| Legacy | Legal |
| Tiny Leaders | Legal |
| Leviathan | Legal |
Ancient Craving occurrence in decks from the last year
Commander / EDH:
All decks: 0.01%
Black: 0.14%
Ancient Craving Discussion
1 month ago
Dear Kronhamilton
Golos, Tireless Pilgrim is my favorite commander, and I've been brewing around him ever since he was teased. Let me just say you've chosen an excellent commander.
(I've written quite a lot in an attempt to make a sort of guide for you, so if you want the short version, check out the Suggestions panel)
Golos can be tricky to build around since he can do literally anything pretty well. The easiest way to make an effective Golos deck is to lean into Golos's 7 Mana Rainbow Wheel Of Death. Before getting into that though, we need to cover some EDH deckbuilding basics.
I think the most useful advice I can give someone who is just beginning to explore the deck-building territory of EDH is to structure your deck and mind your Ratios. By this I mean it is useful to categorize the cards in your deck according to the role they fulfill.
We'll begin by looking at some core categories that you'll want to make your deck function effectively. Then I'll present the Ratios (how many of each category of card) you will want to make a generic Golos deck function effectively. Next, I'll include a detailed (but not totally complete, because I'd be here all day) catalogue of cards within some of those categories. I'll also offer up some suggestions and input about some of your specific card choices. Lastly, since I'm about to unpack a lot of information, I will include a brief list of suggestions (see the bottom) for a generically good Golos 'Shell' that should be able to support most Golos strategies.
Categories
Draw

Ramp

Removal

Sweepers

Threats

Support

Land
The art of Ratios is all about determining what combination of cards from each category makes your deck run the most smoothly.
Please note that these Ratios will not total to 99 cards. This is because you will invariably have extra flexibility to choose how your deck behaves even after establishing functional Ratios. Also keep in mind that although these Ratios do recommend you adhere to the minimum number of cards in each category, you still can choose which cards will fill those slots. The point is not to restrict your options, but instead to create a 'Shell' that is reliable enough to power your Threats cards, Support cards, and other cards. Whatever you do, make sure you have at least the minimum number of Draw and Ramp cards. THE MOST IMPORTANT CARDS IN THE DECK ARE DRAW AND RAMP!!!
While I ultimately suggest Ratios resembling the Basic Golos Shell, I will lay out the Ratios for several different Shells;
Template: a sort of baseline beginner's guide which is commonly promoted as a place to start.

Basic Golos: a modified version of the Template that suites most Golos decks.

Control: a version tailored for a slower game with many Sweepers.

Aggro: a version designed to act quickly and deploy Threats before the opponents are prepared.

Big Mana: a version invested heavily into Ramp with the goal of deploying many end-game Threats.

Mega Mana: an even more extreme version of Big Mana with extremely expensive Threats.
Please remember that any suggestions I make are because I am trying to help. Ultimately, the choices you make with your deck are up to you, and I can only provide constructive criticism based on my own experience and opinions.
Good luck :)
Ratio Fixing
The most effective change to your deck would probably be adjusting the Ratios, especially with regard to your Draw cards. Applying the most basic Template Shell, you want to have at least these three quantities nailed down for a smoother and reasonably powerful deck;
Lands – 36 --> You have 40 Lands (Cut 4 Lands)

Ramp – 10 --> You have 5 true Ramp cards (Add 5 to 8 Ramp cards)

Draw – 10 --> You have 3 true Draw cards (Add 7 to 10 Draw cards)
Ramp & Draw Additions Show
What I counted in your deck Show
Mutate
Depending on how strong your Mutate subtheme is, some of your Mutate inclusions may act as engines. However, I must state that Mutate is a VERY risky and even fragile strategy since your Mutate 'Pile' of creatures will all be destroyed at once if your opponent uses a Removal spell or a Sweeper. For that reason, I recommend leaning out of the Mutate theme (unless the Mutate card is just straight-up insane, as in the example of Nethroi, Apex of Death).
With that said, playing a Mutate theme is your decision and I totally respect that and if you want to stick to a Mutate theme then by all means do so. I just want to be sure you know that Mutate is a risky strategy that you cannot depend on to fulfill your Ramp and Draw slots (so you'll just need to supplement it with other cards).
Cut or Include?
At a glance your deck seems like something you have created using just your collection – and that's great! However, if you want to incrementally upgrade your deck, then I recommend replacing most of the cards in your deck with more powerful options over time.
Here is a list of cards you should probably keep playing: - Barrier Breach (Removal, because exiling 3 enchantments is helpful in some situations)
In my opinion, there are other, better options for all of the other nonland cards in the deck, however it is up to you to decide on how you would like to proceed so I won't intrude.
I strongly recommend cutting the Planeswalkers though – Calix, Destiny's Hand doesn't seem to synergize much with the deck and I feel that Lukka, Coppercoat Outcast is not very potent.
Lands
Just as a recommendation, I would suggest the following spread of Basic Lands;
8 Basic Forests

3 of each other Basic Land
The remainder of your lands could be either more basics (which is really, really, risky if you don't have tons of Ramp – think like 15 Ramp cards and about 12 Basic Forests) or Color Fixing Lands (see the Catalogue for more options). It is rough to have your lands enter the battlefield tapped, but unless you want to either lean into Green or spend a lot of money on lands, you will just have to live with it (I play around 5-10 tapped lands in a normal Golos deck and it isn't really that bad).
In this section, I will list out an example of the Basic Golos Shell complete with the necessary Ratios and some examples of good/fun cards in each category. I'll try to keep it relatively Budget sensitive and most of these cards will be relatively random – this won't be based on any particular theme so don't expect it to be optimal.
As a reminder:
The Shell
Ramp – 12
Draw – 13
Removal – 7
Sweepers – 2
Threats – 12
Support – 7
Land – 36
Good Luck :)
-Slashdotdash
2 months ago
Cool deck!!
Unfortunately tezzerret's gambit is not legal in mono black commander.
I would check out Ambition's Cost or Ancient Craving to run instead.
Also Cabal Stronghold would be great in here if you can find a copy.
2 months ago
Hey there Johannes,
Since you mentioned card draw I thought I'd leave you a few suggestions. Fortunately, black dominates the card draw scene with sorceries.
These may not be flashy, but the ability to draw 3 cards without leaving a draw engine exposed is a boon. You never know when you'll run into a blinky Reclamation Sage or a Cleansing Nova or a Bane of Progress etc. In my experience, 3 cards for 3 or 4 mana is exceptionally helpful.
Also, Phyrexian Arena
Good luck :)
2 months ago
I know that a few of my card draw spells may be sub-optimal, simply because they are too much mana (e.g., 4 mana is actually a lot for this deck!). So I'm testing out the following card draw changes:
Obviously these swaps are card advantage -> rummaging (i.e., no card advantage). But we obviously both know that Rakdos plays kinda like a fair combo deck in that what you want to see in your opening hand is 1) 4 mana, 2) an enabler for Rakdos, and 3) a payoff card (eldrazi!). so i'm hopeful these cards will increase the percentage of openers with those combinations of cards.
OK you convinced me enough to do some goldfishing with the following swaps:
I always like it when I can swap a non-creature card for a creature card.
4 cmc cards are awkward due because they conflict with Rakdos having 4 cmc.
Thanks for the great discussion and suggestions!
3 months ago
Hi there West,
As a player who specializes in WUBRG big mana, I'd like to add a few suggestions.
Board Wipes
First off, let's look at a robust boardwipe package. I recommend 3 to 6 Sweepers total for a big, slower deck like this.
Disclaimer - while boardwipes can be a big feel bad for some, they are often extremely helpful to prevent slower decks from getting #WREKT by faster, lighter decks. Just make sure your playgroup is okay with you leaning into a slower playstyle that uses boardwipes to keep the nonsense at bay (this will really depend on your meta). Keep in mind boardwipes also help you get in for Voltron damage, assuming you sequence your plays correctly.
Card Draw
So one reason your deck might be "sputtering", as you put it, is simply the lack of Card Draw. With about 12 Card Draw sources you should be more able to keep yourself going and avoid sputtering.
Generically good card draw happens to be mostly black. Don't worry about life loss here, especially if you do end up adding board wipes.
Removal
Your removal package is one of the strong things I see here. My only comment is that Vindicate looks good but its sorcery speed, so a Beast Within or Generous Gift is better in my opinion. Nice job on this section though :D
It's a Trap!!!
Alright, so I'd like to help you identify the "trap" cards. My playgroup calls a card a trap if it looks good in the deck in theory but is actually quite bad in practice.
I strongly recommend against Morophon, the Boundless because you will be getting at best one or two creatures from him. I don't believe your deck is (or should be) tribal enough to take advantage of him.
Ponder and Preordain are unlikely to do as much work as real card draw spells, at least from what I gather skimming over your list. Your deck is going to be naturally slower (and that's fine if you have enough Removal and Sweepers to keep yourself alive) so don't sweat cutting the 1-drops for card draw spells. I would instantly run Painful Truths and Read the Bones in place of these.
Voltron: This is just an opinion, but your Voltron section looks too big. I think the best thing about Ramos as a Voltron commander is his ability to naturally acquire a threatening amount of power as a side effect of you playing a really good Rainbow deck! Lean into that. I know it feels bad to cut some of the artifacts, but you may find it better to have other threats or support for your threats, instead of relying on your commander (who is already a bit of a priority target if I'm being honest). Now granted I am not sure that you've got too much Voltron stuff, but my instincts tell me to avoid committing too much to Voltron. I have seen it end terribly many times and this deck has the luxury of Incidental Voltron, so I would take advantage of what your commander is already doing.
Also, just a general trap for big mana decks is choosing too many "Payload" cards (like Maelstrom Wanderer, Nicol Bolas, etc) while not including enough support for them. I don't think you've got an issue with that, but stay vigliant - you're the only one who can stop you from going overboard.
Other Quick Additions
Kessig Wolf Run: Supports the Voltron, lets you sink that excess mana, and only takes a land slot to boot! Simply a great card for the Voltron portion of your strategy.
Wrap Up
Overall, this is an interesting deck design though I do think it could benefit from a more focused game plan.
Don't get me wrong, this is good stuff - I think you've created a nice first version. Please don't take my criticism of your card choices personally, these are after all just my opinions and I am very passionate about making WUBRG work well. That doesn't mean I know best, though I'm trying to share what tips I can on the topic. At the end of the day choose the cards you want, but please do add more draw spells ;)
Cool deck and nice first draft.
Cheers and have fun :D
3 months ago
Hi Waffle, nice deck and great name.
If you are having consistency issues, just crank the card draw to MAX setting.
Sometimes, that's the only way to smooth out the deck. Fortunately, you have several of the best options available to you.
I recommend adding a couple of these guys:
Open the Armory (to tutor for Skullclamp literally every time)
As a Rainbow player, I fall back on these when I need efficient, non-synergy reliant draw to dig me out of a bad spot. Try to keep it no lower than 12 card draw sources for the smoothest play experience.
Good luck ;)
7 months ago
You're off to a great start! I would recommend a bit more ramp though. Karlov draws a lot of hate, and rightfully so, so even though he's 2 CMC you'll have to recast him a fair amount. You're at 5 ramp pieces right now but I always aim for 8 in my decks, give or take a few depending on the curve of the deck. Crypt Ghast is great but expensive and delicate so it's worth running but can be unreliable. Try Wayfarer's Bauble , Star Compass , Prismatic Lens , Mind Stone , and/or Worn Powerstone .
One thing many new EDH-deck builders stumble on is not enough interaction/removal. It's usually best to focus on building your own board state than tearing down others but having some removal is very important still. I love it when I have a deck that can support heavy removal. That said, I think you might have a bit too much, especially considering you have removal in the Command Zone. Definitely keep all the enchantment/artifact removal you can (enchantments are some of the most powerful things in commander and the hardest to remove). I like the exile effects, since recursion is so common. Check out Return to Dust and Forsake the Worldly . Running 2-6 board wipes is great and you're there already.
I'd recommend replacing a few targeted-creature removal cards with some more utility cards, partucularly draw spells. Greed and Well of Lost Dreams are awesome. Try Read the Bones , Ancient Craving , Ambition's Cost , Phyrexian Arena , Arguel's Blood Fast Flip, Erebos, God of the Dead , and Promise of Power .
Rhystic Tutor is a trap. I'd drop it.
Some cards to protect Karlov would be wise. Swiftfoot Boots , Lightning Greaves , Whispersilk Cloak , Kaya's Ghostform , and tricks like Undying Evil can be game-savers.
7 months ago
Cool deck! You might like these: Worship , Plea for Guidance , Mesa Enchantress , Axis of Mortality , Magus of the Mirror , Soul Conduit , Repay in Kind , Sphere of Safety , Wall of Blood , Necrologia , Damnable Pact , Promise of Power , Moonlight Bargain , Ancient Craving , Ambition's Cost
Load more