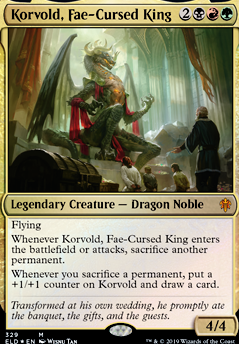 Korvold, Fae-Cursed King
Legendary Creature — Dragon Noble
Flying
Whenever Korvold, Fae-Cursed King enters the battlefield or attacks, sacrifice another permanent.
Whenever you sacrifice a permanent, put a +1/+1 counter on Korvold and draw a card.
Latest Decks as Commander
Korvold, Fae-Cursed King Discussion
1 week ago
I think I would more or less do the same with the commanders you have laid out so I don't have much to offer there. Instead here are some deck ideas I have planned/currently working on:
Adamaro, First to Desire: Mono-Red group hug
Barrin, Master Wizard: Modular-control deck (Arcbound Ravager)
Firesong and Sunspeaker: Angel Spellslinging
Daughter of Autumn: Damage Redirection Deck (Pariah/Vigor)
General Jarkeld: Block everything! (Hundred-Handed One)
Kentaro, the Smiling Cat: No plains in the deck, maybe cat tribal
Baru, Fist of Krosa | Korlash, Heir to Blackblade: Utilize grandeur
Korvold, Fae-Cursed King: Food token and Stuffy Doll with Gyome, Master Chef and Asmoranomardicadaistinaculdacar as the secret commanders.
Kogla, the Titan Ape: King Kong theme (2005 Peter Jackson)
Yidaro, Wandering Monster: Battle Cruiser (Unpredictable Cyclone/Sneak Attack)
Any tribal deck because tribal is my favorite
1 week ago
brandonplaysmagic -- Thanks!! I always like to try and make things a little bit more interesting than having to play against Korvold, Fae-Cursed King, Yarok, the Desecrated, Kess, Dissident Mage and Golos, Tireless Pilgrim (RIP) decks all the time. Experimenting with lesser known commanders is so fun!
Diamanacle -- Tevesh Szat, Doom of Fools is an amazing card and would be a fantastic Rakdos sacrifice commander. I don't have a Vial Smasher the Fierce but he seems super good, too! Exile cards always seem to cost a bit more, CMC-wise, which is why I opted for cheaper removal like Terminate or ones that could hit multiple types like Bedevil and Feed the Swarm. It does sound like a good, though. I'll add some to the maybeboard and see which ones I have laying around. As for tutors, they'd be great and I do have a one Demonic and Vampiric Tutor along with a Diabolic Intent in other decks. I was already debating adding them in, but... I have no idea what to cut. Suggestions?
As for copying this deck, have at it! If you end up posting it on here just mention me as an inspiration or something. I'd love to see it!
3 weeks ago
TriusMalarky - MLD can be even more one-sided than that. Like Epicenter in a Korvold, Fae-Cursed King deck. The fact that so few seem to run it (20 on EDHREC) speaks volumes about how MLD is viewed by the typical player. All this, however, is off topic.
2 months ago
So if Korvold, Fae-Cursed King gets in on this mess, does that mean he's flying around eating the piles of food off the ground?? He'll catch diseases that way!
2 months ago
Well, point 3 is just not true. Arcane Signet is currently Standard Legal due to the Brawl decks that came with Throne of Eldraine. Considering that, it's a legit question why the supplemental multiplayer decks that are released with Standard aren't legal themselves.
Although Korvold, Fae-Cursed King has shown that these Commander-like cards are easy to overpower the Standard environment if they're too powerful. I don't think it's a mistake to make supplemental products legacy-legal only. If you want to build around them, play them in a Commander deck, that's their intended purpose.
Load more