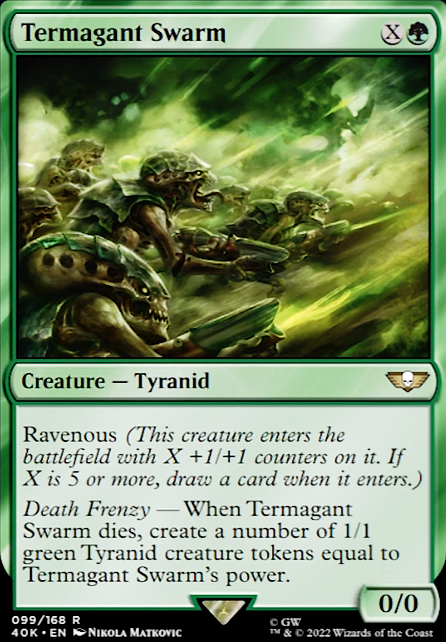 Tokens
Legality
Termagant Swarm
Creature — Tyranid
Ravenous (This creature enters the battlefield with X 1/1 counters on it. If X is 5 or more, draw a card when this enters.)
Death Frenzy — When Termagant Swarm dies, create a number of 1/1 green Tyranid creature tokens equal to Termagant Swarm's power. (Dying is being put into the graveyard from the battlefield.)
2 months ago
For global haste you can use Fires of Yavimaya, Concordant Crossroads, Mass Hysteria, and Urabrask the Hidden who will also conveniently turn off other people's haste. Anger and Barbarian Class also give haste after more effort.
Ant Queen, Artifact Mutation, Battle Hymn, Circle of Dreams Druid, Dragon Broodmother, Pest Infestation, Scute Swarm, Tempt with Vengeance, Sylvan Offering, Termagant Swarm are all useful if you can give haste to all of them.
Birds of Paradise is just the best mana dork.
You have green, so you might as well use the standard ramp package with Cultivate , Kodama's Reach, Explore , Farseek, , Rampant Growth, Three Visits and Nature's Lore. Probably ignore most mana rocks, because people are going to want to vandalblast you just because of the treasures.
Relentless Assault, Scourge of the Throne, Combat Celebrant, Hexplate Wallbreaker, World at War grant extra combats, with Hellkite Charger and Aggravated Assault potentially going infinite.
Vandalblast goes in every red deck. Even though youll have a ton of treasures i'd still run Brotherhood's End too
For draw spells consider Scroll Rack, Garruk's Uprising, Elemental Bond, Soul's Majesty, Furious Rise, Rishkar's Expertise, Beast Whisperer, Shamanic Revelation, Disciple of Bolas, Pact of the Serpent, Painful Truths, Harmonize, Sign in Blood, Night's Whisper, Read the Bones, Ambition's Cost, Ancient Craving, Damnable Pact, Commune with Lava, Lifeblood Hydra, or maybe Necropotence although the color restricion on necro is tough, treasures should take care of it.
Fable of the Mirror-Breaker  Flip, Ragavan, Nimble Pilferer , The Reaver Cleaver , Gadrak, the Crown-Scourge , Ancient Copper Dragon , Old Gnawbone Ziatora, the Incinerator for more treasure makers. Pyrohemia and Pestilence could be fun with the extra mana. Awaken the Woods is an amazing x spell too, but wont appreciate the two aforementioned cards.
If you're using magda the deck will benefit from dragons and expensive artifacts. throw in Imperial Recruiter and Worldly Tutor, Vampiric Tutor, and Demonic Tutor all go in your colors. so you can get her more consistently. Darksteel Forge and Gate to Phyrexia can be tutored into play with her for five treasure.
If you use dragons, you could add Dragonstorm, but you should carefully consider how many cheap spells you expect to be able to cast if you arent building specifically towards this card. Chatterstorm, Empty the Warrens, Yawgmoth's Will, Jeska's Will, Mana Geyser, and Manamorphose, Past in Flames are all good on their own and would add synergy.
If it ends up dragon tribal, cards like Crippling Fear , Kindred Dominance, Crux of Fate
Swashbuckler Extraordinaire is a very good payoff for using treasures if you dont use certain other nightmarish dragons like Atarka, World Render, Blast-Furnace Hellkite, Terror of Mount Velus, Thrakkus the Butcher