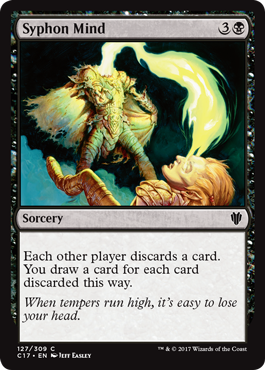 Syphon Mind
Sorcery
Each other player discards a card. You draw a card for each card discarded this way.
Browse Alters
View at Gatherer
Trade
Legality
| | |
| --- | --- |
| Format | Legality |
| Leviathan | Legal |
| Legacy | Legal |
| Pauper EDH | Legal |
| Casual | Legal |
| Commander / EDH | Legal |
| Vintage | Legal |
| Limited | Legal |
| Duel Commander | Legal |
| Canadian Highlander | Legal |
| Oathbreaker | Legal |
| Pauper | Legal |
| 1v1 Commander | Legal |
| Unformat | Legal |
| 2019-10-04 | Legal |
| Tiny Leaders | Legal |
| Highlander | Legal |
Latest Decks as Commander
Syphon Mind Discussion
3 weeks ago
Thanks a bunch for the feedback Profet93 and suggestionNemy_Nem! It's great to get some different viewpoints, especially during this time where I can't play with my usual group!
Soul Shatter is 100% getting added when it's released... mainly because it has fantastic art... but also, it's impossible for it to brick on a token, compared to Liliana's Triumph. Check out Feed the Swarm from Zendikar Rising, some targeted Enchantment/Creature removal in Mono-Black, it's a Sorcery, but hey, you take what you can get!
Shizo, Death's Storehouse and Jet Medallion are out of my price range for now, although I agree that Jet Medallion would be amazing in this deck, especially when chaining spells.
Blast Zone looks really good! I don't know how I missed it, maybe I thought it was a Ratchet Bomb effect, taking too long to get online, but with the ability to charge and detonate it in a couple of turns is great.
Oubliette Is really cool, but my meta has loads of Artifact/Enchantment removal, so i'd rather kill a commander to increase its tax.
Nevinyrral's Disk Looks like a good board wipe that doubles as Artifact/Enchantment removal. It's a bit expensive for me, but it does enough that I can probably justify it. I might swap Deathbringer Regent for it as they fit a similar slot in my deck.
Mind Twist and Syphon Mind look cool, but when i'm up against decks that want their graveyard filled, it might be too much of a risk. Along those lines, Tymaret, Chosen from Death has really over performed in my meta. The lifegain is incidental, but being able to clear graveyards of problematic cards repeatably is fantastic, especially on a cheap creature that often has 6+ toughness, so is a good blocker
I do really like Read the Bones, and extra cheap card draw might help compensate for my low land count. It's a shame it's not an Instant, but I might try swapping it out for Ashling, the Extinguisher for a while!
I'll keep an eye on Agent of the Fates and Memorial to Folly, they have seemed ok in the games i've run them, especially Agent of the Fates, which won me a game by itself last night but ill see how they would compare to an Edict spell or basic Swamp when I draw them from now on!
3 weeks ago
Blast Zone - Helps mitigate black's weakness of artifact/enchantment interaction while fitting into the landbase. Cut blighted fen for it (not sure if budget)
Withering Boon - No one expects it, plus it looks cool (not sure if budget)
Shizo, Death's Storehouse - Unblockable (although not budget)
Oubliette - Commander removal that hurts red and black players through new phasing rule. Highly recommended, especially if you face a lot of black in your meta as you say you do (which makes me wonder why you still run slaughter pact)
Extinction Event - Good against all the black in your meta. Not necessary but nice
Nevinyrral's Disk - Cheap way to deal with artifacts and enchantments
Jet Medallion - Ramp, plain and simple, would cut leaden myr despite it being a body, if anything because it's a body I would cut it for this. Plus, this helps you chain multiple spells by making each cost less rather than adding mana. It doesnt fuel artifacts, but its still very powerful
Mind Twist - One of the best discard spells, hands down. It's at random, and while you don't face much blue in the meta, it is counterspell bait at worst, absolutely horrific at best. Do not sleep on this, especially in 1v1.
Card draw is nice, not all of these are needed....
Syphon Mind - Not as good in 1v1, but good in multiplayer
Read the Bones - Scry and draw is very helpful
Sign in Blood/Night's Whisper - Cheap
REPLACE Agent of the Fates with Liliana's Triumph - You use your removal which either could have killed an opposing creature at best. At worst, your removal couldn't have killed an opposing creature so you use this removal on Agent to attempt each opponent to sac a creature of their choice. I suppose with all your removal they don't have many choices, but this seems very, subpar. The deathtouch part might be relevant, but I find you can make better use of this slot. Lili's triumph is cheaper at instant speed without the need of your own removal spell.
Ashling, the Extinguisher - Too much mana to be removal bait at best case. When if they want to kill any of your creatures, they can.
Deathbringer Regent - Too much mana, too many restrictions. Not worth it IMO. Can be replaced with a better wipe, more utility or card draw!
Tymaret, Chosen from Death - You already have better grave hate and lifegain. Lose the redundancy for more card draw or better utility.
grasp of darkness is located under the creature section of your primer FYI
-Memorial to Folly - I disagree, I think coming in tapped and not being a swamp to fuel stronghold, defile and more is not worth the loss in tempo. I feel in black you can/have better recursion.
1 month ago
cut stifle, disallow or tale's end for Trickbind. The split second plus prevent the ability from being activated again is so useful I can't stress it enough.
Even though your average cmc is impressively low at 2.33, I still think you don't have enough draw to justify having only 25 lands. You will most likely have to mulligan at least twice to get a decent hand. I suggest considering adding 3 to 5 and to test from there. I get that you can play your opponent's lands, but it's not always a guarantee that you'll get to 5 mana quick enough before your opponent's play all the lands they draw.
The deck has a decent amount of ramp, I think I counted about 12 cards that I'd consider ramp. It's lacking a threshold of draw cards which would fill up your hand if you're hellbent. Sure you can play one of your opponent's hands, people will probably get annoyed at the control deck and kill your commander asap. This of course means that if you have an empty hand, you won't get to use your control spells to stop them from removing your commander or other artifacts.
You seem to have a taking extra turns subtheme. I personally wouldn't run those because often if you play with strangers, they'll target you because of that. My suggestion is to remove Nexus of Fate

, Beacon of Tomorrows and Karn's Temporal Sundering for lands. Though you don't have to do that, since I get that they let you choose a different player for your commander's trigger. Alternatively you can use Strionic Resonator for that purpose.
I'd suggest a Vedalken Archmage since the deck does have 26 artifacts, so having them replace themselves is really nice. Syphon Mind is a nice 3 for 1 against a regular 4 pod.

Anyways those are my suggestions, add a few more lands and more draw spells. Also something like Prosperity can help you if your opponents often end up hellbent themselves and is a great card to have alongside the notion theif
1 month ago
Cool decklist. I would cut a colony rat for Fleshbag Marauder.
Also I'm curious why you're running horn of greed over something like Syphon Mind, since you're trying to get your opponents to discard.
Would your playgroup be mad if you ran something like Contamination? :)
+1
1 month ago
Any reason in particular that you chose not to include Syphon Mind?
2 months ago
Hi, +1 because rats :) i feel like you're missing a lot of card draw - Grim Haruspex is great but i would think you really want more draw, because you need to get more rats as fast as you can on the board and you maybe want a more consistent storm count if Aetherflux Reservoir is out...
Of course, Thrumming Stone is the no1 enabler in those decks (which is kind of easy to interact with (!)), but i highly recommend more draw either with staples like Necropotence or Phyrexian Arena; Erebos, God of the Dead is great too speaking of enchantments in mono-b.
I personally am a big fan of the trio Read the Bones, Sign in Blood and Night's Whisper, which always guarantees you a direct card-draw. Syphon Mind feels almost great too, it is of course less consistent.
Anyway, cool list :)
Load more