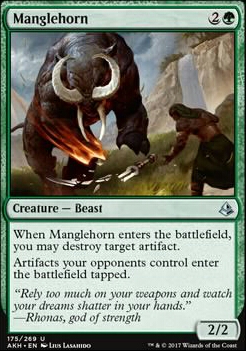 Legality
| | |
| --- | --- |
| Format | Legality |
| 1v1 Commander | Legal |
| Vintage | Legal |
| Modern | Legal |
| Standard | Legal |
| Legacy | Legal |
| Duel Commander | Legal |
| Unformat | Legal |
| Commander / EDH | Legal |
Related Questions
Manglehorn
Creature — Beast
When Manglehorn enters the battlefield, you may destroy target artifact.
Artifacts your opponents control enter the battlefield tapped.
Manglehorn Discussion
2 hours ago
Hey there! Congrats on choosing the best commander of them all :D
[cracks knuckles] Let's get started! ;)
I share because I care! You told me your deck would be far different than I expected and uhyup, it was! But it is a fun, innovative, and seemingly effective build. Props be unto you, my friend! Make it a good one! :)
1 day ago
Good ideas here, consider building around the synergies of Gift not using it as a plan B. +1
Consider Gate to the Afterlife to tutor for God-Pharaoh's Gift? It's the fastest and most efficient way to get Gift into play. Without playing Afterlife, Gift is a seven mana play which is unrealistic. Adding Afterlife means you also need to include a self milling strategy which is fine because Afterlife can tutor for Gift out of the graveyard. Self milling yourself makes it easier to actually have enough creatures to utilize Gift's reanimate ability once it's online.
Consider this 12x card self milling package (might need more self mill, but this is a start):
These cards let you put creatures into the graveyard and both Wits and Planning also either let you draw or dig. Rivulet is a land which you can sac to mill yourself, using lands that are part of your deck's strategy are very good. Wits is great with Gift because the first time it's cast it can draw as well as put creatures in the grave and then when reanimated its a 4/4 letting you draw 4 four cards when it enters play.
My suggestions are to include 4x Gate to the Afterlife to tutor for 3x Gift, the 12x card self milling package and 3-4x Angel of Sanctions as an excellent reanimate target for Gift who can act also as a removal spell.
To make room for these suggestions I would cut 4x Supreme Will, 3x Nissa's Renewal, 2x Hieroglyphic Illumination, 3x Declaration in Stone, 3x Island, 1x Forest, 2x Rishkar, Peema Renegade and 1x Cloudblazer.
For sideboard options I recommend using creatures who have good enter the battlefield abilities to take advantage of them with Gift. Manglehorn as artifact removal, Cataclysmic Gearhulk as a pseudo board wipe, Linvala, the Preserver to help stabilize. For non-creature spells, Refurbish can reanimate a destroyed Gift, Declaration in Stone for aggro, Cast Out for additional unconditional catch all removal and Negate to protect Gift.
Good luck with your deck.
2 weeks ago
I could suggest few things:
Lifecrafter's Bestiary, Vizier of the Menagerie and maybe Duskwatch Recruiter Flip just doesn't fit in ramp deck in my opinion. You don't really want to cast them at the turns 3-4 in ramp decks as you want to RAMP on those turns. And in late game all of those are kinda dead cards. Yeah those produce kind of card advantage but as ramp deck you don't empty you'r hand fast anyway.
As this looks like budget deck you could consider Spring / Mind, it is ramp and card advantage, all that you want.
Servant of the Conduit is solid ramp card for deck like this also.
Cultivator of Blades Seems just bad.
And yes Control seems like bad matchup but then you put 4x Dispels and or Negates in the sideboard,And as you cast you'r big creatures you leave mana up for counter.
Against aggro you could play Fog effects in sideboard and Manglehorn is really good against mardu and improvise decks so i would play 3-4 of those in sideboard.
Hopefully that helped :)
2 weeks ago
My interest in Manglehorn has more to do with its passive effect than its role as spot removal. I see its effect as basically setting your opponents back by one turn before they can combo, due to making them have to wait one turn before they can use their artifact mana ramp. Potentially giving myself one more turn before my opponents can combo off is really appealing, and Animar still gets a counter off it.
As for Magus of the Moon, it is something that I am just testing out. I've found a lot of instances where it has been effective at bringing my opponents to a halt, but the number of mana dorks and signets that other decks run make the effectiveness of Magus situational. My current manabase means that I barely feel the Magus's effects, while a lot of decks seem to stumble once you turn off the fixing that their dual lands and fetches offer. Right now though, I would probably relegate it to a sideboard card if sideboards are allowed (although in that case I would be running Living Wish maindeck).
To note though, I don't see either Manglehorn or Magus of the Moon as reactive cards in Animar, because if nothing else they still give Animar a counter. I would cast Manglehorn even if there wasn't an artifact to destroy. Slowing down my opponent's artifact mana ramp by one turn by forcing artifacts to ETB tapped is worth it in my opinion because mana artifacts are one of the major ways that other cEDH decks, particularly the ones that don't have green, are able to keep up to Animar's ramping potential.
My first draft of Animar was also pretty midrange, now that I look back on it. I built it to partner with an Azami deck for some 2-Headed Giant EDH tournaments that a local store was hosting. I chose Animar for a number of reasons: I liked how cards such as Peregrine Drake could help ramp my partner, that I could build interlocking combos between the two decks, and that Animar didn't need artifact ramp (because the tournaments used a combined Regular + Duel Commander banned list). I dropped almost all of the midrange stuff after the mulligan change, because I couldn't sculpt my opening hand anymore and shuffle away the higher cost stuff. I kept the Kiki-Jiki package though, because I still think the deck needs a solid plan B if your opponents keep removing or countering Animar.
2 weeks ago
I've been mulling over a meta inclusion and I wanted to run it by you. I've been thinking about the inclusion of Manglehorn in Animar.
My line of thought is that Animar is a deck primarily focused on speed to end the game due to having little interaction or protection. There are potentially faster combos in cEDH, such as Hermit Druid and Protean Hulk, that have the benefit of running countermagic packages to back them up but aren't necessarily going to win turn 1-2 on a consistent basis. However, there are lots of decks that can potentially compete with Animar's goals of trying to win on turn 3-4, and that is where I see Manglehorn enter the argument.
To win quickly, a lot of Animar's competition needs the mana acceleration options offered by the mana-rock package of Grim Monolith, Mana Vault, Mana Crypt, Sol Ring, Mox Diamond, Chrome Mox, Lotus Petal, and Lion's Eye Diamond. With the exception of LED (which is unfortunate due to its combo uses), having Manglehorn on the board drastically devalues the advantages that these mana rocks offer Animar's opponents. Grim Monolith and Mana Vault become unplayable if they enter tapped, and denying opponents the use of their 0 mana rocks the turn they cast them can net Animar that 1 more turn it may need to beat its competition the that combo finish line.
The fact that Manglehorn is a creature that can contribute to putting counters on Animar while also acting as spot removal for artifacts is icing on the cake. With the introduction of Breya, Etherium Shaper, Aetherflux Reservoir, Paradox Engine, and the Dramatic Scepter combo to cEDH, the value of artifact removal is just that much higher now.
Animar lost a good chunk of speed and consistency when the format shifted to the Vancouver Mulligan rule, and I've been toying with a couple Stax inclusions in Animar to compensate. With the traditionally greedy mana bases in cEDH, alongside the presence of 4-color commanders in the upper-tiers of competitive play, I think that cards like Manglehorn and Magus of the Moon are at least worth consideration as strong sideboard options, if not mainboard worthy. Granted, I make more use of basic lands in my list than you do, so Magus of the Moon and even Blood Moon are more appealing inclusions for me. In my deck, they can even act as mana-fixing to make Kiki-Jiki easier to play.
Anyway, I just wanted to get your opinion on Manglehorn. Do you think it's worth a slot?
Load more