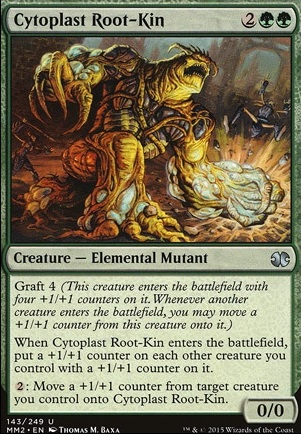 Cytoplast Root-Kin
Creature — Elemental Mutant
Graft 4 (This creature enters the battlefield with four +1/+1 counters on it. Whenever another creature enters the battlefield, you may move a +1/+1 counter from this creature onto it.)
When Cytoplast Root-Kin enters the battlefield, put a +1/+1 counter on each other creature you control that has a +1/+1 counter on it.
: Move a +1/+1 counter from target creature you control onto Cytoplast Root-Kin.
Browse Alters
View at Gatherer
Trade
Legality
| | |
| --- | --- |
| Format | Legality |
| Pre-release | Legal |
| Tiny Leaders | Legal |
| Vintage | Legal |
| Penny Dreadful | Legal |
| Pioneer | Legal |
| Commander / EDH | Legal |
| Noble | Legal |
| Magic Duels | Legal |
| Brawl | Legal |
| Standard | Legal |
| Arena | Legal |
| 1v1 Commander | Legal |
| Canadian Highlander | Legal |
| Vanguard | Legal |
| Leviathan | Legal |
| Planechase | Legal |
| Duel Commander | Legal |
| Unformat | Legal |
| Modern | Legal |
| Legacy | Legal |
| Archenemy | Legal |
| Casual | Legal |
| Oathbreaker | Legal |
Cytoplast Root-Kin occurrence in decks from the last year
Commander / EDH:
All decks: 0.0%
Rules Q&A
Cytoplast Root-Kin Discussion
5 months ago
Hi, I hope that at least some of what i'm going to put here will be useful, and even if you don't use any of my advice then maybe you will be able to see where I am coming from and use the logic to find your own improvements :)
Ramp
As the previous commenter has suggested the amount of ramp spells that put lands in to play in your deck is a bit to low for a ramp deck especially one that has subthemes of landfall. Typical commander deck building suggestions say that you should have 10 pieces of ramp to tide you into the midgame. This goes for any deck, not just ramp decks. In ramp decks you will want more. At my count you have 12 ramp cards that are reusable (ie, aren't the one shot sacrifice elemntals) this will want to be more really, with a focus on them being ones that put lands in to play. Another of note, is that cards like Zendikar Resurgent don't really count as a ramp slot, as by the time we can cast it, we have a lot of mana already. 'Ramp' cards are ones that you want to see in your opening hand to get you into your game plan faster.
For this reason I would look into replacing some of the creature based ramp and some other low impact cards with this ramp that will get us executing our main game plan faster and better.
These can all be easily replaced with land based ramp spells as they don't get you any further ahead on mana than 1 land, or are one shot abilities when we want to be dropping big things multiple times over multiple turns.
Smokebraider Is unique because it produces 2 mana for only 2 investment, but only if we focus in on elemtals so can be left on a short list to be evaluated. We'll list other potential cuts later when looking at more over all deck evaluation.
The previous commentor has provided a list which at first glance seems to be comprehensive enough to provide some ideas for what to add.
Removal
More conventional commander wisdom suggests that you have at least 5 ways to directly interact with your opponents game plan. I personally nearly always play more than this, but you should have at least 5. This direct interaction is preferred to be the targetted simgle response cards that can remove threats in any shape or form. Of note, this removal count is seperate from the count of mass removal. At my count you have Song of the Dryads , the down tick of Domri, Anarch of Bolas and Ingot Chewer as easily accessable removal. Things like the trigger from your commander or things like Magmatic Force are more incedental as you can't rely on them doing what you want when you need it.
Cards that could be added in this slot are many. But it is a good idea to have as many as you can being generic answers to anything, but also you need to make sure that they are ones you can realistically weave into your game plan instead of leaving up those answers at all times. This is mostly a balncing act that is where fine tuning comes in from playing the deck. But potential recommendations for all purpose would be Beast Within and Chaos Warp . After that they become more specific but can be cheaper in mana,
Wrath
This may seem counterintuitive, seen as you are planning on being the big creature deck that wants the board presence. But sometimes the opponents boards just need answering (Not to mention that you might end up getting a lot of elemental death triggers from Omnath). As such having 2 or 3 creature wraths might be worth trying. And having 2 or 3 artifact and enchantment wraths will be good to have access to aswell. Something you already have so I assume you already know.
Creature wraths to consider in green red include
You already have the cards for mass removing artifacts and enchantments so I won't bother listing any more.
Card Draw
One of the most common recommendations I have to make to people about their deck is to up the amount of card draw or selection in their decks. There is no point in having sweet cards and synergies in here if we never get to see them! Normally I recommend having 10 ways of drawing cards in your deck, with some of them being repeating and some being one shot. At my count you currently have 7 (Or 8 if you count Praetor's Counsel which can do effectively a similar job), so you are nearly there but I would recommend adding a couple mr just to smooth out the deck running.
These overview sections are recommendations for generic cards that could go in. From here on, we will be looking at more specific card options, and possible cuts from the existing deck
Deck Applications
Now, again as the previous commentor mentioned, there are multiple ways you can take an Omnath deck. My take on them being
RG Big thing Ramp. No specific synergies in mind except for incidental ones like, I need land to cast my big spells, and this card cards about land. Not a bad deck by any means, just less commander or theme focused.
Elemental Tribal Ramp. This seems to be closer to what you are currently going for. Similar to the RG ramp deck, just with tribal synergies from elementals
Landfall / Lands Matter. Here we are focusing on many landfall triggers, and keep cycling our lands round and round to get them. This deck will likke having access to things like Crucible of Worlds and many effects like Exploration
Here, i will suggest some cards for each of them and maybe later on if you want we could look more into one or a mix of these strategies.
Ruric Thar, the Unbowed This card is very very powerful. Expecially as the decks around you get more and more powerful and wanting to do more combo and storm bsaed strategies.
Gruul Ragebeast A good way of keeping the board under control when you play your 'large and incharge' creatures
Vorinclex, Voice of Hunger We have mana, they don't. Enough said really. Just beware that with this creature, sometines the adage If you can't remove the problem, remove the player can be applied to just killing you.
Other than ones recommended here, perhaps a good idea would be to use Gatherer or mtg.wtf to find elementals in your colour. Or cards which reference elementals in your colours, the example in wtf would be this
This deck idea might have elements that are closer to a combo deck than the others, but will still mostly be a midrange deck.
Possible Cuts
Cutting Criteria
I won't re-list the cuts recommeneded in the ramp section. I will be evaluating cuts in the assumption that the deck is wanting to be a combination of an elementals ramp deck and a lands value deck. A lot of these recomendations for cuts will have very similar reasonings, which I will elaborate on first to be able to be brief later on. These recommendations will possibly sound rather brutal, however I find that it makes it a lot easier to have too many cards that are on the cutting block rather than not enough.
Too Slow. If the card takes too many turns to start pulling its weight then it could be replaced with something that does what we need sooner. This is common in cards which have 'at the beginning of your upkeep' effects as they will normally have to wait an entire turn cycle to start doing something. Enters the battlefield triggers or similar things that have an effect the turn you play them are often preferred.
Too expensive. This should be self explanatory. If the card costs too much mana, especially if the same effect can be achieved for less mana then it should be exmined.
Doesn't do enough. While the effect might be interesting and maybe something we actually want in the deck, The card just doesn't pull its weight in whatever role it is supposed to be doing
Doesn't contribute to our game plan This might be a good card, maybe even a great card in other decks. But perhaps the effect just isn't one we need in this deck
Cards
Creatures
Enchantments
Retreat to Kazandu Doesn't do enough. THe landfall idea is good, but putting 1 counter an a guy once or so a turn isn't worth the slot really
Artifact
Sword of the Animist Too Slow. We want this effect, but we aren't attacking multiple times in one turn so there are better effects to get lands from our deck. We don't neccessarily even have than many small creatures to equip this too to get it active early enough for the ramp to be that useful as ramp
Sorcery
Animist's Awakening As much as i want this spell to ever be good. It's just not really at all.
Journey of Discovery Too slow. For this to be actual search out ramp you need to entwine it which is then 6 mana. Any of the 4 mana double basics would be better here. Or just Explore type effects that cantrip too.
Planeswalker
Turns out there is only slightly too much Nissa. (And not enough Chandra ;) ) All of the Nissas' contribute to our gameplan well except for Nissa, Voice of Zendikar . The general rule of Planeswalkers in commander is to assume that you will only get two activations if you are lucky. So with this one you will at best buff your team a little. Consider Garruk Wildspeaker instead maybe?
Other random Card Recommendations
Closing
Well I hope some of this helped at least a little :)
SharpRaptor
7 months ago
No, you would not get an experience counter for Cytoplast Root-Kin entering. Ezuri, Claw of Progress has a triggered ability that looks at what the creature is as it exists on the battlefield. Cytoplast Root-Kin has a replacement effect that modifies how it enters the battlefield. Instead of entering with no counters on it, as a creature normally would, it enters with 4 +1/+1 counters on it. There is never a time that it exists on the battlefield and does not have the counters on it. Every 0/0 I can think of functions this way in order to not die to state-based actions.
7 months ago
It depends.
In your example, no, you will not get an experience counter. The Graft ability on Cytoplast Root-Kin modifies how it will enter the battlefield. It will enter with four +1/+1 counters on it and essentially be a 4/4 when it enters.
However, if you were to have a Primordial Hydra and pay zero for X, you will get a counter (if there are no other adjustments that modify its power to greater than 2). Once it enters though, state-based actions will be checked and you will also move Primordial Hydra to the graveyard as well.
Basically, as long as the creature enters the battlefield with a power of 2 or less, and nothing modifies its power as it enters to greater than 2, Ezuri, Claw of Progress with give you an experience counter.
7 months ago
Gilder Bairn can double the number of counters on Simic Ascendancy .
Cytoplast Root-Kin would be a great creature for your deck: it has 4 counters on itself, it gives another counter for each critter you control, and whenever another critter enters the battlefield, you can move a counter on to it, and then you can move counters back on to the root-kin. This triggers Ascendency many times for little cost.
Thinking about it, in fact, all old Simic Graft cards would be crazy with the Ascendency: for example: Simic Initiate enters with 1 counter, and you can move that counter to another creature, triggering the Ascendency twice.
Llanowar Reborn because its free, and Vigean Hydropon because it has crazy number of counters on it. Plaxcaster Frogling because it can protect your critters from removal.
9 months ago
Lastly because I'm lazy here's a bunch of cards that all would be very good in the deck as alternate win cons, protection, +1/+1 counter stuff, removal, or draw power
Load more