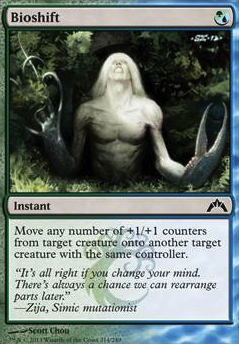 Bioshift
Instant
Move any number of +1/+1 counters from target creature onto another target creature with the same controller.
Bioshift Discussion
1 week ago
Vastwood Hydra is getting the green light! thank you. I ran Bioshift at first, but Simic Guildmage gets the job done a lil more efficiently with some added bonus. Hooded Hydra is killer, and would probably stabilize my board, so yeah I think I agree that it's gotta go in.
1 week ago
However true that may be you would still want the card to do something for you, otherwise it's just a dead card. Genesis Hydra at least puts something into play for free, big or small. If they kill Hooded Hydra you still get a ton of 1/1's for free. Then Primordial Hydra doubles the amount of counters by itself, so no need to focus on him or any of the others. Try it out at least and see if the results are a little better. Hell, I just found Vastwood Hydra and that goes perfect with your deck! Also Bioshift could be a possible addition?
1 week ago
Fun shmun, but if you insist. (;])
Affinity?! Nah, plenty of other options.
What if the Steelkin generate +1/+1 counters? Perhaps in a Metalcraft sort of manner? Maybe something like Steelcraft X (As this spell resolves, place X +1/+1 counters on target artifact, were X is the number of artifacts you control.)
The way this is currently worded, Bioshift might be very applicable, or else it could be re-worded to avoid such complications.
On the other hand, if you're looking for a sacrifice-artifacts mechanic, what about something like Delve, but involving exiling artifacts instead? Or sacrificing even?
2 weeks ago
I like the idea of running Emerge Unscathed ill put some in the sideboard. Im deciding to put Bioshift in as well to get counters off of other creatures and onto the sage, as well as good heroic value. while im not sure about the graft creatures i do like Llanowar Reborn though.
| | |
| --- | --- |
| Color(s) | Blue Green |
| Cost | {G/U} |
| Converted cost | 1 |
| Avg. draft pick | 12.61 |
| Avg. cube pick | 11.55 |
Legality
| | |
| --- | --- |
| Format | Legality |
| Legacy | Legal |
| Vintage | Legal |
| Commander / EDH | Legal |
| Modern | Legal |
| Duel Commander | Legal |