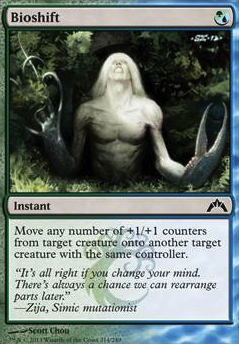 Bioshift
Instant
Move any number of +1/+1 counters from target creature onto another target creature with the same controller.
Have (21)
Xathrid845 , Bromophelio ,

X

x

C

a

t

a

c

l

y

s

m

i

C

x

X

, admged , georgeegroeg2013 , Explotography , saj0219 , Kornjunky , Raistlin911822 ,

J

I

V

_

I

V

, lucyfarrell , webdokkeren , Eulemann , Under9000 , psykad , Icarus79 ,

B

r

a

x

l

y

o

n

, icehero0003 , Timocalypse ,

insert

clever

id

, SmarmyDog
Want (0)
Bioshift Discussion
1 day ago
Oops, my bad I just looked up the ruling, Bioshift; my mistake.
1 day ago
Bioshift can be cast for either blue or green.
1 day ago
I feel like Bioshift could be useful
2 days ago
Ulturas, not sure how I feel about Cytoplast Root-Kin. As we both said, I'm trying to avoid adding more 4-drops than I already have. Even though it does buff Experiment One, I'm not sure if helps the rest of the deck enough for it to be worth a spot in this deck. However, it is worth testing, so I'll try it out.
As for Hardened Scales, it has the same issue as Bioshift. My deck doesn't add enough counters for it to do well in the deck... I can see it being used in a more counter-focused deck, though.
---
cannon_Spectacle
, I'll add
Wooded Bastion
to the maybeboard and consider it. Thanks!
---
On another note, what does everyone think about
Qasali Ambusher
in this deck? Not sure it'd do too well, considering it doesn't match what I've been going for (most of my cards have a way to avoid being killed, unlike Ambusher).
3 days ago
There is another way to win with dragons at T4 and maybe even faster. Check this out Slumbering Valkas. Swaping Bioshifts to Armed / Dangerous would make winning much faster with double strike, but i like to have some protection.
Enyway nice deck you have here +1.
6 days ago
Giggidy45 I played around with using blue to get stuff like Vigean Hydropon but ended up deciding that it's more efficient to stick to 2 color seeing as i don't have $90 for land. Hardened Scales isn't actually that good in this deck as it only adds 1 extra counter at a time. so if i Bioshift 20 +1/+1 counters i'll end up with only 21 in the end, so Solidarity of Heroes is a better choice.
| | |
| --- | --- |
| Color(s) | Blue Green |
| Cost | {G/U} |
| Converted cost | 1 |
| Avg. draft pick | 12.63 |
| Avg. cube pick | 11.55 |
Legality
| | |
| --- | --- |
| Format | Legality |
| Legacy | Legal |
| Vintage | Legal |
| Commander / EDH | Legal |
| Modern | Legal |
| Duel Commander | Legal |