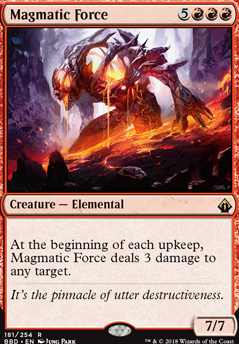 Legality
| | |
| --- | --- |
| Format | Legality |
| Tiny Leaders | Legal |
| 1v1 Commander | Legal |
| Magic Duels | Legal |
| Canadian Highlander | Legal |
| Vintage | Legal |
| Custom | Legal |
| Leviathan | Legal |
| Legacy | Legal |
| Duel Commander | Legal |
| Oathbreaker | Legal |
| Casual | Legal |
| Commander / EDH | Legal |
Magmatic Force
Creature — Elemental
At the beginning of each upkeep, Magmatic Force deals 3 damage to target creature, player or planeswalker.
Magmatic Force Discussion
4 months ago
03/13/19
Game One: regular
Ravenous Slime out, cast Blasphemous Act , killing everything except the slime, then cast Tectonic Break for 7, leaving opponents with 2 and 1 land. (one opponent had already been taken out by a lethal attack from another one). Attack twice with the 58/58 slime for the win
Game Two: star
Died to Vaevictis Asmadi, the Dire after three swings with Strider Harness (should have realized it was a three turn kill). Resolved boundless realms for 12 but died before I could use the land. vivicutus killing omnath twice really killed me, plus having no way to kill vivictus. Might need more creature removal. Vaevictis Asmadi, the Dire with Helm of the Host really took over the game because me and his other opponent had no creature removal.
Game Three: star
Right opponent had Repercussion and I played Chain Reaction to kill one opponent )dealing 21(=7x3), the mono red player (R op) was down to one land because I played Tectonic Break for three, me and my left hand partner both won because we killed the mutual opponent (and my right hand op and his left hand op were dead)
Game Four: star
Ghalta, Primal Hunger player (my R ally) killed my left ally, then I took my right opponent out after casting Tectonic Break for his four lands. Right op concedes, then ghalta attacks my left opponent and I finish him off with Omnath plus tokens, with Greater Good backup for 9 more sac damage and then Magmatic Force to close it out forsure because he would take 3 his upkeep, the 3 more R ally, then 3 on mine. (we had to finish up quick because the shop was closing). Me and right ally won together.
---
op: opponent, r: right
star
: multiplayer format - TLDR:5 player game, the two people sitting directly on your left and right are your allied (therefore not your opponents, for cards that say that. plus you cannot attack them). The two other people are your opponents and you win if they both die.
Record 3-1
5 months ago
I know it's the last thing you probably want to hear, but for efficiency, I highly recommend the Elf ramp package, and since you can't protect yourself against boardwipes, I highly recommend something like Kamahl, Fist of Krosa since you can tap out in response to boardwipes and chunk away at your opponents' landbase (or outright end the game for them). Instead of Magmatic Force you could go for Inferno Titan since you have so many haste enablers. Otherwise, great list I like where you are going with it.
10 months ago
This actually is really cool. I hadn't thought of special K' as a pinger commander. This is a great idea. You should definitely add Thornbite Staff to the mix. With it attached to any of your deathtouchers, it's a big volley through the opposing lines. Magmatic Force is another great addition here. And I guess I'll get more ideas once I start building my own version, which I'll start with soon.
1 year ago
I played in 2HG last weekend, me and my partner went 7-0! He was running B/U with lots of removal and control. Sower of Temptation was good and Nimbus Champion with our combined warriors was nice. I ran G/R with bombs like Vigor, Magmatic Force and Plated Crusher. I also used a Decorated Champion to build up nice with our warriors as well. We only had 1 game that was close and that was against W/U control and a G/B Pir & Toothy combo. We just did what we could the first couple turns and by turn 4 I was dropping big problems for people. Don't underestimate the R/G in this set, if it gets going forget about it!
1 year ago
I gotta say, this set looks like a blast and the reprints are on point. Doubling Season, Greater Good, Seedborn Muse, Vigor, Beast Within, Veteran Explorer, Skyshroud Claim, War's Toll, Magmatic Force, Nirkana Revenant, Diabolic Intent, Mystic Confluence, Sower of Temptation, Land Tax, Mycosynth Lattice, and Mind's Eye are all commander staples in need of reprints. Plus we even got some other great commander goodies with these awesome partner legends and Arena Rector.
And we were blessed with this amazing card/artwork: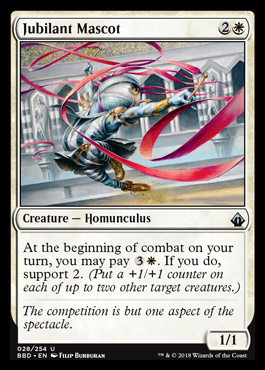 This set is a solid 'A' in my book, but then again, multi-player formats are my jam so I may be biased.
Load more
Magmatic Force occurrence in decks from the last year
Commander / EDH:
All decks: 0.01%