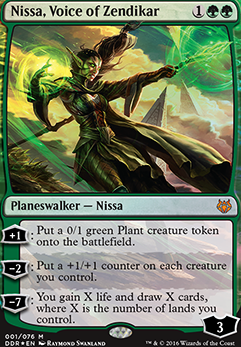 Legality
| | |
| --- | --- |
| Format | Legality |
| Commander / EDH | Legal |
| Vintage | Legal |
| Duel Commander | Legal |
| Legacy | Legal |
| Tiny Leaders | Legal |
| Modern | Legal |
| Standard | Legal |
| Frontier | Legal |
| Tiny Leaders | Legal |
Tokens
Nissa, Voice of Zendikar
Planeswalker — Nissa
+1: Create a 0/1 green Plant creature token.
-2: Put a +1/+1 counter on each creature you control.
-7: You gain X life and draw X cards, where X is the number of lands you control.
Have (11)

F

o

r

k

b

e

a

r

d

, gildan_bladeborn , bigc137 , ThatJaceWannabe ,

R

o

a

d

h

o

g

, Lindough ,

R

u

b

y

S

t

r

i

n

g

s

,

P

o

p

t

a

r

t

z

9

5

, jrschnoebelen ,

a

b

b

y

3

1

5

,

V

a

1

m

a

r

Want (5)

N

e

m

e

s

i

s

, Turtlelover73 , theMarc , KB2187 ,

G

r

a

n

t

l

e

y

9

1
Nissa, Voice of Zendikar Discussion
1 day ago
So I have an Ezuri, Claw of Progress build, myself. You should check it out! I'm gonna give you some ideas, as I may have a few more experience counters than you xD
The suggestions I make are from my list, but I won't mention any cards outside of your budget. Let's get started!
This is alphabetical, not in order of relevance:
This is kinda alphabetical... but not really. _()_/
Whew! Well I gave you a lot to think about, there. feel free to ask questions about anything I've suggested; I'd be happy to give you examples from games I've played, etc. Good luck, and happy deck-teching!
6 days ago
she does 20/20/20
20 creatures
20 spells
20 lands
3 color deck from memory
she has black green white
based around lifelink deathtouch trample.
3 plainswalkers
1 week ago
I know I posted semi-recently, but I have a new list and want to start some more trades now that I am active again.
I am looking to get cards for a Progenitus Superfriends Deck. I have a bunch of random stuff to offer and am more interested in some cards listed below than others (i.e. I will prioritize Atraxa, certain walkers, and certain lands). I know in some cases it will be hard to make trades but it is worth a shot.
Cards wanted for Superfriends:
Walkers:
Ashiok, Nightmare Weaver
Chandra, Flamecaller (SDCC Version)
Gideon, Champion of Justice


Elspeth, Sun's Champion
Jace, Architect of Thought
Jace, Unraveler of Secrets (SDCC Version preferred)
Kaya, Ghost Assassin
Nicol Bolas, Planeswalker
Nissa, Vital Force
Nissa, Voice of Zendikar (SDCC version)
Ob Nixilis Reignited
Vraska the Unseen
Venser, the Sojourner
Spells:
The Chain Veil
Oath of Ajani
Deploy the Gatewatch
Merciless Eviction


End Hostilities

Lands:
1 of Each Amonkhet full art foil
Forest
Island
Mountain
Plains
Swamp
Arid Mesa
Flooded Strand
Overgrown Tomb
Cards of Note:
Force of Will
Elvish Piper
Loxodon Warhammer

Russian
Serum Visions

(Other version, not sure how to code)
Kitchen Finks
Sarkhan the Mad


Fauna Shaman
Scion of the Ur-Dragon
Other stuff, some unlisted
1 week ago
I'm not sure what's to be gained from playing nothing but oozes, apart from cards like Cavern of Souls, Descendants' Path, and Door of Destinies that benefit every tribal deck.
Bloodhall Ooze, Experiment One, Scavenging Ooze, and Predator Ooze are all reasonable cards for Modern. Necrotic Ooze is more of something you want to build around as its own deck, not necessarily toss into anything. Acidic Slime is also a good card, but the rest of your deck seems to be more aggro, making 5 CMC a bit high.
So of course, where does that leave you now that sylvannos has shown up and shit all over your idea?
For one, notice how much of a +1/+1 counter theme you have going on between Bloodhall Ooze, Experiment One, Scavenging Ooze, and Predator Ooze. Hardened Scales is absolutely bananas! That right there functions as your Intangible Virtue or Honor of the Pure. All of your oozes will just start doubling in size. Winding Constrictor is similar: it's a low CMC card that dumps a bunch of counters on everything. Nissa, Voice of Zendikar offers even more +1/+1 counters.
Second, you're in Jund colors. Lightning Bolt, Abrupt Decay, Atarka's Command, Terminate, and Fatal Push are all good options here. You're basically a quick, low-cost aggro deck. That also means you can play Dark Confidant to further increase your draw power. Since you curve out at 3 (Predator Ooze and possibly Nissa, Voice of Zendikar), you'll only be taking 1 damage on average each turn. This also opens up the potential for Liliana of the Veil. You're constantly drawing and playing oozes, while forcing your opponent to discard cards.
Copperline Gorge is a good start, but you really don't want to have lands that always come into play tapped. Fetches and shocks are going to be your best options, along with the aforementioned Cavern of Souls. I'd also recommend Blooming Marsh, Blackcleave Cliffs, and Kessig Wolf Run.
Lastly, your sideboard. It should probably be some number of hand disruption spells (Duress, Thoughtseize, Inquisition of Kozilek), artifact and enchantment removal (Destructive Revelry, Ancient Grudge), and general Jund sideboard tech (Fulminator Mage, Kolaghan's Command, Kitchen Finks, Maelstrom Pulse, anything that didn't get put in the main). I'm not sure what other cards you'd add that protect your plan of killing people with oozes. Hindervines? Skullcrack? I dunno.
Load more
Latest Commander