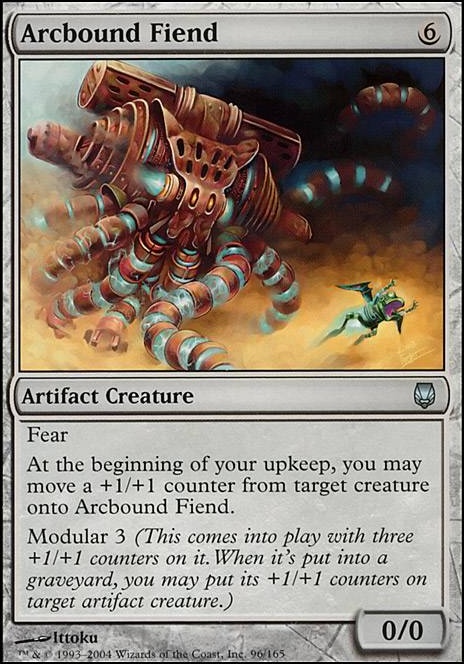 Legality
| | |
| --- | --- |
| Format | Legality |
| Tiny Leaders | Legal |
| Noble | Legal |
| Leviathan | Legal |
| Magic Duels | Legal |
| Canadian Highlander | Legal |
| Vintage | Legal |
| Modern | Legal |
| Penny Dreadful | Legal |
| Custom | Legal |
| Vanguard | Legal |
| Legacy | Legal |
| Archenemy | Legal |
| Planechase | Legal |
| 1v1 Commander | Legal |
| Duel Commander | Legal |
| Oathbreaker | Legal |
| Unformat | Legal |
| Casual | Legal |
| Commander / EDH | Legal |
Arcbound Fiend
Artifact Creature — Horror
Fear
At the beginning of your upkeep, you may move a +1/+1 counter from target creature onto Arcbound Fiend.
Modular 3 (This enters the battlefield with three +1/+1 counters on it. When it's put into a graveyard, you may put its +1/+1 counters on target artifact creature.)
Arcbound Fiend Discussion
11 months ago
Section 1 Get +1/+1 counters other than attacking
Arcbound stuff by CMC (some are in other categories): Arcbound Worker, Arcbound Slith, Arcbound Stinger, Arcbound Crusher, Arcbound Hybrid, Arcbound Bruiser, Arcbound Fiend, Arcbound Lancer, Arcbound Overseer
Creature type based: Metallic Mimic
Just because it is an artifact: Steel Overseer
Creatures that already have counters:
Clock work creatures by CMC: Clockwork Beetle, Clockwork Condor, Clockwork Vorrac, Clockwork Hydra, Clockwork Dragon
Sacrifice outlets to consider:
Value / payoff cards Ramp Scion tokens:Eldrazi Skyspawner, Drowner of Hope, Incubator Drone
+1/+1 Ramp: Crystalline Crawler, Workhorse
Other cool Ramp Oblivion Sower, Pilgrim's Eye
Token time: Pentavus, Tetravus, Triskelavus
Draw: Matter Reshaper Solemn Simulacrum Filigree Familiar
Other: Control: Wizard Replica
Damage: Flayer Drone, Vulshok Replica, Pierce Strider
Gain Life: Peace Strider
Recur: Scrap Trawler, Myr Retriever, Arcbound Reclaimer
Cheating: Summoner's Egg
Other cards I like
Vela the Night-Clad She makes all your colorless permanents only blockable by an artifact
Scarecrone Recursion
Storm the Vault Mana ramp
Liquimetal Coating some of those creature that are not a artifact... now it is
Phyrexian Scriptures Kill all non-artifact creatures / also places a +1/+1 counter
No data for this card yet.