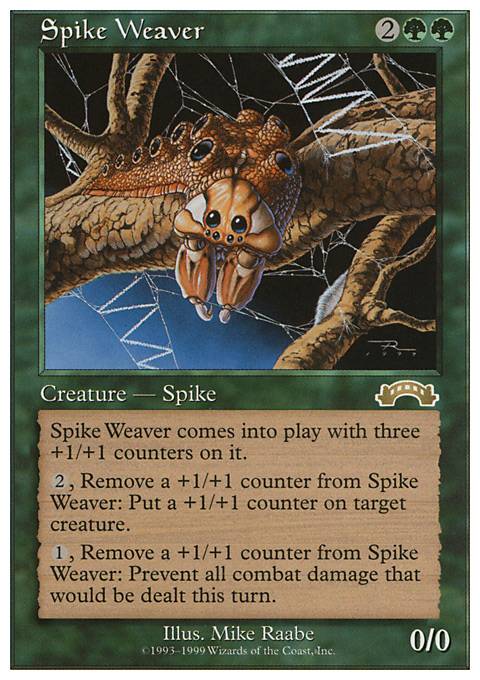 Legality
| | |
| --- | --- |
| Format | Legality |
| Noble | Legal |
| Leviathan | Legal |
| Magic Duels | Legal |
| Canadian Highlander | Legal |
| Vintage | Legal |
| Vanguard | Legal |
| Legacy | Legal |
| Archenemy | Legal |
| Planechase | Legal |
| Duel Commander | Legal |
| Unformat | Legal |
| Casual | Legal |
| Commander / EDH | Legal |
Related Questions
Spike Weaver
Creature — Spike
Spike Weaver enters the battlefield with three +1/+1 counters on it.
, Remove a +1/+1 counter from Spike Weaver: Put a +1/+1 counter on target creature.
, Remove a +1/+1 counter from Spike Weaver: Prevent all combat damage that would be dealt this turn.
Have (6)
angesoir , killstars ,

b

r

o

k

e

n

d

w

a

r

f

,

T

i

d

d

i

l

y

w

i

n

k

u

s

, rebelteddybear ,

A

z

d

r

a

n

a

x

Want (19)
kovellen ,

j

i

m

m

y

r

a

y

u

k

, Syram , redevil ,

i

t

h

e

o

r

y

z

, airbournevirus , adb_slayer , Orbrunner , chucklebot , shagreel ,

S

e

r

g

a

l

,

f

a

i

l

u

r

e

c

h

i

l

d

8

8

, Talistan , tazartheyoot , samuelianstorm , Clawsun73 , RPG_FOX , sneferie ,

C

4

r

n

i

f

3

X
Spike Weaver Discussion
1 week ago
Biggest issue I see here is a lack of focus and not enough creatures for a creatures only matter deck.
Animar, Soul of Elements wants two main things: Cast creatures and get +1/+1 counters to cast larger creatures. Everything in the deck should be focused on those two goals.
Setting up the deck to achieve this purpose will make it efficient and powerful. All cards should therefore do one of the following:
Ramp up to Animar.
Protect Animar.
Place counters on Animar.
Cast game ending creatures for cheap or free.
Draw cards to allow us to do 1 through 4.
Priority should be given to cards that does something now > does something before your next turn > does something on your next turn > does something eventually.
Because Animar offers a discount based on creatures played, the deck shouldn't be filled with only high cmc game enders, but creatures from low to high cmc, preferably with as little colored mana symbols as possible, to give the deck a natural progression to casting free or cheap high cmc game ending creatures.
Let's split the deck into 3 parts. Pre-Animar setup, Post-Animar setup, Finale.
Note that $: (0 to 0.99), $$: (1.00 to 4.99), $$$: (5.00 to 9.99), $$$$: (10.00 to 19.99), !$!: (20.00+)
Unnecessary on a computer, very helpful on a phone.
This section will be all ramp, and protection to get Animar out quickly and make sure he is secure.
- The land base should be arranged to where there is more emphasis on , then , then since can color fix and can offer protection.
- Exotic Orchard is pretty good and cheap and can usually offer every color in multiplayer, especially if an opponent has a Command Tower out or even a Vivid Grove without even needing charge counters. - Kazoo lands such as Simic Growth Chamber, Izzet Boilerworks, and Gruul Turf are good in casual EDH where there is lack of land destruction and they artifically increase your deck ammount by posing as two lands in one. Though overall you do not want too many tap lands as you'll constantly be a entire turn behind.
This section will be about setting up our board state to win. All cards from this point onwards will be casted after Animar has been casted.
This section will be about ending the game with giant behemoths.
2 weeks ago
Hi,
This looks good. I would also consider adding:
Hope any of this helps. Let me know how the deck plays. And if you have the time/inclination, I would appreciate your feedback on one of my EDH decks.
Regards,
NV_1980
1 month ago
NV_1980, many thanks for your suggestions! I especially like Mazirek, Kraul Death Priest, since on multiple occasions I've sacrificed 3+ saprolingsto buff up cards, now I can share the love! I also appreciate that he's flying too, which needs more representation in this deck (or defense from flying at least).
Spike Weaver is so cool, and I can already imagine how frustrated my friends will get over that card!
1 month ago
Hi stringtheory,
Ghave is an incredible commander; great fun to play with :) I've got some suggestions for you, but since you've thus far managed to keep the deck's required budget pretty low, I've decided to divide my suggestions into low-budget and high-budget ones:
Low budget suggestions
High budget suggestions
Reyhan, Last of the Abzan: never lose the +1/+1 counters you've already granted!
Spike Weaver: wonderful creature that has the potential to make enemy combat basically useless.

razaketh, the foulblooded

: with this many tokens around, Razaketh becomes a great tool to fetch your win conditions.
Anointed Procession/Parallel Lives/Doubling Season: pretty expensive cards but for a very good reason. These cards make Ghave a very, very hard commander to beat as the amount of tokens (and counters) you generate quickly becomes too insane to mention.
Grave Pact/Dictate of Erebos: these make Ghave's sac ability even more powerful, not to mention any attempt to kill your Saprolings as well.
Hope any of this helps. Have fun brewing and playing this!
Regards,
NV_1980
3 months ago
I think over time i'm going to be transitoning to more of a superfriends list for my Atraxa deck also, and I see you have some good ideas here like Urza's Ruinous Blast and Primevals' Glorious Rebirth for me to later consider so thanks for that.
Some suggestions I have for you include: Eternal Witness (useful for perhaps getting back a card like Doubling Season if it got destroyed). Maze of Ith, Spike Weaver, Rings of Brighthearth, Sensei's Divining Top, Sterling Grove, Enlightened Tutor, Demonic Tutor and or Vampiric Tutor (Although i'm guessing you or your playgroup must have something against tutors, or perhaps because they are too pricey or i'm sure you would have had any of these already in here)? Other choices to consider could be Djeru, With Eyes Open, Deepglow Skate, and Vindicate.
Awesome background for this deckpage btw also!
Load more