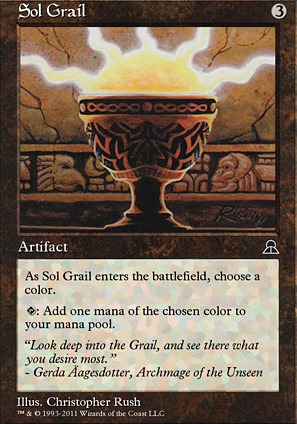 Sol Grail
Artifact
As Sol Grail enters the battlefield, choose a color.
: Add one mana of the chosen color to your mana pool.
Browse Alters
View at Gatherer
Legality
| | |
| --- | --- |
| Format | Legality |
| Tiny Leaders | Legal |
| Noble | Legal |
| Leviathan | Legal |
| Magic Duels | Legal |
| Canadian Highlander | Legal |
| Vintage | Legal |
| Penny Dreadful | Legal |
| Casual | Legal |
| Pauper EDH | Legal |
| Vanguard | Legal |
| Legacy | Legal |
| 2019-10-04 | Legal |
| Archenemy | Legal |
| Planechase | Legal |
| 1v1 Commander | Legal |
| Duel Commander | Legal |
| Oathbreaker | Legal |
| Unformat | Legal |
| Pauper | Legal |
| Commander / EDH | Legal |
Sol Grail Discussion
9 months ago
If you need help with knowing how much/what ramp to use, you might want to check out https://www.mtggoldfish.com/articles/brewer-s-minute-ramp-math
I am not an expert in mono, but for you I recommend adding:
Other mono ramp
I ended up finding so many mono ramp cards I thought I might as well make a more full list.
3 years ago
Sol Grail can go out for Coldsteel Heart, as it is basically an upgraded version, as the save in mana actuall balances out it entering tapped
3 years ago
You have too few lands for not having any mana rocks. I think the solution is actually more rocks, not more lands. I personally like starting with 40 lands and dropping one for every two rocks as a base point. If you find this ends up giving you too much mana you can always drop cards later. Without further ado here is a list of mana rocks at or under
and $5 that are legal in your deck.
As you can see I went with creating a comprehensive list instead of picking which ones are playable. In addition to these there are a few more cards that have to do with creating mana that are't strictly mana rocks you may want to think about. The first two are the mana producing altars Ashnod's Altar and Phyrexian Altar. They provide a sacrifice outlet and allow you to turn your opponent's creatures that you have stolen into mana for casting your own spells. Ventifact Bottle allows you to have a big turn by tapping down any unused lands and transferring that mana to your next turn. Basalt Monolith does something along the same lines. It can only "store" exactly 3 mana, but can be use once after casting without further investment; does not "lose" any mana, and keeps the mana stored over multiple turns. Admittedly the last two cards I mentioned aren't very good, but they are interesting.