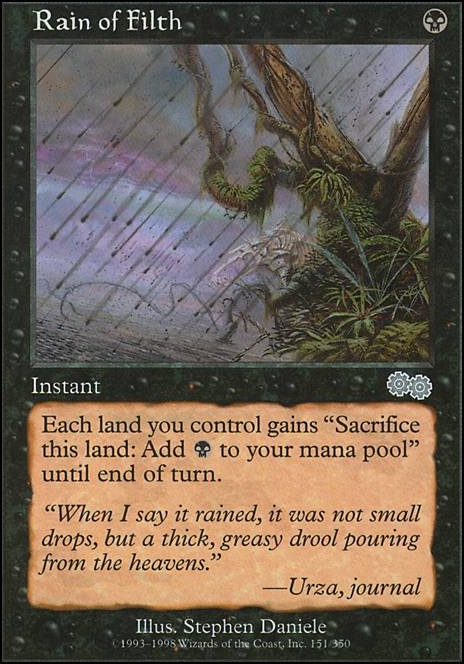 Legality
| | |
| --- | --- |
| Format | Legality |
| Legacy | Legal |
| Vintage | Legal |
| Commander / EDH | Legal |
| Duel Commander | Legal |
| Tiny Leaders | Legal |
Rain of Filth
Instant
Until end of turn, lands you control gain "Sacrifice this land: Add (Black) to your mana pool."
Rain of Filth Discussion
1 week ago
Be sure to take a good look at the above deck's land base. Oh yeah, Reprocess would work well in here also. There's also Rain of Filth.
1 month ago
hoardofnotions I played the deck once yesterday and won in a game of three people. Early game was dominated by Strip Mine and Crucible of Worlds, which slowed down the other combo deck on the table with Arcum Dagsson and then when my frog hit the table it only took one turn to find the dredge land and a discard outlet and it killed in the same turn with Psychosis Crawler and infinite card draw. I had to mill my library (and shuffle it back with Ulamog) twice to find a way to get 5 mana for the crawler with only one remaining untapped swamp and no more remaining land drops for the turn. Only Rain of Filth could do that. so I had to mill until I found it...
Absolutely funny to play the deck but in the future I can just explain what I do when I have the dredge/discard combo rather than drawing every second card in the deck and repeat with Ulamog if I haven't found the kill yet.
3 months ago
I don't have much experience with Contamination. Isn't there a high risk that you cut yourself off of green mana? You only have 8 nonland green sources. Of course you can always just decide to sacrifice it in your upkeep once you are ready to combo.
Your deck can indeed feed Contamination well if you have either of the Eldrazi enchantments, but otherwise you don't have all that many creatures that you don't care to sacrifice. Commanders like Meren of Clan Nel Toth, Nath of the Guilt Leaf, Endrek Sahr, Master Breeder, Prossh, Skyraider of Kher or Ghave, Guru of Spores are a lot better at constantly producing creatures to sacrifice.
One more aspect of Contamination to consider: You don't interact much with mana rocks such as Coalition Relic or Mox Diamond. If your opponents have those, the soft lock isn't working.
I have some more ideas for you in the ramp section: Frontier Siege (2 mana twice each turn), Rain of Filth, Cadaverous Bloom, Culling the Weak, Bubbling Muck.
5 months ago
I was bullied as a child, so now I make up for it by making people suffer playing EDH. I like to build combo decks with complicated engines to draw your deck and win - but only after taking 10+ minutes that turn to assemble all the moving pieces.
I set out to build competitive durdle decks for all the new 4 colour commanders - but I wanted to make each one also feel unique. 4 of the decks have complicated engines to dig through your deck and generate mana to try to win in one big turn (or many consecutive turns ;) )
These decks range from fairly competitive to very competitive (and from very expensive to, well, very expensive) and have been tested against other competitive decks. They can all hold their own in most games, though will be need to tuned to a more cut-throat meta to fight through whatever hate you are expecting, and there are probably better ways to build some for the most cut-throat metas.
Something to remember while playing them is that mulligening is incredibly important. A hand of 7 with no card draw will be much slower than a hand of 5 with some engine pieces, or a draw 7. Most of these decks contain multiple draw 7's, or powerful card draw like Skullclamp, so you can keep mulling to try to find them and not worry that you only started with 5 cards.
If anyone has suggestions, please let me know in comments. I've spent the last week tuning these decks, but often when I felt they were good enough instead of tuning them the last 5% of the way, I moved onto the next one. For the most part, I need to find out which cards are non-essential, or how many engine pieces I can removed to fit in more permission and removal. There are also plenty of other combo's that could be included but simply aren't needed - like Intuition + Unburial Rites in the Breya deck. One or more of the combo pieces will be weak in the deck, and the deck is strong enough without the otherwise dead cards to win. The final 5% of tuning takes a lot of time, and a lot of games. I've tried to suggest some things I was thinking of testing for each one, but havn't had time to do yet.
Remember, when suggesting additions, always try to suggest cuts too, as the answer to why havn't you included this is often going to be because there isn't room.
And while I have been testing these over the last week, I did this write up all in one sitting so please let me know if I have gotten anything wrong, or if anything isn't clear.
Introducing the 5 competitive durdle decks, in no particular order.