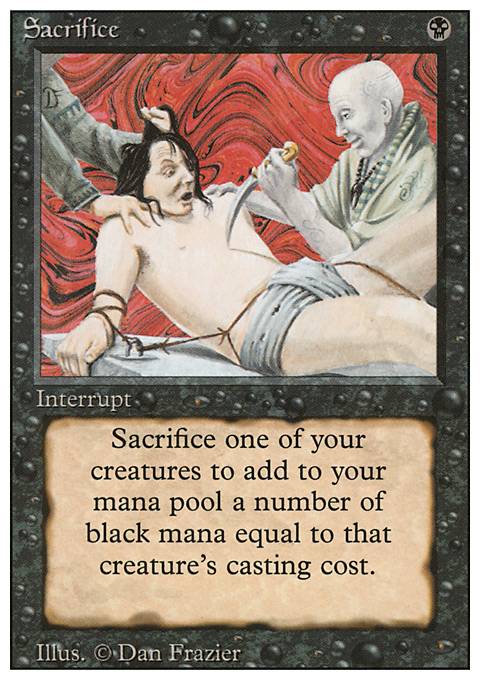 Legality
| | |
| --- | --- |
| Format | Legality |
| Noble | Legal |
| 1v1 Commander | Legal |
| Vintage | Legal |
| Casual | Legal |
| Vanguard | Legal |
| Legacy | Legal |
| Archenemy | Legal |
| Planechase | Legal |
| Duel Commander | Legal |
| Unformat | Legal |
| Pauper | Legal |
| Commander / EDH | Legal |
Sacrifice
Instant
As an additional cost to play Sacrifice, sacrifice a creature.
Add to your mana pool an amount of mana equal to the sacrificed creature's converted mana cost.
Sacrifice Discussion
2 months ago
Trtl - Apprentice lets you ramp into Razaketh, while Priest is a free creature.
Gigi - First, Deathmark is probably a meta card, so that can come out for Priest. Codex Shredder seems too mana intensive to be relevant and can be replaced with Sacrifice. Animate Dead and Dance of the Dead were probably meant to reanimate Sidisi, so they can be replaced with Unearth (to get a cheap creature to tutor again) and Bob.
2 months ago
I just put together a decklist. The tricky part is getting enough creatures to go off while ramping. It's definitely going to be broken though. All you need is 2 to 4 other creatures besides Razaketh and you can go off.
Possible combos using card you'd be playing anyway include:
You can also tutor Sacrifice for an 8 mana ritual that ensures you go off same turn.
You can cut down on the creatures you need to sacrifice by tutoring Buried Alive for anything that need to be in the graveyard (or Bloodghast) and by using Rings of Brighthearth to double the tutor ability.
---
So... Yeah. There's a very good likelihood that Razaketh will get banned.
I'll post the decklist when it's a little more refined.