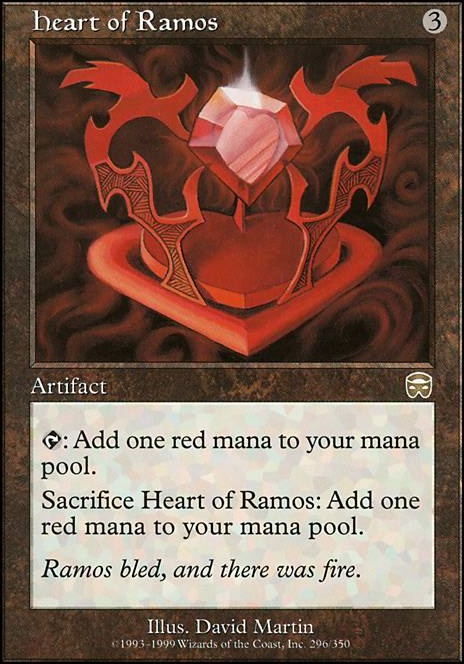 Legality
| | |
| --- | --- |
| Format | Legality |
| Tiny Leaders | Legal |
| Noble | Legal |
| Leviathan | Legal |
| Magic Duels | Legal |
| Canadian Highlander | Legal |
| Vintage | Legal |
| Custom | Legal |
| Vanguard | Legal |
| Legacy | Legal |
| Archenemy | Legal |
| Planechase | Legal |
| 1v1 Commander | Legal |
| Duel Commander | Legal |
| Oathbreaker | Legal |
| Unformat | Legal |
| Casual | Legal |
| Commander / EDH | Legal |
Heart of Ramos
Artifact
Tap: Add (Red) to your mana pool.
Sacrifice Heart of Ramos: Add (Red) to your mana pool.
Heart of Ramos Discussion
1 month ago
Commenting here rather than on your page.
I don't mean to sound so overbearingly critical, but your deck is overall lacking in substantial board presence. Oathbreaker is a format in which you want to protect your Planeswalker at all viable costs. You have four creatures. That does not make for a very strong base. I'm going to rip into this deck, but I am also going to offer you suggestions on how to greatly improve upon it :) I hope that you don't take offense to anything I am saying, but I felt like I can do you some good here.
As for a win condition outside of Form of the Dragon , there is also Martial Coup . Since you are snuffing out all of your opponent's lands anyway, as well as their creatures, why not create a literal army of tokens that now stand unopposed?
There is also Curse of Bloodletting , which makes your Form of the Dragon deal 10 damage instead.
You may also want to consider replacing Mudhole with something more viable. Perhaps Lightning Helix ? It burns and gets you life. Acts as another win condition, makes it harder for your opponent to win in the process as your life totals grow farther and farther apart, and plays nicely with the aforementioned Dawn of Hope .
This took me like 40 minutes, so I hope it helps.
7 months ago
Also, after looking at the decklist, while your curve is extremely low (which is great), i noticed a severe lack of ramp card in the deck, and an abundance of lands. I would think about cutting down to 34-36 lands, and replacing those cut lands with ramp spells. I personally recommend:
I would also like to recommend a few cards that would be a great fit here for your strategy:
Overall, cool deck idea. I hope these suggestions help!
9 months ago
Nice deck! +1
Some mana rocks you use is pretty bad imho.
I wont suggest expensive ones (Mana Crypt and moxes), cuz I think this deck is more budget type but where is Mind Stone? and Heart of Ramos?
9 months ago
Yea, i feel you, niv is quite hard to cast, esp. the parrun ed. is bonkers
i suggest not to put in more lands, but more on mana ramps/rocks that produce and/or , because you can only put 1 land per turn, but casting an artifact will give you more benefit in the next turn.
Cheap alt:
and etc...
Expensive alt:
and etc....
or even multi mana lands,
and etc..
or artifact tutors card:
and etc
or you can go full control deck, put in alot of board control spell (board wipes), board wipes is good for your deck because you dont have many creature in play. combine with a passive card draws engine (2-3 card per turn, meaning land drop would be easier to come by).
Then if you think you have all your pieces together start putting in some pressure on the board, if not stall the game XD (negotiating and stuff)
Board wipe artifact:
Hope it helps,
Load more
No data for this card yet.