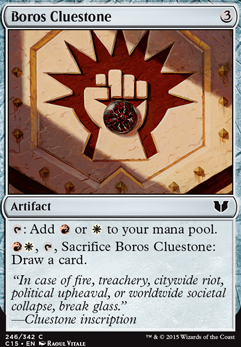 Legality
| | |
| --- | --- |
| Format | Legality |
| Tiny Leaders | Legal |
| 1v1 Commander | Legal |
| Custom | Legal |
| Magic Duels | Legal |
| Canadian Highlander | Legal |
| Vintage | Legal |
| Modern | Legal |
| Penny Dreadful | Legal |
| Casual | Legal |
| Pauper EDH | Legal |
| Leviathan | Legal |
| Legacy | Legal |
| Duel Commander | Legal |
| Oathbreaker | Legal |
| Unformat | Legal |
| Pauper | Legal |
| Commander / EDH | Legal |
Boros Cluestone
Artifact
: Gain or .
, , Sacrifice Boros Cluestone: Draw a card.
Boros Cluestone Discussion
2 weeks ago
Commenting here rather than on your page.
I don't mean to sound so overbearingly critical, but your deck is overall lacking in substantial board presence. Oathbreaker is a format in which you want to protect your Planeswalker at all viable costs. You have four creatures. That does not make for a very strong base. I'm going to rip into this deck, but I am also going to offer you suggestions on how to greatly improve upon it :) I hope that you don't take offense to anything I am saying, but I felt like I can do you some good here.
As for a win condition outside of Form of the Dragon , there is also Martial Coup . Since you are snuffing out all of your opponent's lands anyway, as well as their creatures, why not create a literal army of tokens that now stand unopposed?
There is also Curse of Bloodletting , which makes your Form of the Dragon deal 10 damage instead.
You may also want to consider replacing Mudhole with something more viable. Perhaps Lightning Helix ? It burns and gets you life. Acts as another win condition, makes it harder for your opponent to win in the process as your life totals grow farther and farther apart, and plays nicely with the aforementioned Dawn of Hope .
This took me like 40 minutes, so I hope it helps.
1 month ago
Ramp: Boros Cluestone , Boros Keyrune , Boros Locket , Boros Signet , Sol Ring , Fire Diamond , Marble Diamond , Commander's Sphere , Wayfarer's Bauble , Mind Stone , Corrupted Grafstone , Star Compass , Fellwar Stone , Coldsteel Heart , Worn Powerstone , Prismatic Lens , Burnished Hart , Solemn Simulacrum
Color fixing / Hitting land drops: Journeyer's Kite , Knight of the White Orchid , Gift of Estates , Oreskos Explorer , Pilgrim's Eye
Card Draw: Slate of Ancestry , Staff of Nin , Skullclamp , Sarkhan, Dragonsoul , Risk Factor , Cathartic Reunion , Faithless Looting , Magmatic Insight
2 months ago
Here ya go, Derrick,
Where is Gamble
Ramp or extra mana
Fellwar Stone , Fire Diamond , Marble Diamond , MindStone, Sword of the Animist , Thought Vessel , Hardened Berserker , Treasonous Ogre , Neheb, the Eternal , Neheb, Dreadhorde Champion Desperate Ritual , Pyretic Ritual , Seething Song ,
Target spells that are dope
Coordinated Assault , Enrage , Otherworldly Outburst is cool and you can loop it if the creature you buff dies making a token, Samut's Sprint , Titan's Strength , Accelerate , Aleatory , Chaotic Strike , Stun , Niveous Wisps , Carom , Formation gives banding which is spicy, Spiritualize , Stave Off , Bathe in Light , Feat of Resistance , Chaos Warp target tokens to get permanets from your deck for free, and is good removal.
Heroic/Prowess Creatures cuz value
Vanguard of Brimaz , Fabled Hero , Tethmos High Priest , Leonin Iconoclast , Arena Athlete , Akroan Line Breaker , Monastery Swiftspear , Soul-Scar Mage , Dragon-Style Twins ,
these are some cards I think you should look at, don't need all and some might not fit exactly but if you like them then put them in. Cut some lands you can go down to 34 if you add in more artifacts, which go great with paradox engine.
Cards I think you should replace: Emerge Unscathed rebound fucks with your commander it exiles them not letting you put them back into your hand; Aurelia's Fury really expensive to get any good use out of it, or if you want protection during your turns run Grand Abolisher or Silence ; Expose Evil is too slow of a draw engine Mentor of the Meek with the tokens you make is better for drawing; Burnished Hart and Solemn Simulacrum are meh, better to go with artifact ramp that can feed the paradox plan, plus artifact ramp is cheaper and faster; speaking of artifacts Boros Cluestone and Boros Keyrune are good flavor options but aren't that good as other artifacts; Inferno Titan and Sun Titan are good creatures but don't fit into the game plan as well better to put things that help with the gameplan.
4 months ago
Recommended Cards to Add
This of course does not take into accountmana curve considerations or anything similar. It is merely cards to consider
Creatures
Captivating Crew - Repeated steal effect to have ammunition to throw at people
Evra, Halcyon Witness - Large creature that can be as big as your lifetotal when thrown if wanted.
Serra Avatar - Large creature that is as big as your life total to potentially one shot someone and double your lifetotal
Zealous Conscripts - Can steal an opposing creature to throw, opposing walker to ult or any other problematic permenent. Also incidentaly goes infinite with Kiki Jiki.
Kiki-Jiki, Mirror Breaker - Can tap to make copies of your big creatures to throw. Goes infinite with Zealous conscripts.
Malignus - Large creature that scales with life total of opponent
Molten Primordial - Mass threaten on a stick
Feldon of the Third Path - makes copies of your already dead creatures
Emeria Shepherd - Recursion that can also be reanimation
Hoarding Dragon - A way to search out our game winning artifacts. Easy enough to throw at someone to get our artifact.
Karmic Guide - Reanimation
Neheb, the Eternal - lots of mana if you throw things pre combat
Yosei, the Morning Star - Very good thing to be able to recur. Can lock people out of the game with enough setup.
War Elemental - Scales as we throw things
Bloodshot Cyclops - Backup Brion?
Bearer of the Heavens - Dont make me do this!
Godo, Bandit Warlord - Can tutor up our powerful equipment. Would prefer Stoneforge Mystic but one is a lot more money than the other.
Gisela, Blade of Goldnight - Double our damage, half theirs? Yes please
Instants
The usual goes here of making sure that we have interaction for people trying to stop us or making sure we can stop people. Though of specific mention
Faith's Reward - Recover from a wrath or just rebuy a couple of good creatures after a combat and throw.
Orim's Thunder - Hadn't actually seen this before but it seems to be a good potential 2 for 1 while also being a good answer to artifacts and enchantments.
Sorceries
Here there are a lot of potential threaten effects that i could recommend. But we know that we need them so i won't list them all. Other effects we could need do include one or two wraths as even though we are the creature deck, sometimes they just have more or better creatures. However other things to note.
Open the Armory - Tutors equipment or Auras.
Chandra's Ignition - Targetting some of our big creatures might just end the game with this.
Insurrection - You usually just win if this resolves on a decent board state.
Artifacts
Usual list of mana ramp. Sol Ring Boros Signet Commander's Sphere Mind Stone Boros Cluestone Hedron Archive Gilded Lotus Thran Dynamo etc
Other than that, the fun things include
Phyrexian Processor - Yeh this card is rather good. Just Make big tokens and start throwing them
Well of Lost Dreams - With the triggers from Brion we should be able to restock our hand quite easily with this
Illusionist's Bracers - Copy the fling. As sacrificing a creature is part of the cost it will effectively be two triggers from flinging the same creature.
Thornbite Staff - Untaps brion when a creature dies. This includes sacrificing the creature to brion, so effectively tapping him causes him to untap....
Thousand-Year Elixir - Gives Brion haste and an untap.
Aetherflux Reservoir - 50cal Sniper Rifle to the face anyone?
Enchantments
Damage doublers can be recommended but i usually avoid the symettrical ones from personal preference. One or two effects that give Haste might be good too. Other effects however
Flameshadow Conjuring - Copy up our faties for good ETB triggers, effective haste or extra copies to throw with Brion.
Sigil of the New Dawn - Recur everything!
Marshal's Anthem - Decent mass resurrect in white. Though a little mana intensive
Angelic Renewal - One time use recursion of a creature
Goblin Bombardment - Backup sacrifice effects for all our threatens. WE don't want to have to give their toys back do we?
5 months ago
Hey, I'm an experienced Tiana pilot and would love to help! ( my deck link here ).
The first thing I would change is Wrath of God and Blasphemous Act because creature-only board wipes destroy the creatures, then the auras, so Tiana won't trigger for any of your auras. But board wipes like Hour of Revelation , Day of Reckoning, End Hostilities , Nevinyrral's Disk , Cataclysmic Gearhulk , Tragic Arrogance etc would make Tiana trigger on your auras. You could put in Auratog or Faith Healer so you respond to creature-only board wipes, or put in indestructible stuff like Hammer of Nazahn , Shielded by Faith , Kytheon, Hero of Akros

Flip etc.
Bludgeon Brawl has cool synergy with Tiana, because if Vandalblast , Scrap Mastery , Hour of Revelation etc are cast, then Tiana will trigger on your artifacts too. And if you include this, consider adding artifacts that sacrifice themselves like Unstable Obelisk , Commander's Sphere , Boros Locket , Boros Cluestone , Orazca Relic .
Along with self-sacrificing artifacts, I loved the idea of self-sacrificing auras and recycling them over and over with Tiana, especially with Sigil of the Empty Throne or Ajani's Chosen on the battlefield. Auras like Capashen Standard , Mortal Obstinacy , Flamespeaker's Will , Brand of Ill Omen , Sun Clasp , Weight of Conscience , Bound by Moonsilver , Lunarch Mantle , Uncontrolled Infestation , Inferno Fist , Guilty Conscience etc.
Other than the aforementioned cards, I'll also mention Mistmeadow Skulk which dodges board wipes, the new Swiftblade Vindicator and Smothering Tithe , Fabled Hero and other heroic cards that benefit from the aura recycling, Forgeborn Oreads and Scroll of the Masters and Mesa Enchantress for the aura recycling, Ethereal Armor , Helm of the Gods , Heavenly Blademaster , Laccolith Rig is stupid but fun, Heirloom Blade because RW sucks at draw (except this deck if you add auras that draw).
If I wanted to cut some cards from your deck, I would start with Order since it's 4 mana for a really narrow removal spell, and 3 mana to do something that odric or angelic skirmisher do (which is creatures so can be brought back into the game easier). Kwende, Pride of Femeref is essentially a 4/4 for 4 mana and is only useful for Tiana. Kitsune Mystic isn't needed with all the sacrificing and such. Authority of the Consuls and Godsend and Basilisk Collar isn't that impactful for an aggro strategy. Whispersilk Cloak gives shroud which isn't the best for a deck all about auras and equipment. Chariot of Victory isn't that good and doesn't add any power. And I would take out as many tapped lands as you don't mind, they slow down decks way too much, add Battlefield Forge .
Hope this helps makes your deck stronger!
7 months ago
I feel your pain drawing wrong mana at the wrong time. For me, I find that dual lands in pauper are simply too slow to sustain aggro. Instead, I think you are wise to keep an exactly even balance of white and red in your deck. I see you are also making sure all cards in your deck don't require more than one of any specific color. Doing this should also help maximize your reliability. It would be wonderful to find some sort of way to help fix your mana though. I run Gruul aggro and Burning-Tree Emissary is a life saver. I can't think of any Boros colored commons that have a similar effect though... Boros Cluestone seems to be the closest and that might be too slow to be useful for you.
8 months ago
I would fix your mana base first. Average EDH decks have 45 mana sources, and Tiana definitely needs it, so consider more lands or rocks like Gilded Lotus/Boros Cluestone/Commander's Sphere/Fire Diamond/Marble Diamond etc etc. Fiery Mantle/Dragon Breath could replace Mark of Fury/Goblin War Paint? Guise of Fire/Bonds of Faith/Prophetic Ravings could replace Bloodshed Fever/Hammerhand/Cartouche of Zeal? Graceblade Artisan is a great duplicate of Champion of the Flame, it could replace Favored Hoplite/Call To Serve. If you want more combat map control you could run Goblin Spymaster/Overwhelming Splendor. Immolation/Inferno Fist are good duplicates of Ordeal of Purphoros.
Other than these replacements, I think you made a fine deck. I would include more finishers like Shiv's Embrace/Splinter Twin/Elemental Mastery/Burning Anger/Battle Mastery, or include a combo with Battered Golem/Paradox Engine/Endbringer/Traxos, Scourge of Kroog. I think some weaker finishers in this deck right now are Giant Spectacle/Lightning Reflexes/Madcap Skills/Lightning Talons. And I think Gift of Immortality is alright, but it doesn't protect your auras in extension if a creature-only board wipe happens, so another indestructible spells would be better.
I like the neat combo of Pariah and Tiana, and your enchantment based draw engines + Auratog/Faith Healer is another neat combo. Curse of Opulence is a great include, it's a one drop that adds influences damage away from you and toward your 120 combined life goal. Umbra Mystic/Anax and Cymede/Heavenly Blademaster are also great includes!
Load more
Boros Cluestone occurrence in decks from the last year
Commander / EDH:
All decks: 0.01%