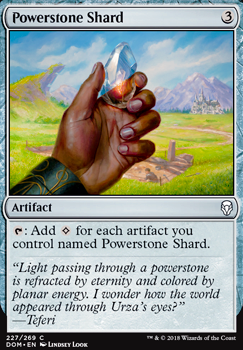 Legality
| | |
| --- | --- |
| Format | Legality |
| Pre-release | Legal |
| Tiny Leaders | Legal |
| Frontier | Legal |
| Vintage | Legal |
| Penny Dreadful | Legal |
| Custom | Legal |
| Commander / EDH | Legal |
| 1v1 Commander | Legal |
| Magic Duels | Legal |
| Brawl | Legal |
| Standard | Legal |
| Arena | Legal |
| Canadian Highlander | Legal |
| Leviathan | Legal |
| Duel Commander | Legal |
| Unformat | Legal |
| Modern | Legal |
| Pauper | Legal |
| Pauper EDH | Legal |
| Legacy | Legal |
| Casual | Legal |
| Oathbreaker | Legal |
Powerstone Shard
Artifact
: Add for each artifact you control named Powerstone Shard.
Powerstone Shard Discussion
1 month ago
If you need help with knowing how much/what ramp to use, you might want to check out https://www.mtggoldfish.com/articles/brewer-s-minute-ramp-math
I am not an expert in mono, but for you I recommend adding:
Other mono ramp
I ended up finding so many mono ramp cards I thought I might as well make a more full list.
1 month ago
hi stensiagamekeeper tks for the comment. I still thinking in the build, putting and removing card. I wanted to build somenthing with Dovin's Veto and Depose / Deploy around Saheeli, Sublime Artificer . Something with more control build. But today i remove all W cards but dont remove the W mana.
I still in doubt between Saheeli and Sai. Servo can be transformed into Powerstone Shard and helps to ramp. But still hard to find the right slots
Bast zone is in and i think to use Zhalfirin Void too
8 months ago
OberstHati- My deck doesn't function without Gilded Lotus. My deck is incapable of reaching critical mass without drawing them somewhat consistently. As for Burning Sun's Avatar I'm always super happy to play it, sometimes killing a creature and a planeswalker. I love Expansion / Explosion but it doesn't work in my deck. The only card I can Expansion is Lava Coil and for card draw I'd much rather play Overflowing Insight over explosion since i can cheap it out with Omnispell Adept. I have the same problem with Niv-Mizzet, Parun that I have with Expansion / Explosion, I can't get any value out of it. My deck doesn't have a critical mass of instant and sorcery spells to make Niv-Mizzet worth playing. Also it's very hard to play in my deck since I bring in Field of Ruin against control and Powerstone Shard only produces colorless mana. Thanks for the suggestions though.
8 months ago
Despite full knowing it isn't gonna be anywhere close to top tier. I really want to build something in standard with Omniscience (O.S.). My criteria is that O.S. has to be either the MVP or at least a viable alternate win condition for the deck. I'd appreciate it if people posted decklists running it, give suggestions or just share their thoughts below.
I'll post some decklists as I finish them but for now here's some of my rough concepts:
general:
Casting:
Payoff:
I'll still be adding stuff to this list as people suggest things.
Load more
No data for this card yet.