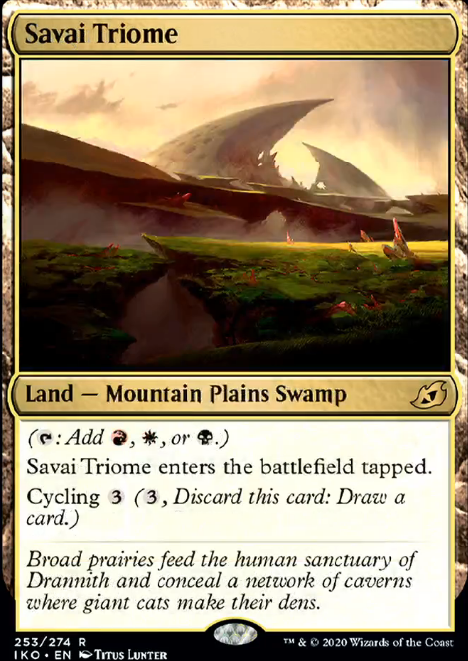 Savai Triome
Land — Mountain Plains Swamp
(: Gain , or .)
Savai Triome enters the battlefield tapped.
Cycling (, Discard this card: Draw a card.)
Browse Alters
View at Gatherer
Trade
Legality
| | |
| --- | --- |
| Format | Legality |
| Canadian Highlander | Legal |
| Brawl | Legal |
| Historic | Legal |
| Vintage | Legal |
| Legacy | Legal |
| Duel Commander | Legal |
| Limited | Legal |
| Arena | Legal |
| Highlander | Legal |
| Commander / EDH | Legal |
| Tiny Leaders | Legal |
| Block Constructed | Legal |
| Oathbreaker | Legal |
| Casual | Legal |
| Pioneer | Legal |
| Leviathan | Legal |
| Unformat | Legal |
| Modern | Legal |
| Standard | Legal |
| Pre-release | Legal |
| 1v1 Commander | Legal |
Latest Decks as Commander
Savai Triome Discussion
4 weeks ago
Assuming you still would like help, here are my thoughts just going off what you already have (so your mainboard and sideboard).
First of all your land situation needs to be sorted out. You have an insanely high average cmc (4.74) so you're going to be looking at about 40 lands without the very pricy ramp cards. 30 lands is in the range that decks with an average of about 2cmc or lower run. Here's a quickly made list of your lands that I'd use:
You almost always want to prioritise lands that can come in untapped over ones that always enter tapped. This is because auto-tapped lands basically set you back a turn, so it's often better to just run a basic over something like Sheltered Thicket. The exception here goes to the Triomes because they offer three colours and more importantly can be picked up by your fetchlands.
As for the rest of your cards, here's what I recommend cutting:
And add in their places, assuming you're running 40 lands:
Hopefully that helps, and let me know if you have any questions! These are just suggestions after a brief runthrough of course, so feel free to take them or leave them!
1 month ago
Hey there mate! From what I see, you have all three shock lands (Pay 2 on ETB), all the filter lands (Pay X/Y get combination) and the check lands (ETB tapped unless X/Y). These are all great lands, but I think almost everything else can get a nice sweet upgrade. Note some of my suggestions may not be in your budget
1 month ago
Hey there! I think I can help a bit regarding your mana base. Let's take a look at that.
You have 26 lands, out of 100 cards, but your average mana cost is 3.72!!!! Usually you run about 30-32 if your mana cost is even at 2.20, so in my opinion, your deck needs A LOT more lands, and ramp. Let's take a look at lands first!
Lands
Ok, so there are MANY MANY lands you should use that you are missing. Our goal should be for you to include at minimum 33 lands. I understand it will be hard to find cards to take out but trust me- you need at least 33 otherwise it'll be very difficult for your deck to even function. You should include the following.
Shock lands. If you need mana THAT turn, they can come in untapped! If you don't want to take the damage you don't have to, but you'll always have the option to which makes them so good. They can also be used with fetch lands, but more on that later

Fetch Lands! These are pretty much the best lands in magic. You can look for ANY colors you need, if you have the shock lands I just mentioned. The fetch lands can search for the shock lands, allowing you to get WHATEVER COLOR YOU NEED. They can also search for basics which is less helpful but still possible. They can also search for Savai Triome. (They search for anything that has a subtype they specify)

Bloodstained Mire (Budget: Rocky Tar Pit)

Fast lands! These are extremely useful the first couple turns, and they help you set up your board quickly so you can have a good start!

Filter lands! You have the red/white version- but not the rest! Add all three! They can give you any combination of the two colors they supply, which is extremely useful! They are also very cheap with double masters out- so get them soon!

Pain and Horizon Lands! These are AMAZING because you can always rely on them for mana, without worrying if they come in tapped- at the expense of only ONE LIFE. Remember your life is a resource- if you win at 1 life it's the same as winning at 40. Getting good mana is much more important than paying some life.

Sulfurous Springs or [No Card Exists Yet]

Check lands. Now these I would recommend not using, but if you have a budget and you want to improve your manabase, these are much better than what you have now.

Battlebond/C Legends Lands! Some of these aren't out yet, but be sure to get them if you normally play with multiple players!

Vault of Champions (COMES OUT SOON)

Spectator Seating (COMES OUT SOON)

So in the end, these lands are VERY VERY VERY helpful and make your manabase much faster. There are also a BUNCH of single lands that are even better than some of these! Try to include as many as you can of the following:

So again, I would try to include many of these, and trust me- aim to have 33-35 lands in your deck. A lot of your lands come in tapped- slowing you down and making your manabase worse. Take those out. A couple lands could be replaced with better things. (Temple of the False God for Ancient Tomb). Take those out. You also have some good lands that don't relate to your deck. I get Boseiju, Who Shelters All and Eiganjo Castle (Etc) are cool, but they don't really make sense in your deck, and could be replaced with cards I mentioned before. To make a good deck you need a good mana base, and I recommend making that mana base, and definitely adding more lands in general.
If this helps be sure to check out and support some of my decks like Double Trouble EDH and A Deal With the Devil EDH! if you have any questions about what I wrote, want more help, or want some ideas, feel free to ask me on my wall or just tag me here, I'd love to help! Anyways, I hope this helps, good luck on your deck, and have a great day!!! Happy tapping!
2 months ago
Changes are coming to this Scion of the Ur-Dragon EDH/Commander deck!
The ten check lands (Glacial Fortress, Drowned Catacomb, Dragonskull Summit, Rootbound Crag, Sunpetal Grove, Isolated Chapel, Clifftop Retreat, Sulfur Falls, Hinterland Harbor, Woodland Cemetery) are being replaced by the following:
Introduced in Ikoria: Lair of Behemoths, the triomes are more versatile than the check lands. Each offers an additional color and are perfect targets for our fetch lands. In fact, any turn 1-3 fetch lands should target triomes. Additionally, late game we can cycle an unwanted triome and draw a card, an ability previously missing in the deck.
For the cost of one life, Mana Confluence gives us one mana of any color. In the best case scenario, Exotic Orchard will act as Command Tower #2. In the worst case scenario, Exotic Orchard is worthless. In the most likely scenario, Exotic Orchard will be closer to a Command Tower than a useless rectangle of cardboard. Unclaimed Territory limits our colored mana to casting only dragons, but still provides for our non-dragon spells.
Including Fellwar Stone and Smothering Tithe increases our ability to ramp. Fellwar Stone is an artifact version of Exotic Orchard while Smothering Tithe taxes each opponent with for each card drawn. Failure to pay the tax gifts us with a Treasure. Slimming the land count from 40 to 38 by adding artifact/enchantment ramp is noteworthy. It's an attempt to cast Scion of the Ur-Dragon more quickly and try to outpace our opponents.
A few other changes:
Fierce Guardianship replaces Chromium the Unmutable. Chromium the Unmutable was slotted into this deck in order to protect Scion of the Ur-Dragon. It costs a card to do it, but in the end after activating Scion of the Ur-Dragon and becoming a copy of Chromium the Unmutable our General/Commander will have hexproof until the end of turn. I believe Fierce Guardianship can protect Scion of the Ur-Dragon better.

Guardian Project replaces Steel Hellkite. Removal is strong in our deck? Card draw is not. In order to add the awesome card-drawing ability of Guardian Project, we remove Steel Hellkite. This exchange was not difficult, as activating Scion of the Ur-Dragon to become a copy of Steel Hellkite was as rare as winter roses.

Rhystic Study replaces Wipe Away. I'm pretty sure our lack of card draw was documented earlier. By adding Rhystic Study, we add one of the best card-drawing spells in our format. Our removal is strong, and swapping out a removal spell for Rhystic Study is warranted.
To summarize:
Our land count dropped from 40 to 38, but gained more versatility throughout the mana base.
Our number of dragons dropped from 28 to 26.
Our number of ramp/card-draw spells increased by four (Fellwar Stone, Smothering Tithe, Guardian Project, Rhystic Study).
Collectively I believe that these 13 changes make the deck stronger and more balanced. What do you think?
3 months ago
Thank you multimedia and thanks for you suggestions. I had no idea that Mask of Memory was even a crad that works so perfectly with the deck. For Murderous Rider, Ruinous Ultimatum, Savai Triome, Mistveil Plains.
I agree almost completely. I do agree Rider is a straight upgrade to a Murder and so is Mistveil to a plains that I completely forgot about it. Basically the only thing I would say is I would replace a mountain with Savai do to the red weakness in the deck so it keeps the red mana there just adds to the white and black. Personally in my play group I find having the land search critical so I would prefer to keep them though Fabled Passage or Prismatic Vista would be good to have.
And for your suggestion on Sol Ring I don't know while the artifact ramp is nice I generally keep it out of most of my EDH decks just because I feel it takes a card slot that could be used for something better like Sword of the Animist
But thanks again for all of your suggestions and I am
3 months ago
I think this has some real potential. The creatures and non-creature spells all look like they have a good synergy, but I'm concerned about the mana base. It looks slow, relatively speaking. I see many "Enters the battlefield tapped" lands, which really slows things down (particularly in Modern). I definitely recommend Amulet of Vigor as a 4of in this deck. Forget 'dual lands', all of a sudden a Savai Triome is now basically a 'tri land'. Maybe a Buried Ruin in the sideboard to guard against artifact hate, depending on who you're playing.
Load more