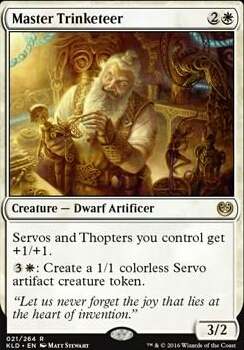 Master Trinketeer
Creature — Dwarf Artificer
Servos and Thopters you control get +1/+1.
: Create a 1/1 colorless Servo artifact creature token.
Browse Alters
View at Gatherer
Trade
Tokens
Legality
| | |
| --- | --- |
| Format | Legality |
| Oathbreaker | Legal |
| Arena | Legal |
| Historic | Legal |
| 1v1 Commander | Legal |
| Pioneer | Legal |
| Legacy | Legal |
| Canadian Highlander | Legal |
| Commander / EDH | Legal |
| Highlander | Legal |
| Modern | Legal |
| Tiny Leaders | Legal |
| 2019-10-04 | Legal |
| Custom | Legal |
| Unformat | Legal |
| Duel Commander | Legal |
| Casual | Legal |
| Leviathan | Legal |
| Vintage | Legal |
| Limited | Legal |
| Block Constructed | Legal |
Master Trinketeer occurrence in decks from the last year
Latest Decks as Commander
Master Trinketeer Discussion
10 months ago
There are tons of dwarves and vehicles to go off of, but I'll list some I think are sweet to get you started.
Oh and
Start Your Engines
seems like it would be fun to run.
1 year ago
I play a vehicles deck as well but mine has a stronger emphasis on bonuses from crewing. Creatures like Hateflayer and King Macar, the Gold-Cursed might be worthy of your consideration. Also Aethershield Artificer , Veteran Motorist , and Weldfast Engineer all give a vehicle or two a little boost. Sai, Master Thopterist , Pia Nalaar , Efficient Construction , and Thopter Spy Network are all decent servo/thopter creators; and Master Trinketeer pumps all those creations for better crewing! Then add in Anointed Procession , Parallel Lives and/or ! Doubling Season ! for even more tokens. Start Your Engines and Aerial Modification are good inclusions as well. Some cards that we both need to put in our decks are Padeem, Consul of Innovation , Aeronaut Admiral and Built to Smash . Atraxa, Praetors' Voice and Breya, Etherium Shaper would be great in your deck! Mirrorworks ? Mirage Mirror ?
1 year ago
Normally people between 36-40 lands, right? I'd say this one wants 38. Couple especially good ones: Myriad Landscape and Ash Barrens. If you're serious about the token theme, maybe also Westvale Abbey Flip.
You might also consider these cheap spells: Preordain, Telling Time and Serum Visions. Truth or Tale also seems hilarious, especially with a little politicking.
I really like your choice of a bunch of modal cards (with odd mana costs, obviously) that can do a bunch of different things. I would add a couple more - Righteous Confluence is less popular than the blue and black ones but still pretty good (life sometimes matters a lot in Commander, this gains 15).
I STRONGLY suggest the Scry temples from Theros block. Temple of Silence, Temple of Deceit &Temple of Enlightenment all help you control the top of your deck and your colors. Isolated Watchtower is also pretty freakin good in your deck as green decks will often ramp, so it should often be live.
Some pretty good ones from EDHrec that contribute to your strategy: Prognostic Sphinx, Windreader Sphinx Angel of Serenity Luminate Primordial and especially Conundrum Sphinx Penance and Future Sight. Those last three, I really would try to find room for (holy damn, especially Penance).
Grave Betrayal, Entreat the Angels, Terminus, Overflowing Insight, are good bigbois that work (in different ways) with Yennett.
Then a couple general comments - you should probably try to include 2-3 sweeper effects and maybe 3-5 point removal (for a creature, I mean) effects, and a few effects that hit other permanent types (like Anguished Unmaking and Utter End). I think you'll probably want to include most of the cards I mention above that mention card draw, because it's REAL important to not get stuck on lands in EDH, and card draw's really a good way to avoid that.
A few cards that I think would be good cuts: Dowsing Dagger Flip, maybe Anointed Procession depending (you probably would want 20-30 token effects to justify this), Aphetto Alchemist, Lich Lord of Unx also because it's expensive, Master Trinketeer which has an activated ability that's way too damn expensive, Retrofitter Foundry which again is way too expensive, Sram's Expertise is probably too low impact - Righteous Confluence would be a great replacement here, for example, Connive / Concoct and Discovery / Dispersal are both a lil underpowered too.
Those are some thoughts for now - looks real fun though, isn't this commander's complexity so nifty?
2 years ago
I am curious have you thought about splashing white for Master Trinketeer.? Just seems like it would be a great fit with the whole Thopter swarm.
2 years ago
Subtractions; Propaganda, Ghostly Prison, Aligned Hedron Network
Additions; Master Trinketeer, Etherium Sculptor, Padeem, Consul of Innovation
Propaganda and Ghostly Prison although, are very good cards for controlling your opponents or forcing them to sink mana into their creatures. They are taking up 2 slots of cards that could actually help you hit end game quicker. All the cards added, were cut at some point, but I didn't realize what they did for the deck till after they were out. Etherium Sculptor speeds up the deck by a turn with most of the cards in the deck being artifacts. Padeem, Consul of Innovation prevents your opponents from picking out pieces that are putting you further ahead. He basically makes it harder to stop you from setting off an endless combo, and draws you a card every turn if you have a big artifact out. Master Trinketeer is in mostly for a mana sink, and to make your thopters bigger. The only other guy that makes things bigger is Master of Etherium so it makes going wide hard to pull off when you don't have ways of putting in extra damage coming up often.
Load more