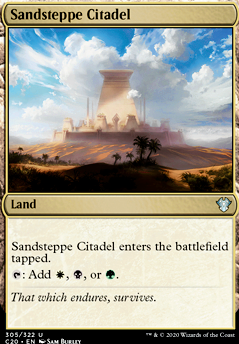 Sandsteppe Citadel
Land
Sandsteppe Citadel enters the battlefield tapped.
: Gain, , , or .
Browse Alters
Trade
Legality
| | |
| --- | --- |
| Format | Legality |
| Tiny Leaders | Legal |
| 2019-10-04 | Legal |
| Legacy | Legal |
| Duel Commander | Legal |
| Highlander | Legal |
| Canadian Highlander | Legal |
| Modern | Legal |
| Pioneer | Legal |
| 1v1 Commander | Legal |
| Casual | Legal |
| Block Constructed | Legal |
| Vintage | Legal |
| Commander / EDH | Legal |
| Unformat | Legal |
| Magic Duels | Legal |
| Frontier | Legal |
| Oathbreaker | Legal |
| Leviathan | Legal |
Sandsteppe Citadel occurrence in decks from the last year
Commander / EDH:
All decks: 0.05%
BGW (Abzan, Junk): 3.55%
Sandsteppe Citadel Discussion
2 months ago
Dear Kronhamilton
Golos, Tireless Pilgrim is my favorite commander, and I've been brewing around him ever since he was teased. Let me just say you've chosen an excellent commander.
(I've written quite a lot in an attempt to make a sort of guide for you, so if you want the short version, check out the Suggestions panel)
Golos can be tricky to build around since he can do literally anything pretty well. The easiest way to make an effective Golos deck is to lean into Golos's 7 Mana Rainbow Wheel Of Death. Before getting into that though, we need to cover some EDH deckbuilding basics.
I think the most useful advice I can give someone who is just beginning to explore the deck-building territory of EDH is to structure your deck and mind your Ratios. By this I mean it is useful to categorize the cards in your deck according to the role they fulfill.
We'll begin by looking at some core categories that you'll want to make your deck function effectively. Then I'll present the Ratios (how many of each category of card) you will want to make a generic Golos deck function effectively. Next, I'll include a detailed (but not totally complete, because I'd be here all day) catalogue of cards within some of those categories. I'll also offer up some suggestions and input about some of your specific card choices. Lastly, since I'm about to unpack a lot of information, I will include a brief list of suggestions (see the bottom) for a generically good Golos 'Shell' that should be able to support most Golos strategies.
Categories
Draw

Ramp

Removal

Sweepers

Threats

Support

Land
The art of Ratios is all about determining what combination of cards from each category makes your deck run the most smoothly.
Please note that these Ratios will not total to 99 cards. This is because you will invariably have extra flexibility to choose how your deck behaves even after establishing functional Ratios. Also keep in mind that although these Ratios do recommend you adhere to the minimum number of cards in each category, you still can choose which cards will fill those slots. The point is not to restrict your options, but instead to create a 'Shell' that is reliable enough to power your Threats cards, Support cards, and other cards. Whatever you do, make sure you have at least the minimum number of Draw and Ramp cards. THE MOST IMPORTANT CARDS IN THE DECK ARE DRAW AND RAMP!!!
While I ultimately suggest Ratios resembling the Basic Golos Shell, I will lay out the Ratios for several different Shells;
Template: a sort of baseline beginner's guide which is commonly promoted as a place to start.

Basic Golos: a modified version of the Template that suites most Golos decks.

Control: a version tailored for a slower game with many Sweepers.

Aggro: a version designed to act quickly and deploy Threats before the opponents are prepared.

Big Mana: a version invested heavily into Ramp with the goal of deploying many end-game Threats.

Mega Mana: an even more extreme version of Big Mana with extremely expensive Threats.
Please remember that any suggestions I make are because I am trying to help. Ultimately, the choices you make with your deck are up to you, and I can only provide constructive criticism based on my own experience and opinions.
Good luck :)
Ratio Fixing
The most effective change to your deck would probably be adjusting the Ratios, especially with regard to your Draw cards. Applying the most basic Template Shell, you want to have at least these three quantities nailed down for a smoother and reasonably powerful deck;
Lands – 36 --> You have 40 Lands (Cut 4 Lands)

Ramp – 10 --> You have 5 true Ramp cards (Add 5 to 8 Ramp cards)

Draw – 10 --> You have 3 true Draw cards (Add 7 to 10 Draw cards)
Ramp & Draw Additions Show
What I counted in your deck Show
Mutate
Depending on how strong your Mutate subtheme is, some of your Mutate inclusions may act as engines. However, I must state that Mutate is a VERY risky and even fragile strategy since your Mutate 'Pile' of creatures will all be destroyed at once if your opponent uses a Removal spell or a Sweeper. For that reason, I recommend leaning out of the Mutate theme (unless the Mutate card is just straight-up insane, as in the example of Nethroi, Apex of Death).
With that said, playing a Mutate theme is your decision and I totally respect that and if you want to stick to a Mutate theme then by all means do so. I just want to be sure you know that Mutate is a risky strategy that you cannot depend on to fulfill your Ramp and Draw slots (so you'll just need to supplement it with other cards).
Cut or Include?
At a glance your deck seems like something you have created using just your collection – and that's great! However, if you want to incrementally upgrade your deck, then I recommend replacing most of the cards in your deck with more powerful options over time.
Here is a list of cards you should probably keep playing: - Barrier Breach (Removal, because exiling 3 enchantments is helpful in some situations)
In my opinion, there are other, better options for all of the other nonland cards in the deck, however it is up to you to decide on how you would like to proceed so I won't intrude.
I strongly recommend cutting the Planeswalkers though – Calix, Destiny's Hand doesn't seem to synergize much with the deck and I feel that Lukka, Coppercoat Outcast is not very potent.
Lands
Just as a recommendation, I would suggest the following spread of Basic Lands;
8 Basic Forests

3 of each other Basic Land
The remainder of your lands could be either more basics (which is really, really, risky if you don't have tons of Ramp – think like 15 Ramp cards and about 12 Basic Forests) or Color Fixing Lands (see the Catalogue for more options). It is rough to have your lands enter the battlefield tapped, but unless you want to either lean into Green or spend a lot of money on lands, you will just have to live with it (I play around 5-10 tapped lands in a normal Golos deck and it isn't really that bad).
In this section, I will list out an example of the Basic Golos Shell complete with the necessary Ratios and some examples of good/fun cards in each category. I'll try to keep it relatively Budget sensitive and most of these cards will be relatively random – this won't be based on any particular theme so don't expect it to be optimal.
As a reminder:
The Shell
Ramp – 12
Draw – 13
Removal – 7
Sweepers – 2
Threats – 12
Support – 7
Land – 36
Good Luck :)
-Slashdotdash
6 months ago
Hey, nice budget version of Ghave.
The color fixing in the manabase can be improved on a budget. Command Tower is a staple land for multicolored decks in Commander. Exotic Orchard is another staple land for mutlicolored in multiplayer Commander. Sandsteppe Citadel is the Abzan Tri land and Murmuring Bosk is another Abzan Tri land. Ash Barrens can be cycled for any basic land.
Skullclamp is very good with 1/1 tokens because when you equip it to a 1/1 token that token dies and you draw two cards. This interaction is repeatable as long as you have a token meaning Clamp can draw a lot of cards for very little mana investment. To make room in the budget for Skullclamp consider cutting Stonecoil Serpent? Stonecoil is not a bad card, but it has much less overall impact then Skullclamp would.
Eladamri's Call is one of the best instant creature tutors in Commander and it's $2. Consider cutting Night Soil for Call?
---
You could improve upon the aristocrat strategy on a budget by adding persist creatures and some enablers to abuse persist.
Ghave is good with persist creatures because he can put a +1/+1 on them which cancels out the -1/-1 counter. This is the interaction that can abuse persist since if the persist creature doesn't have a -1/-1 counter then it can keep dying and returning the battlefield. Good-Fortune Unicorn is the combo enabler with a creature with persist to remove the -1/-1 counter with a +1/+1 counter when the persist creature ETB (enters the battlefield). This counter interaction cancels out the counter leaving the creature with no counter allowing it to keep dying and returning.
With Ghave or another sac outlet such as Carrion Feeder you can keep sacing Finks/Clique and they keep returning to the battlefield. This combo is good with an aristocrat such as Zulaport Cutthroat because then each time Finks/Clique dies your opponents are losing life and they keep dying. With Ghave as the sac outlet then you can also put a lot of counters on Ghave or another creature which can fuel more Saps with Ghave.
I offer more advice. Good luck with your deck.
7 months ago
multimedia, thanks for the comments and suggestions. I'm definitely looking for a Hand of the Praetors & Guardian Project , but couldn't find either one at my LGS when I was building. I didn't realize that Cabal Coffers showed up twice, I just fixed that as well. As far as the dual lands and check lands, I'm definitely working on finding those as well. Totally misread the Sandsteppe Citadel and added it thinking it was Sultai and not Abzan, thanks for catching that. I'll look around for the Shrieking Drake too since that could easily end games. Appreciate all the ideas!
7 months ago
Hand of the Praetors is good way to repeatedly give your opponents infect. Praetors triggers on cast of an Infect creature which can take advantage of the interaction of Shrieking Drake with Yarok. With Yarok Drake gets two bounce triggers, first one bounces itself and the second can bounce any other creature you control with Infect.
Yarok + Shrieking Drake + Cloud of Faeries + four lands equals infinite mana by tapping and untapping those four lands with two Cloud triggers. Use this infinite mana with Viral Drake / Merfolk Skydiver for infinite proliferate after you have given all your opponents a poison counter. You're constantly casting both Cloud and Drake meaning that each time can you trigger Inexorable Tide as another way for infinite proliferate.
Should consider adding a few more dual lands and cutting some basic lands. Cabal Coffers is displayed twice in the manabase which is not allowed in a Commander deck. Sandsteppe Citadel has white mana in it's color identity which isn't allowed because Yarok doesn't have white in it's color identity. Llanowar Wastes , Yavimaya Coast , Breeding Pool could replace three Forests since they can be tapped turn one to make green mana. Hinterland Harbor and Drowned Catacomb are the other Sultai Check lands and they could replace two Islands. With 34 creatures Guardian Project can be good repeatable draw especially since it triggers Yarok, you draw two cards when the creature ETB.
Good luck with your deck.
7 months ago
Further sins for the counter:
---
Name-Related:
"CARDNAME is also what I called my college dorm!" ( Arcane Sanctum , Breeding Pool , Godless Shrine , Savage Lands , Sliver Hive , and, finally, Watery Grave .
"What are you commanding the tower to do?" Command Tower
" Forest / Morophon, the Boundless / Amoeboid Changeling / Hollowhead Sliver is what my college girlfriend called my-" ping!
"Power creep!" Prismatic Vista
"Taxes." Smothering Tithe
Flavor-Text-Based:
---
Arcane Sanctum : Tullius hates fake news!
Godless Shrine : The IRS?
Hallowed Fountain : The NSA?
Sandsteppe Citadel : Thank you, captain obvious.
Blur Sliver : I don't know what group of people I'm making fun of here, but definitely one of them!
Horned Sliver : Shouldn't the slivers be breaking off of the timbers?
Smothering Tithe : Organized religion!
Sliver Hivelord : Donald Trump!
Assassin's Trophy : Impeachment!
Kindred Dominance : The 2020 presidential election.
Bonescythe Sliver : How fast is a bow?? I get that they have range, but "fast" seems like a misnomer.
---
Sliver Legion : A fair and balanced card.
Load more