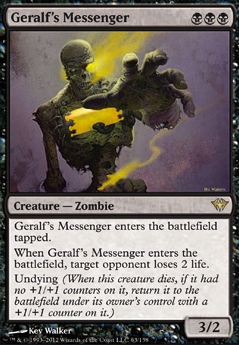 Legality
| | |
| --- | --- |
| Format | Legality |
| Modern | Legal |
| Legacy | Legal |
| Vintage | Legal |
| Commander / EDH | Legal |
| Duel Commander | Legal |
| Tiny Leaders | Legal |
Geralf's Messenger
Creature — Zombie
Geralf's Messenger enters the battlefield tapped.
When Geralf's Messenger enters the battlefield, target opponent loses 2 life.
Undying (When this creature dies, if it had no +1/+1 counters on it, return it to the battlefield under its owner's control with a +1/+1 counter on it.)
Geralf's Messenger Discussion
1 week ago
please remove the standard tag from this deck. standard is only cards from the latest 4 sets, this deck goes a lot farther back then that.
with that being said; you really want to have around 20-22 lands in your deck so adding about 10 more swamps will do the deck good.
you should also aim to hit 60 cards total in the deck. that number is standard for most formats as it provides plenty of card choices while still remaining reliable.
as far as actual cards in your deck, zombies will be zombies, try and cut some of the less impactful zombies in favor of cards that reliably come down and immediately effect the board state like Cemetery Reaper which pumps all the zombies you have down on the board.
some more zombies you can look at are:
Diregraf Colossus This guy is just amazing when youre running tribal zombies
Diregraf Ghoul is cheap and decently powerful
Geralf's Messenger another really solid zombie
Gravecrawler amazing for when you want to go aggro
some more expensive options are also availible, but for the most part those are some budget friendly options good luck and hope this helps
2 weeks ago
just going to go ahead and list some zombies, some of them are budget friendly some of them are... well:
Nameless Inversion (technically a zombie, plus its a great card so yeah)
hope this helps!
Load more