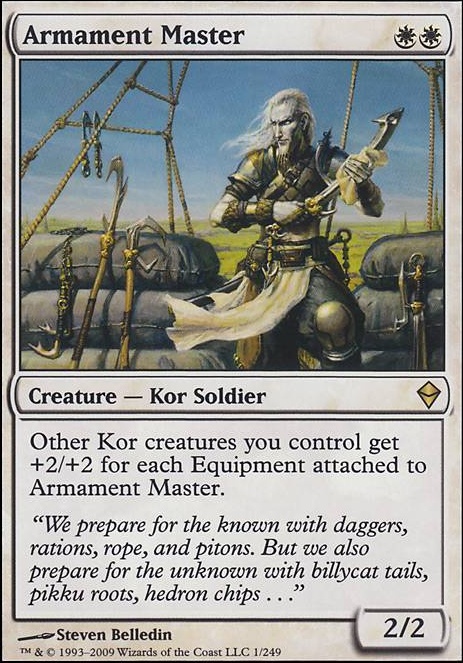 Armament Master
Creature — Kor Soldier
Other Kor creatures you control get +2/+2 for each Equipment attached to Armament Master.
Browse Alters
View at Gatherer
Trade
Legality
| | |
| --- | --- |
| Format | Legality |
| Tiny Leaders | Legal |
| Noble | Legal |
| Leviathan | Legal |
| Magic Duels | Legal |
| Canadian Highlander | Legal |
| Vintage | Legal |
| Modern | Legal |
| 2019-10-04 | Legal |
| Block Constructed | Legal |
| Vanguard | Legal |
| Legacy | Legal |
| Archenemy | Legal |
| Planechase | Legal |
| 1v1 Commander | Legal |
| Duel Commander | Legal |
| Oathbreaker | Legal |
| Unformat | Legal |
| Casual | Legal |
| Commander / EDH | Legal |
Armament Master Discussion
1 year ago
Armament Master, Kitesail Apprentice, and Path to Exile should be full 4-ofs. Maximize your deck's threats and answers.
-
A set of Mutavault looks great here:
You have plenty of basics. A set of colourless lands won't cause much harm. Going up to 22 lands would be ideal.
-
Shuko seems crazy efficient for this deck. It allows any of your Kor's equipped abilities to be active for no additional costs, and can be freely reequipped as needed.
-
While he's a clunky 4-drop that doesn't aid with the Equipment plan, I feel it's worth mentioning Ajani, Adversary of Tyrants. Your deck's low cost creatures gives his -2 ability plenty of targets to choose from for reestablishing a threat on the table.
Probably not terrible as a 2-of if you're ever looking for late game top-end against the slower decks.
1 year ago
Akiri synergizes well with Armament Master. Unless you have a creature card grab in red or white, I don't know how it plays out in Commander, but I play that combo frequently with casual, modern, and legacy decks.
2 years ago
so Kor Skyfisher does two very important things for this deck, the first being that it is a Kor so it gets buffed by Armament Master. And the second is that is can bounce an equipment so you can draw more cards, something that an ago deck really needs.
2 years ago
Hey Airakk! Thanks for the comments!
I found this deck relied heavily on its tribal synergies, which is why I consider it a tribal deck. The main win condition is to use Armament Master as a Kor lord to pump up your other kor creatures, though it certainly occasionally wins with just the kor-equipment synergies.
You are correct, you don't play your 0-mana equipment until you have a draw engine online in most cases. With a 0 cost equipment, unless you plan on equipping it immediately there is rarely a reason to play it. The deck can put out lethal pretty often turn 3, and ideal draws look like T1 Kor Duelist or Kitesail Apprentice, T2 Puresteel Paladin, T3 dump 5-10 0 mana equipment and play a Armament master, equip most of your stuff to Armament Master for free with Puresteel and swing with one of the two other creatures for 20+ damage. Puresteel gives you a bit of extra mana with Paradise Mantle, so you can often play both Armament Master and a Cranial Plating or Captain's Claws turn 3, or a couple Bonesplitters.
Sorry you find the deck Meh! I think you may not understand it well, or may not have tested it significantly. I don't think it is the most competitive deck in modern, but in my experience it is quite powerful and surprisingly consistent and I think given the synergies it would be strange to not consider it a Kor tribal deck.
That being said if you're looking to make it more tribal, cutting Sram for some more Kor synergy cards will do that, and the deck will still perform quite well I think! As GodTierPancake pointed out Stone Haven Outfitter is a nice fit!
2 years ago
Sram, Senior Edificer and Puresteel Paladin are useless because most of your equipments have 0 or 1 mana. that means your equipments are mostly in game befor you cast your creatures...
but you can wait untill these creatures are in game... and then you throw out your hand cards and then ??? your equips are meh, your "combo" is meh, your tribal is meh because Armament Master has just a few creatures he can support. 17 lands, 25 equipments and 18 creatures is... meh too.
but why... WHY is Paradise Mantle in this deck xD you dont need any mana-ramp xD
this deck is so random, bobgar xD
2 years ago
Well, I already had a tribal deck before I saw this. But I can't use it since there are White soldiers in it and it doesn't function without Kor Outfitter and Armament Master. Almost all of the good Kor are banned because the good ones are either Clerics or Soldiers.
2 years ago
I have been playtesting this deck and took out Basilisk Collar, putting in Stoneforge Masterwork in to make Armament Master more resilient, i have had better results than with the Collar. I feel as 4 Sigarda's Aid is too much as i have drawn multiple ones though with Puresteel Paladin they work hand in hand so down to personal preference. Also O-Naginata would be a welcome addition even as a one-of as you can get to 3 toughness easily but other than that it's a great deck. +1
Load more